Local News
In Saugus, is Amazon's grocery store moving out before it even moved in?
The company was working to expand its brick-and-mortar grocery chain, Amazon Fresh, into Massachusetts. Those plans appear to have stalled.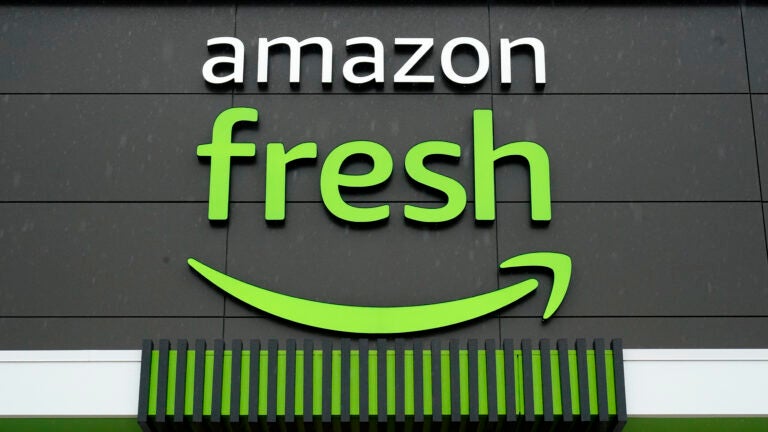 More than a year after Amazon began work on a brick-and-mortar grocery store in Saugus, it appears that the company has reversed course.
Although primarily an online retailer, Amazon has been experimenting with in-person shopping concepts for years. In 2020, the company introduced the first Amazon Fresh, a grocery store infused with new technology designed to make the shopping experience more convenient for customers.
By November 2021, Amazon appeared to be ramping up plans to open its first grocery stores in Massachusetts. Construction began at the former site of a Big Y on Route 1 in Saugus, the Boston Business Journal reported at the time. Work also got underway at the Grossman Drive shopping plaza in Braintree, where another Amazon Fresh was set to open, according to The Patriot Ledger.
By last July, multiple Amazon Fresh signs had appeared at the Saugus location and fans of the company were speculating that the store was almost ready to open.
But as the months came and went, the doors remained closed. On Tuesday, residents may have gotten some more clarity. A post in a Facebook group dedicated to local news in Saugus showed images of the building with the Amazon Fresh sign nowhere to be found.
The company's hiring website does not list any Amazon Fresh job openings in Massachusetts, and the closest Amazon Fresh location listed online appears to be in New York.
Earlier this year, news broke that the company was slowing down its expansion plans for Amazon Fresh. During an earnings call, CEO Andy Jassy said that the company needed to pause to figure out how to better differentiate the stores from the competition and improve their economics, Grocery Dive, an industry publication, reported.
"We've decided over the last year or so that we're not going to expand the physical fresh doors until we have that equation with differentiation and economic value that we like, but we're optimistic that we're going to find that in 2023. We're working hard at it. We see some encouraging signs. And when we do find that equation, we will expand it more expansively," Jassy said during the call, according to a transcript obtained by WCVB.
Amazon already does have a thriving grocery store operation. The company bought Whole Foods in 2017, and dozens of stores remain open throughout Massachusetts.
But Amazon Fresh has been touted as an endeavor "designed from the ground up to offer a seamless grocery shopping experience." Two technologies are at the center of this: "Just Walk Out Shopping" and "Amazon Dash Cart."
With "Just Walk Out," customers can shop like normal and anything put into their cart is automatically added to their payment. They can then skip the lines and leave the store. A receipt is sent to them virtually. Amazon's "Dash Cart" is a technologically-advanced shopping cart that customers sign into using a QR code on the Amazon app. The company says that the cart "uses a combination of computer vision algorithms and sensor fusion to identify items put into the cart." A special Dash Cart lane is available to make exiting the store easier.
Amazon's dedication to in-person shopping has morphed over the years. Last March, the company announced that it would be closing all 68 brick-and-mortar bookstores it operated in the U.S. and the U.K. It also shuttered all Amazon 4-Star locations, retail shops that sold toys, home goods, and more with high customer ratings. That move was intended to shift resources to Amazon Fresh, Reuters reported.
Amazon has laid off thousands of workers in recent months.
Newsletter Signup
Stay up to date on all the latest news from Boston.com