Local News
Family displaced, pet cat dead after two-alarm fire in Georgetown
Two members of the family were injured during the fire.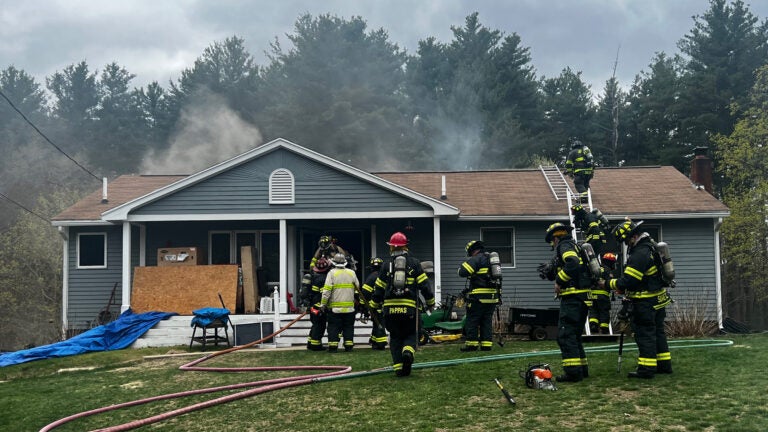 A family of three lost their home and their pet cat after a two-alarm house fire in the northern Massachusetts town of Georgetown Wednesday afternoon.
Two members of the family were also injured during the fire, which was reported to the Georgetown Fire Department around 12:20 p.m. on Wednesday, according the department. Officials say the one-story ranch home located at 247 North St. is now uninhabitable due to fire damage in the basement and water damage on the first floor.
According to a GoFundMe created by a family friend, the family had lived in the house for over 30 years. And as a result of the fire, the two parents and their son, who will soon graduate from the Essex County Sheriff's Academy, "lost everything … over 30 years of memories and the family cat," the GoFundMe read.
When officials arrived, they found the two injured residents and smoke showing. One of the injured people was taken to a Boston-area trauma center and the other declined treatment. First responders struck a second-alarm for additional manpower, and upon entering, found "cluttered conditions" and quickly knocked down the fire in the basement.
The cause of the fire remains under unknown and is being investigated by the Georgetown Fire Department, Georgetown Police Department and the State Police Fire and Explosion Investigation Unit attached to the State Fire Marshal's Office.
"An aggressive fire attack by the first arriving companies helped prevent this fire from spreading further, and I am grateful for their quick and professional work," Georgetown Fire Chief Matt McKay said. "I would also like to thank all of our mutual aid partners who responded quickly to our request for assistance."
Newsletter Signup
Stay up to date on all the latest news from Boston.com