Local News
4 paws and 4,000 feet: 9-year-old pug conquers the New Hampshire 48
Woof, a 9-1/2-year-old pug, scaled the famous 48 4,000-footers in the White Mountain National Forest largely without assistance.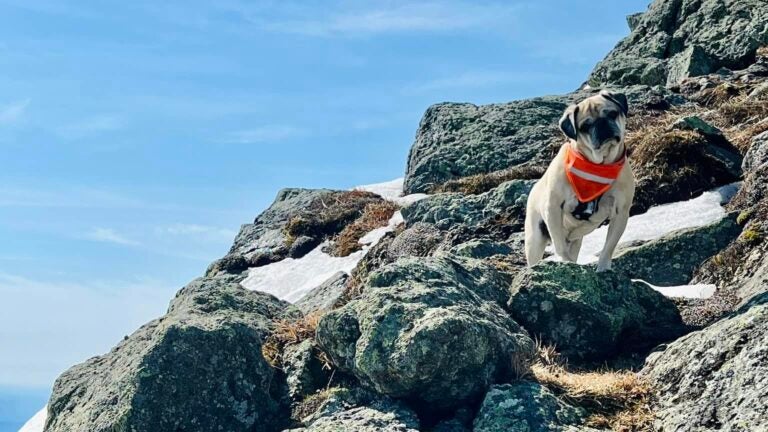 Summiting a 4,000-foot mountain is no small feat, and yet one small dog managed to check off the entire New Hampshire 48, according to his owner.
Woof, a 9-1/2-year-old pug, scaled the famous 48 4,000-footers in the White Mountain National Forest largely without assistance, Erin McMahon shared in a post Saturday afternoon on u local New Hampshire, a Facebook group by WMUR-TV.
"As of last Saturday he has hiked all 48 of NH 4000' mountains," McMahon wrote. "I think he may be the first pug to do so!"
Though other pets – including a rescue cat named Floki – have documented their journeys throughout the well-known 48, it's not clear if other pugs have also completed the challenge.
The Committee of the Appalachian Mountain Club Four Thousand Footer Club does not have a lot of information on the specific breeds of dogs who have hiked the 4,000-footers. The club receives more than two dozen applications for dogs each year though, according to committee member Eric Savage in an email response to Boston.com. He added that 2018 and 2019 were especially popular years for dog applications.
A total of 445 dogs are official members of the club, but there are likely more dogs – and of course, humans – that have completed the challenge, but not applied, he said. Additionally, the club has received several reports of cats and even a rabbit taking part in these hikes, but since they were carried for at least a portion of the hike, they are not eligible to become official members of the club, Savage noted.
"The dogs who have finished over the years have undoubtedly come in all shapes and sizes," Steve Smith, another committee member, added by email.
"Two of the more famous dogs who have done the peaks are 20-pound Atticus M. Finch, subject of the bestselling book 'Following Atticus,' by Tom Ryan, and 150-pound Brutus Rooney, a Newfoundland for whom an unofficial hiking route on Owl's Head Mountain has been named," Smith said.
McMahon added in her post that Woof "did the ascents 99% unassisted … he walks the entire trail but does need the occasional lift across water or up onto a higher rock."
In a brief interview via Facebook Messenger, McMahon, a 31-year-old from Belmont, New Hampshire, said Woof has been hiking alongside her since 2015.
They started with simple hikes before working their way up to the 4,000-footers, noting that Woof checked off his first in 2019 and finished the New Hampshire 48 on Saturday, April 15.
His "sister," Lemon, has completed 36 of the 48, as well.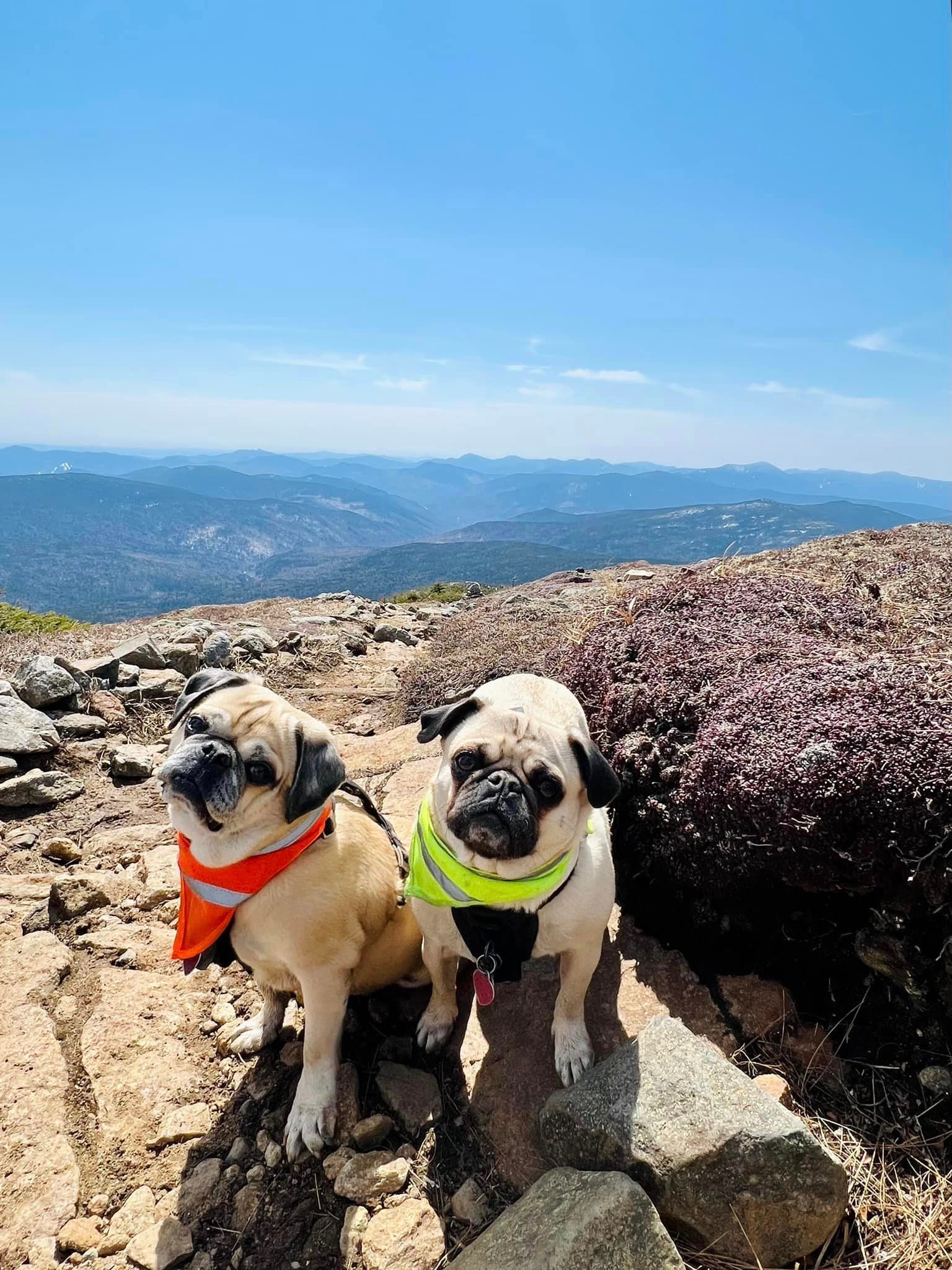 Woof weighs roughly 20 pounds, "so I'm definitely not carrying him up!" she wrote.
McMahon, who has been hiking most of her life or 16-17 years, said she loves all of the mountains, but the Bonds or Carters are likely her favorite.
When asked if she had any advice for other dog owners looking to ease their canines into hiking, McMahon said she learned most of what she knows "through trial and error."
"I think the most important thing is, know what you're capable of before you involve your dog," she wrote. "Can you do that trail well enough that you can help your dog if needed?"
McMahon added that it's important to consider the dog's breed and what they may be capable of.
"Is your dog OK with being handled on a steep or rocky section, can they do ladders?" she asked. "How's his recall or leash walking in case you come across an animal?"
McMahon recognizes that a pug "isn't the first breed to come to mind when you think of a hiking dog," but Woof loves exercise. She would've left him at home if she believed otherwise, she said.
The hiker is especially mindful of weather, ensuring that Woof has enough water to cool down and taking into account how much sun exposure he may have on the warmer hikes.
"I think that's a good thing to keep in mind for all dogs, not just brachycephalic ones," like pugs, she said.
In the winter, she keeps in mind that he may get cold more easily than her. Overall, she knows that the hikes may be at a slower pace with more stops for water and rest.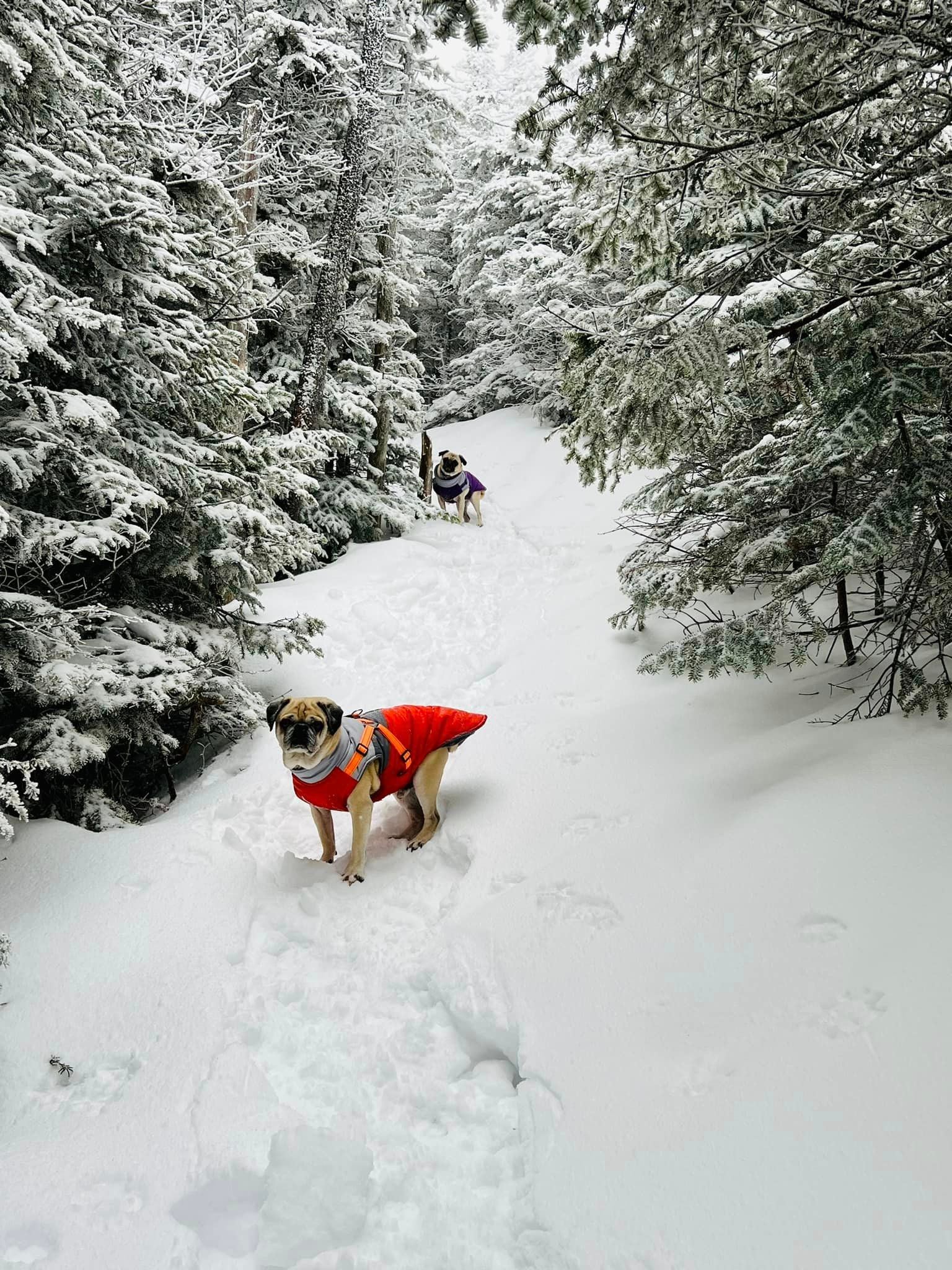 Woof is a small dog, so McMahon can carry him back to the car, if an emergency happens, she said. She emphasized the importance of having a back-up plan and knowing when to turn around, if she or Woof didn't feel feel 100%.
"The summit of a hike is the parking lot, really," she said. "The top of the mountain is only the halfway point, right? We both have to make it back to the car safe."
Preparation is just as important, McMahon added, noting she carries the dog equivalent of what she carries for herself – "extra food, water, paw protection, a coat in the winter," as well as hand warmers that she can put in Woof's coat for additional warmth during cold hikes.
"I would almost say my bag has more dog supplies than human," she said.
In terms of training, she started slow, taking Woof on 2-mile hikes with flat terrain, before moving to uphill and longer trails.
"I think a lot of people are under the impression I just threw my poor little pug out onto the trails with me," McMahon said. "I can't even begin to explain how much preparation went into getting him ready, watching how he did and how he felt walking that far, how he recovered the next day."
She also checks the weather multiple times, as well as trail reports, and plans ahead for potential obstacles, stream crossings, etc.
"I think it's super important to emphasize safety first for yourself and then, when you add in your dog – safety for them," McMahon said.
Need weekend plans?
The best things to do around the city, delivered to your inbox.