Local News
SatanCon is coming to Boston — and it's dedicated to Mayor Wu. Here's what to know.
The Satanic Temple has dedicated its second annual convention to Mayor Michelle Wu, as the church continues its lawsuit against the City of Boston.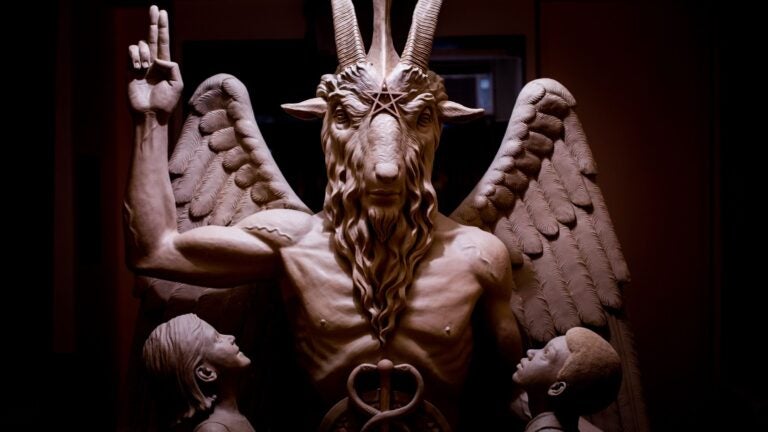 The "largest Satanic gathering in history" is coming to Boston.
Or at least that's the billing for the sold-out SatanCon 2023, hosted by the Salem-based Satanic Temple, that promises to bring a lineup of lectures and panels, entertainment, and a "Satanic Marketplace" to the Marriott Copley Place from April 28 to 30.
Open to church members only, the convention's agenda is geared toward the interests and beliefs of the non-theistic Satanists the congregation serves, according to Dex Desjardins, a spokesman for The Satanic Temple.
This year marks the second annual event, following the inaugural SatanCon held in Scottsdale, Arizona, last year.
In an email, Desjardins said the convention carries a special significance this year, as the church is celebrating its 10-year anniversary since its founding.
"Members in attendance will be able to spend time together, in many cases seeing close friends of many years for the first time in person, or reconnecting after long absences," Desjardins wrote. "It is one of the strongest community-building activities The Satanic Temple holds."
There's also another standout factor for this month's event: It's dedicated to Boston Mayor Michelle Wu.
Here's what to know:
What is The Satanic Temple — and what do Satanists believe?
The Satanic Temple is a church for non-theistic Satanists.
In fact, it's "the only Satanic religious organization recognized as a church by the IRS and the Federal Court System," its website states.
And there's also a few things that it's not.
There are often two misunderstandings about the church, according to Desjardins, including the notion that the congregation is an activist organization with a name intended to simply troll Christians.
"That is not who we are … Satanism is its own unique religious tradition with its own positive ethics," Desjardins wrote. "It is not a reaction to or a subset of other religions."
The other misconception is that the church worships a literal Satan, or the Devil — "a belief that comes along with all of the predictable, Hollywood stereotypes and Satanic Panic hysteria," he wrote.
"We do not believe in or worship a literal Satan. We do not believe in or worship symbolic 'evil,'" Desjardins wrote. "We believe that unnecessary suffering is bad, and that things which reduce unnecessary suffering are good."
For members, Satan is "a central metaphor representing the pursuit of knowledge, personal liberation, and rebellion against arbitrary authority," Desjardins wrote.
"Our Satan represents a Promethean hero as depicted in the works of writers such as Anatole France and John Milton, bringing the light of knowledge to humanity in defiance of the ultimate tyrant," he wrote. "Satan is the symbol around which our ethos is built."
Satanists in the church live in accordance with "Seven Tenets," according to Desjardins.
"Our mission is to encourage benevolence and empathy, to reject tyrannical authority, to advocate practical common sense, to oppose injustice, and to undertake noble pursuits," he wrote.
Although The Satanic Temple is not an activist group, the church does maintain several campaigns geared toward "mission-specific activism" for various causes since "activism can be a natural extension of our sincerely held religious beliefs," Desjardins wrote.
Among those initiatives are the church's "Religious Reproductive Rights" campaign, which advocates against abortion restrictions that affect members' religious rights of bodily autonomy, and the "Sober Faction," a peer support group to assist those struggling with substance use disorder "without having to experience the burden of religious dogma and superstition," Desjardins wrote.
There is also the "After School Satan Club," which Desjardins described as an "after school program that promotes self-directed education by supporting the intellectual and creative interests of students," among others.
What happens at SatanCon?
SatanCon, like most conventions, will offer a mix of educational events, along with entertainment and other festivities.
"Attendees at SatanCon will enjoy lectures and panels presented by our campaigns and congregations, as well as a Satanic Marketplace sporting over 50 vendors," Desjardins wrote.
An agenda posted online shows panels span a variety of topics, including "Hellbillies: Visible Satanism in Rural America," "Deconstructing your religious upbringing," "BIPOC Body Modification in Satanic Culture," and "The Devil is in all of You: The Changing Face of Satan in Cinema."
Desjardins said SatanCon will also feature the "Satanic Ball" on Friday evening, with an event called Impius Conventus ("Godless Assembly") on Saturday night to follow.
"The evening's event will include a drag performance by Maddelynn Hatter of 'Dragula' fame followed by a concert by the band Satanic Planet, of which TST co-founder and spokesperson, Lucien Greaves, is a member," Desjardins wrote.
Attendees are required to be at least 18 years old and vaccinated against COVID-19, a news release states. They must also wear an N-95, KN-95, or disposable surgical mask.
Why is this year's convention dedicated to Mayor Wu?
The location of last year's inaugural SatanCon in Arizona was not without meaning.
According to Desjardins, the convention came after a Satanic Temple chapter head applied to give an invocation at the beginning of a Scottsdale City Council meeting, as was the city's tradition.
"Our application was first approved and then rescinded," he wrote. "In the course of the lawsuit we filed in response, communication was discovered between city employees that described our request to exercise our First Amendment rights as 'equality gone too far.'"
The Satanic Temple ultimately lost the lawsuit.
"As part of the city of Scottsdale's given reason for rescinding our application to lead an invocation, they had claimed that the TST Arizona Chapter lacked sufficient community ties to be qualified to give the invocation — a requirement that was invented after we submitted our application," Desjardins wrote. "This idea that we lacked strong community ties to Scottsdale was a misunderstanding on the part of the city of Scottsdale. To demonstrate our community ties, we held our first annual SatanCon there."
Since 2021, The Satanic Temple and the City of Boston have been entangled in a similar federal lawsuit, filed by the former after city officials repeatedly denied Satanic Temple members from delivering an invocation at the start of a City Council meeting.
Officials allegedly told members the requests were denied because the council does not accept requests. The church maintains, however, that policy allows councilors to invite a speaker of their choice from local religious groups to address the body before each meeting.
The church has argued the policy is unconstitutional because it discriminates on the basis of religion.
Desjardins alleges the council is "openly defying Supreme Court rulings about public meeting invocations."
"Many of the people who have been invited to give invocations in the past were people who donated to the council members' campaigns," he alleged in an email to Boston.com. "Furthermore, they were paid to give their invocations. This invitation-only, pray-for-pay arrangement is a scandal that should be front-page news."
In October 2021, the church subpoenaed Wu, then a Boston city councilor at-large and a candidate for mayor, demanding she appear at its headquarters in Salem on Election Day to provide a deposition, records from federal court in Boston show.
City attorneys, however, said Wu would not be available that day and offered they would not make Wu available for a deposition without a court order, filings show. The court upheld the city's motion that Wu would not have to travel to Salem on Nov. 2, 2021, finding that doing so would have created "an impermissible undue burden."
Federal court Judge Angel Kelley ruled against the church's deposition matter in April 2022 after determining its attorney, Matthew Kezhaya, conducted "impermissible antics and abusive tactics" in trying to get Wu to submit to a deposition, according to Universal Hub.
Court rules stipulate attorneys must attempt to limit large inconveniences for witnesses, which Kelley contended Kezhaya failed to follow in trying to get Wu to leave the city on Election Day.
Kezhaya also continued to push for Wu to be deposed even as city attorneys offered dozens of other individuals who could answer questions on the invocation policy, filings state. Kezhaya ultimately admitted, too, that his actions were intended to "invite maximum inconvenience, political attention, and media scrutiny" of the lawsuit, Kelley wrote.
In February, Kelley ultimately ordered the church to pay the city $8,228.25 to reimburse the legal fees the city took on in combatting the deposition demands, Universal Hub reported.
Still, Desjardins accused Wu and Kelley of openly demonstrating "corruption and religious viewpoint bias."
"The City of Boston has failed to provide witnesses for deposition as promised and as required, and Judge Kelley has refused to sanction Boston over this failure," Desjardins wrote earlier this month.
Meanwhile, officials have yet to act on a request from The Satanic Temple to fly a flag outside Boston City Hall last year — an ask made after the U.S. Supreme Court ruled the city violated the First Amendment rights of a New Hampshire Christian group when its request for its flag to be flown there in 2017 was denied.
With both matters before the city, the church announced earlier this year it will host the 2023 convention in Boston because "The Satanic Temple's mission is to fight tyranny, which includes political corruption," SatanCon Campaign Director Harry Hoofcloppen said in a statement in March.
"Mayor Michelle Wu and the Boston City Council have refused to abide by Supreme Court rulings and instead used their best efforts to silence voices they personally disagree with by refusing to allow us to deliver an invocation before the City Council and by refusing to allow us to display our flag at Boston city hall," Hoofcloppen said.
"By hosting SatanCon in Boston, we will have a presence in the city that Wu cannot silence without additional abuses of power. The rot in Boston extends beyond Wu, as the judiciary has been brazenly and shamelessly corrupt as well," he continued. "We will be pressing the media to investigate this scandal."
Additionally, the church dedicated this year's SatanCon to Wu — a decision that was made because "the city of Boston is knowingly and willfully engaging in religious discrimination in violation of our First Amendment rights," Desjardins said.
What has the city said about the dedication?
A city spokesperson provided a brief statement to Boston.com to affirm Wu has no official or formal involvement with SatanCon.
"Neither Mayor Wu nor the City of Boston are sponsoring or affiliated with SatanCon 2023," the statement said.
In a subsequent statement, the spokesperson said Wu will be out of town this weekend.
"Mayor Wu will be out of town this weekend celebrating some family milestones: her goddaughter's first communion and confirmation, and her nephew's baptism," the statement said.
According to Desjardins, the mayor was not invited to the convention.
"It is an event for our members," he wrote.
A program schedule for SatanCon posted online shows the convention kicks off with an opening ceremony at noon on April 28 and concludes with a closing ceremony at 3 p.m. on April 30.
Newsletter Signup
Stay up to date on all the latest news from Boston.com