Local
Study: Flooding costs to MBTA could more than double by 2030, to $58 million a year
Rising sea levels will continue to endanger various aspects of the MBTA system, according to MIT researchers.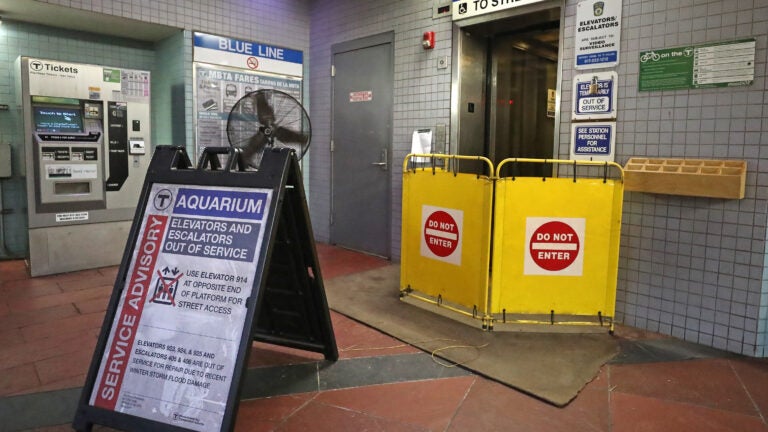 As the earth continues to warm, new research is showing how financially impactful rising sea levels could be for the MBTA.
In a report published Monday in Nature, researchers at MIT predict that the expected annualized losses to the MBTA system will reach $58 million per year by 2030. Additionally, they estimate that expected annualized losses to the MBTA have doubled since 2008, from $9.5 million that year to $24.4 million now.
If action is not taken, researchers say, the risk of certain parts of the MBTA system being permanently waterlogged will increase.
"Our results suggest that absent adaptation schemes, particularly at tunnel ingress locations, coastal flood risk will continue to accelerate, potentially resulting in permanent inundation of underground and low-lying sections of the transit system," authors Michael V. Martello and Andrew J. Whittle wrote in their report.
If the region's climate change adaptation measures and the MBTA system stays largely the same, these results suggest that rising seas will lead to "significant increases in coastal flood risk exposure for the MBTA in the short- and long-term."
Under the most severe rising sea level predictions, which researchers say is "entirely plausible", significant portions of the MBTA system would be regularly inundated with water. By 2100, they said, expected annualized losses could reach $9.3 billion. This is the equivalent of 96% of the MBTA's latest 5-year capital budget, according to the study.
Aquarium Station is among the most at-risk areas of the MBTA system. Although other particularly low-lying locations exist throughout the system, they are either situated behind dams or surrounded by comparatively higher ground.
Researchers also say that flooding at tunnel portal locations would create disproportionately severe consequences. Providing flood risk reduction measures at Aquarium Station and at tunnel portal locations should be the "top priority," according to the study.
Although these loss projections are significant, researchers say they "likely represent an underestimate of overall costs." Macroeconomic factors like supply chain or labor availability could lead to more costs, not to mention the wider implications a flooded transit system would have on the livelihoods of residents.
Newsletter Signup
Stay up to date on all the latest news from Boston.com