Calling all Swifties: This 1-year-old 'Midnights'-loving cat thinks you belong with him
Here's why a black and white domestic shorthair is named A Taylor Swift Fan, and why he "hopes that once he's adopted he never ever gets back together with the shelter."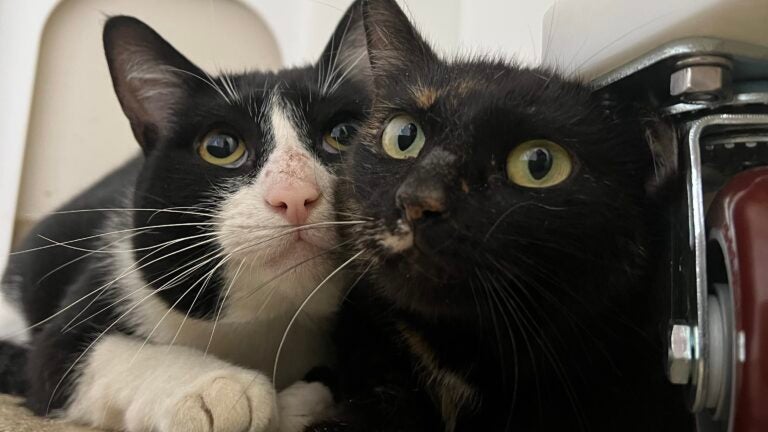 Would you rather spend your free time curled up at home, as "folklore" or "evermore" plays in the background, than go out and be around people? Are you looking for a feline friend who also enjoys low-key evenings?
MSPCA-Angell and the Northeast Animal Shelter in Salem may have the perfect cat for you.
A 1-year-old black and white domestic shorthair named A Taylor Swift Fan — more on that in a second — is ready to find his furever home and "hopes that once he's adopted he never ever gets back together with the shelter," staff told Boston.com via a spokesperson.
A Taylor Swift Fan arrived at the shelter in Salem on April 15 via a transport of cats from Texas. He was previously called Screamer because he likes to speak loudly when he's nervous or excited, according to staff.
But one day, while cleaning the cat rooms, staffers were listening to Swift's 2022 album, "Midnights," when they noticed the nervous kitty seemed to calm down as soon as he heard the singer-songwriter's music.
Knowing he's a particularly nervous cat and wanting to get him a little more attention from potential adopters, the shelter staff renamed him after his favorite artist.
The ideal home for A Taylor Swift Fan would be calm and quiet — except for "Anti-Hero" playing on repeat in the background, of course. The ideal adopter would be patient and understanding of social anxiety.
"Transitions have been hard for this guy, and we expect he will take lots of time settling into a new home," his adoption profile reads. "He tends to keep to himself and his ideal home will provide him with his own space to retreat to when needed.
"His new family should have low expectations for him when it comes to being a typical social, playful cat," the profile continued. "We cannot be sure if or when he will begin soliciting attention or playing with his new owners due to his unknown history."
If A Taylor Swift Fan sounds like the perfect cat for you, visit northeastanimalshelter.org to learn more about the adoption process.
Loading...