Local News
In Quincy, a school committee vote squashes a long battle to make Lunar New Year a school holiday
"As an Asian-American student attending North Quincy High School, where the population of the student body consists of 55% Asians, not having Lunar New Year off is simply mind-boggling to me."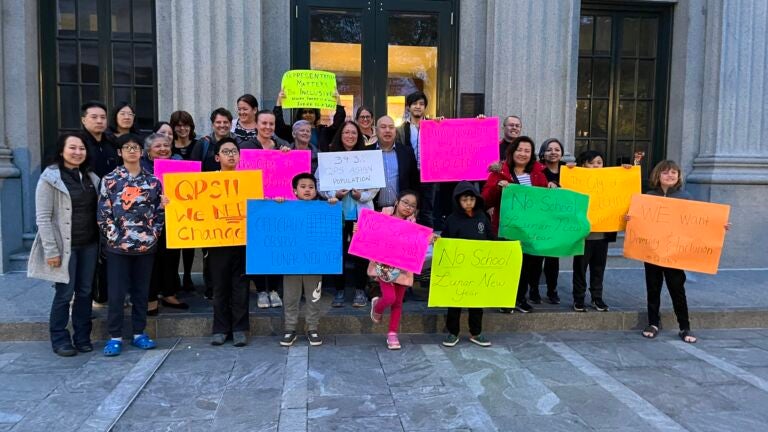 Despite months-long efforts from Quincy students and families, and a years-long push from one committee member to classify Lunar New Year as a school holiday for the district, the Quincy School Committee last week voted against adding the celebration to the school's calendar.
In a 6-1 vote, the committee approved a school calendar for the 2023-2024 school year that would not include Lunar New Year as a day off for students. Committee vice chair Frank Santoro, who initially proposed the holiday two years ago, was the lone vote in favor of recognizing Lunar New Year as a school holiday.
"The majority of our student population is of Asian descent," Santoro told Boston.com before the committee meeting. "And it's right and it's time for the city to express their sensitivity to their community by giving them Lunar New Year off."
"It's a holiday where [students] sit with their families and rejoice about the upcoming year," he added. "We're forcing those kids to make a decision of obtaining perfect attendance or being with their family and we shouldn't put the kids in that position."
The proposal to add the Lunar New Year to the school calendar saw widespread support, with a petition in favor of a new calendar receiving over 1,200 signatures. In April, three students from North Quincy High School and two community members suggested to the committee an alternative calendar that included the holiday.
One of the high schoolers, Angela Chen, who is the president of the North Quincy Asian Culture Club, urged members to allow Asian students to spend time with their families during the holiday.
"As an Asian-American student attending North Quincy High School, where the population of the student body consists of 55% Asians, not having Lunar New Year off is simply mind-boggling to me," Chen said during the April meeting. "To the Chinese and other Asian populations, Lunar New Year is a very, if not the most important holiday in our cultures. This is why recognizing Lunar New Year as an official city holiday is a must."
Less than a month later, advocates turned to the May 3 school committee meeting after a subcommittee decided not to vote on the proposal last week.
Santoro told Boston.com before the Wednesday meeting that he thought it would be difficult to get the four votes needed to support the changed calendar.
"This Wednesday night, the motion does come before the board to approve the regular calendar without Lunar New Year being on it for a day off," Santoro said. "So, I'm still seeking ways to get other members to make that motion, to add an addendum to the regular calendar to do that, but I'm not having much luck."
And on Wednesday, several students, parents, and community members filed into the Quincy City Council chambers with signs and statements pleading for diversity and inclusion in Quincy schools. Quincy residents spent nearly half an hour pushing the committee to add Lunar New Year to the calendar, arguing the city's lack of recognition of the holiday is exclusionary.
"Do not let logistics, or 'we've always done it this way,' or the false concern that 'now we have to give a day off for every holiday that anyone anywhere celebrates,' stand in the way of making the right decision and moving forward as a community," said Quincy resident Kate Campbell, 58, who is the mother two Asian high schoolers. "When students speak, please listen. Your role as school committee members is far too vital, invaluable in this community to ignore their voices."
But despite several speakers' attempts, the committee voted in favor of the calendar without the holiday, arguing that granting one demographic a day off from school could be seen as unfair.
"I'm not comfortable with separating out one entity, one ethnicity group from the 40 flags and the 70 languages that we have in our schools, and saying that this one is more important than yours," Committee Member Emily Lebo said.
Committee Member Douglas Gutro also spoke about the 40 ethnicities that exist in Quincy schools, mentioning how adding a holiday for a specific ethnicity would set a confusing and difficult-to-follow precedent.
"Isn't our DEI [Diversity, Equity, and Inclusion] initiative — and we established a DEI subcommittee in the Quincy School Committee — about ensuring that all cultures and religions are treated similarly with respect, and not singling out one [based on] demographics?" he said. "And if we choose to do it based on demographics, then we need to set up some kind of a system that says over 10 years, 20 years, whatever the case may be, we re-evaluate the recognition of it based on the demographics of the city."
Lunar New Year falls on a Saturday next year, and some committee members and the city's mayor said they would look to revisit the addition for the 2024-2025 academic calendar.
Boston voted in February to add Lunar New Year as an official city holiday, and schools in Brookline, Hopkinton and Wayland designate the celebration as an official holiday as well. And though those municipalities' efforts to increase inclusion were discussed during the meeting, the committee voted 6-1 in favor of the original calendar.
Following the vote, Santoro apologized to Chen and the other students whose work to add Lunar New Year to the school calendar had come up short.
"Angela, if you can hear me, I would like to apologize to you and your fellow students and the parents who appeared at our last meeting, especially the policy subcommittee meeting, because we made them wait," Santoro said.
"I'd also like to apologize to the hundreds of parents that will be calling in to excuse their children on that day," he added. "And while I'm doing that, I'd also like to apologize to our attendance staff at our schools because they're going to have to receive those calls that day. And an apology is also given to students who have to make a choice between obtaining perfect attendance and missing work and celebrating on the most important holiday to their family."
Newsletter Signup
Stay up to date on all the latest news from Boston.com