Local News
Part of Newburyport factory to be demolished after deadly chemical explosion
Officials are still investigating the cause of the explosion at the Seqens pharmaceutical plant, but say it does not appear suspicious.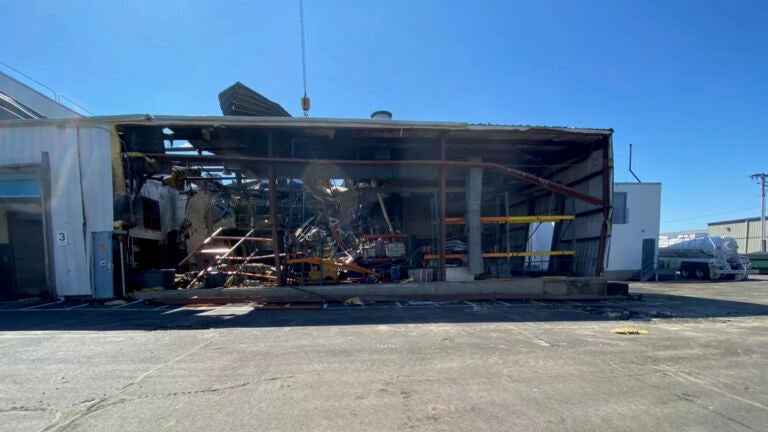 The City of Newburyport has ordered part of the Seqens pharmaceutical factory to be torn down in the wake of a "violent" chemical explosion that killed one worker last week.
On May 4, a little before 12:45 a.m., an industrial-sized vat inside the factory at 9 Opportunity Way blew through the roof, causing the building to catch fire.
Four of the five workers who were inside the factory at the time were taken to a hospital and later released. But the damage to the building made it difficult for first responders to rescue the fifth worker, 62-year-old Methuen resident Jack O'Keefe, whose body was recovered over 12 hours later.
Cleaning up after the explosion
Crews began cleaning up the hazardous materials at the factory on Friday and worked through the weekend. On Monday, they removed the final eight 55-gallon drums of chemicals and drained around 2,000 gallons of chemicals, officials said.
City officials expected to finish the clean-up on Monday, but said they stopped early when strong winds started shifting the walls of the damaged factory.
"Strong winds this afternoon were concerning enough that, in our judgement, it was determined that the conditions were not safe enough to continue the work of removing the remaining hazardous materials from the Seqens facility today," Newburyport Fire Chief Steven Bradbury III said in a news release.
"During this delicate operation, the safety of the first responders and work crews comes first."
The building is being supported by a crane, and officials said there is no danger of imminent collapse. They expect the clean-up to resume Tuesday.
If no further dangers or problems are discovered, city officials said, they will clear the scene and a contractor will demolish the factory addition where the explosion happened.
Before work stopped Monday, the city expected the demolition to begin Tuesday afternoon and gave Seqens, formerly PCI Synthesis, until Wednesday at 8 a.m. to begin the demolition. It is unclear if that deadline will be pushed in light of the early work stoppage.
Investigating the cause of the explosion
The explosion appears to have been caused by an issue in the chemical manufacturing process and does not appear suspicious, officials said. Even so, local and state fire officials and police are still investigating.
OSHA is also investigating, and in the past has fined Seqens for "serious" workplace violations. The EPA has also accused the company of violating many federal and state hazardous waste laws at the plant.
This is at least the third time in the last five years that emergency responders have been called to the Seqens plant, though this is the first time anyone has been injured or killed.
Officials said the clean-up process has been classified as a Tier 1 Hazmat Incident, the lowest severity level.
Newsletter Signup
Stay up to date on all the latest news from Boston.com