Local News
Woman struck by falling equipment at Harvard Station will sue MBTA
The Harvard University PhD student separated her shoulder after a defunct utility box fell from a column and hit her, according to her lawyer.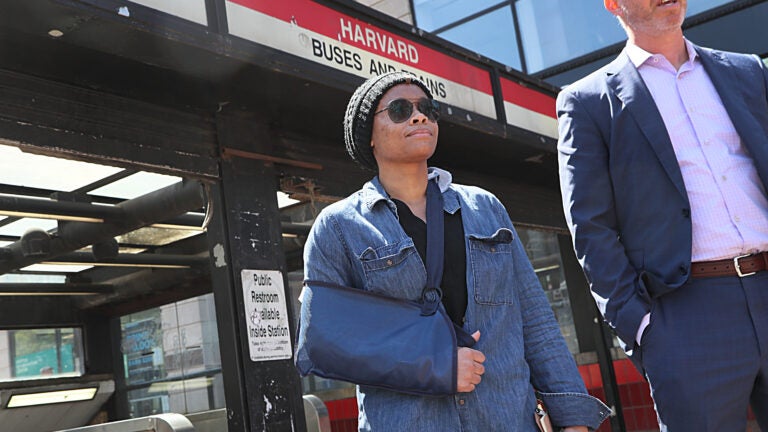 The woman struck by falling equipment at Harvard Station last week is now planning to sue the MBTA over the incident.
Joycelyn Johnson — a 28-year-old PhD student at Harvard University — was injured when a utility box attached to a column at the station slid to the bottom on May 1, bringing a support brace down with it.
"To know that we aren't able to be safe while taking the transit system is just honestly ridiculous," Johnson told reporters near the station on Wednesday, according to The Boston Globe. "Compared to the New York transit system and the Seattle transit system, Boston's commuting system as a whole falls short entirely. So I am frustrated."
Johnson said she has not felt comfortable taking the subway since the incident, the Globe reported.
Her lawyer, Thomas Flaws, said Johnson separated her right shoulder and plans to sue the MBTA for medical expenses and to hold the agency accountable, according to the Globe.
Flaws, who is with Boston-based Altman Nussbaum Shunnarah Trial Attorneys, said in an earlier press release that his client's injuries impacted her "rigorous" academic schedule.
"We are troubled by the ongoing issues at Harvard station and throughout the overall MBTA transit operation. With reasonable attention and maintenance, this incident would have been prevented," Flaws said in a statement. "We intend to find out exactly what is causing dangerous objects to repeatedly detach or fall from the ceiling at the Harvard station."
The utility box involved in the incident fell because the straps holding it in place were corroded, The Boston Globe reported.
The boxes — which weighed between 20 to 30 pounds each — were installed at three Red Line stations around 2011 as part of a pilot program with the Department of Homeland Security and MIT's Lincoln Laboratory to detect biological agents, according to the Globe. While the pilot ended in 2013, the boxes remained.
Following last week's incident, MBTA General Manager Phillip Eng directed crews to remove the 13 remaining boxes, the Globe reported. Eng also reached out to the woman who was injured, according to WHDH.
In an emailed statement to Boston.com, the MBTA said it "deeply regrets that this incident occurred, and know that we continue to work every day to ensure safety for all."
The T emphasized that safe and reliable service is its top priority.
This is the MBTA's second incident this year involving aging infrastructure at Harvard Station; in March, a corroded ceiling panel fell, narrowly missing a rider.
Gov. Maura Healey addressed issues with the T during an appearance on WCVB's "On the Record" Sunday, saying she has questions about "how it is that we have stations that are in this state of disrepair to begin with."
"I want people to know that not only are we going to get to where there's no concern about what's happening on the rails, but that you're safe walking into a station, for God's sakes," Healey said, adding that safety is a top priority for her administration.
Eng, who took the reins on April 10, has also emphasized safety as a top focus, telling wary riders to "stay tuned."
In his statement, Flaws said the upcoming lawsuit is intended to bolster change at the embattled transit agency.
"We want to ensure no rider utilizing public transportation is ever injured in this manner again," he said.
Newsletter Signup
Stay up to date on all the latest news from Boston.com