Local News
Boston officials investigating alleged 'verbal and physical altercation' involving elementary school staff member
The alleged fight occurred Thursday afternoon in the cafeteria "with members of the school community witnessing."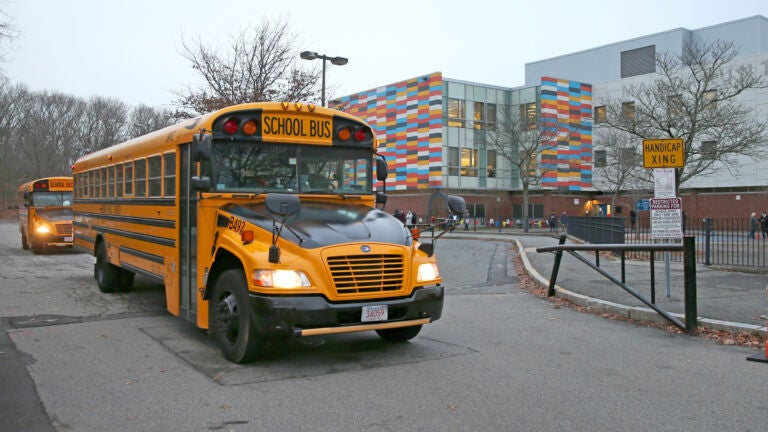 An investigation is underway at Mattahunt Elementary School in Mattapan after a staff member allegedly had a "verbal and physical altercation" on Thursday during lunch, according to a letter sent out to families.
The incident reportedly occurred in the cafeteria "with members of the school community witnessing."
In the letter, Mattahunt Principal Walter Henderson said school staff contacted Boston Public Schools Safety Services to provide assistance. School leadership will investigate the incident before taking "all appropriate actions" that are deemed necessary, he said.
Henderson also told the community that students who witnessed the "incident "outburst" were encouraged to voice their concerns and questions at the end of the school day in a "restorative justice circle."
"The Mattahunt School, alongside the entire Boston Public Schools, is committed to fostering environments where all students feel safe, respected, and academically challenged," Henderson wrote. "While personnel matters are confidential, please know that all Boston Public Schools staff is held to
the highest standards of professional conduct, and that misconduct is never tolerated."
"We are sharing this update as part of our commitment to open communication and transparency," he added. "Please know that we take student and staff safety and wellbeing very seriously."
As schools across Boston have grappled with ways to improve safety, Boston City Council on Friday will hold a hearing to discuss the topic.
Read the full letter released by the school below: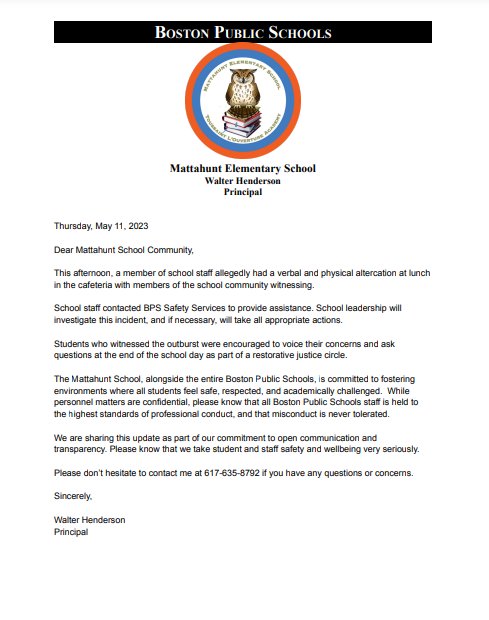 Newsletter Signup
Stay up to date on all the latest news from Boston.com