Local News
REI Co-op Boston workers vote to unionize as part of sweeping organizing effort at stores nationwide
REI Co-op Boston is the fifth location in the chain to vote to unionize. At least four other locations across the country are in the process of unionizing.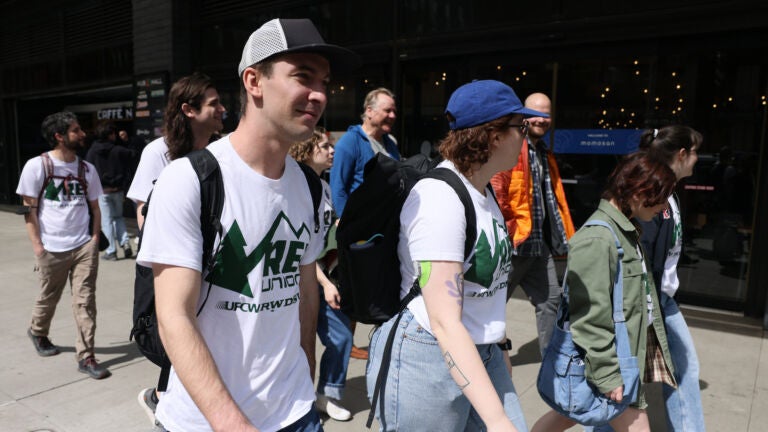 Workers at the Fenway REI Co-op store in Boston secured a major victory Monday night as the store's employees voted nearly two to one to form a union.
Workers at the camping supplies store on Park Drive voted 44 to 23 to unionize with UFCW Local 1445, a Massachusetts commercial and food workers union.
"We are forming a union to create a strong collective voice for the workers of our Boston store, to empower us to effectively address our concerns and grievances, and to bring about meaningful change in our workplace," the union said in an April news release.
The Boston REI location became the fifth REI store in the U.S. to form a union as part of a nationwide effort by the chain's employees to unionize this spring. REI locations in New York City, Cleveland, Chicago, and Berkeley, California, already voted to form a union.
The Boston REI store employs about 80 people, according to official union paperwork, and the union will include all full-time and regular part-time employees, minus managers and security guards.
The union filed for a union election on April 12 and set the election date in conjunction with REI on May 8.
Why REI Boston employees unionized
The Boston REI union said previously that some of the reasons its workers want to unionize include insufficient pay, workplace safety issues, delayed and inadequate responses from management to worker concerns, cuts to workers' scheduled hours, and a lack of transparency and consistency in employee evaluations.
"REI has unilaterally handed down decisions that negatively impact our well-being and financial stability and deepened the imbalance of power between workers, store management, and headquarters," the union wrote in April.
"We want a say in decisions that affect our livelihoods, and contractually protected benefits to give us the peace of mind needed for a sustainable work-life balance."
The union has also made a point of explaining that REI, which is based in Washington and markets itself as a progressive company, is a consumer co-op, not a worker co-op.
"The Consumer Co-op brings benefits to REI Members, but doesn't empower workers to make decisions that affect their jobs and their lives. Employees at REI cannot nominate leadership and have limited control over their workplace," the union wrote in a tweet.
"We need a union at REI Co-op to create a more democratic workplace that gives [REI workers] power over their scheduling, safety, benefits, and more."
The Boston REI store workers garnered support for their unionization efforts from Boston Mayor Michelle Wu, Massachusetts Senators Elizabeth Warren and Ed Markey, and Massachusetts Gov. Maura Healey.
What's next for REI unions
Workers at REI locations in Durham, North Carolina; Eugene, Oregon; Bellingham, Washington; and Maple Grove, Minnesota, are also in the process of unionizing.
Earlier this month, workers at the Durham store went on strike for four days following alleged union-busting activities by the company at the store.
In Massachusetts, REI also has locations in Cambridge, Reading, Framingham, and Hingham, though employees at those stores have not announced efforts to unionize.
Newsletter Signup
Stay up to date on all the latest news from Boston.com