Local News
Warner Bros. CEO booed during BU commencement amidst writers' strike
David Zaslav, who spoke Sunday at Boston University's commencement ceremony, was interrupted by chants of "pay your writers" as picketers demonstrated nearby.
Warner Bros. Discovery CEO David Zaslav, one of the most powerful people in Hollywood, was bombarded with jeers and angry chants Sunday as he delivered the commencement address for Boston University.
Zaslav's appearance at his alma mater's ceremony elicited a strong reaction, including picketing Sunday, from members and allies of the Writers Guild of America. The union has been on strike since May 2, demanding better pay and job security from the Alliance of Motion Picture and Television Producers.
"If you want to be successful, you're going to have to figure out how to get along with everyone. And that includes difficult people. Some people will be looking for a fight." Zaslav told the graduating class, competing with chants of "pay your writers."
Zaslav, who earns a reported $246.6 million a year, was the subject of a coordinated protest organized by members of WGA East.
The union hoped to draw attention to "David Zaslav and Warner Bros. Discovery's refusal, as members of the Alliance of Motion Picture and Television Producers (AMPTP), to negotiate a fair contract that addresses writers' reasonable demands around pay, residuals, and the existential threat of AI."
Despite initial backlash to the announcement of Zaslav's appearance, BU confirmed a few weeks ago that plans for the address would go on unchanged.
"We fully respect the right of the WGA to seek the best possible compensation through the collective bargaining process, but it is not in keeping with our policy for free and open speech to disinvite a speaker to indicate support to a party in a labor dispute," BU President Robert Brown said in a statement last week to independent student newspaper The Daily Free Press.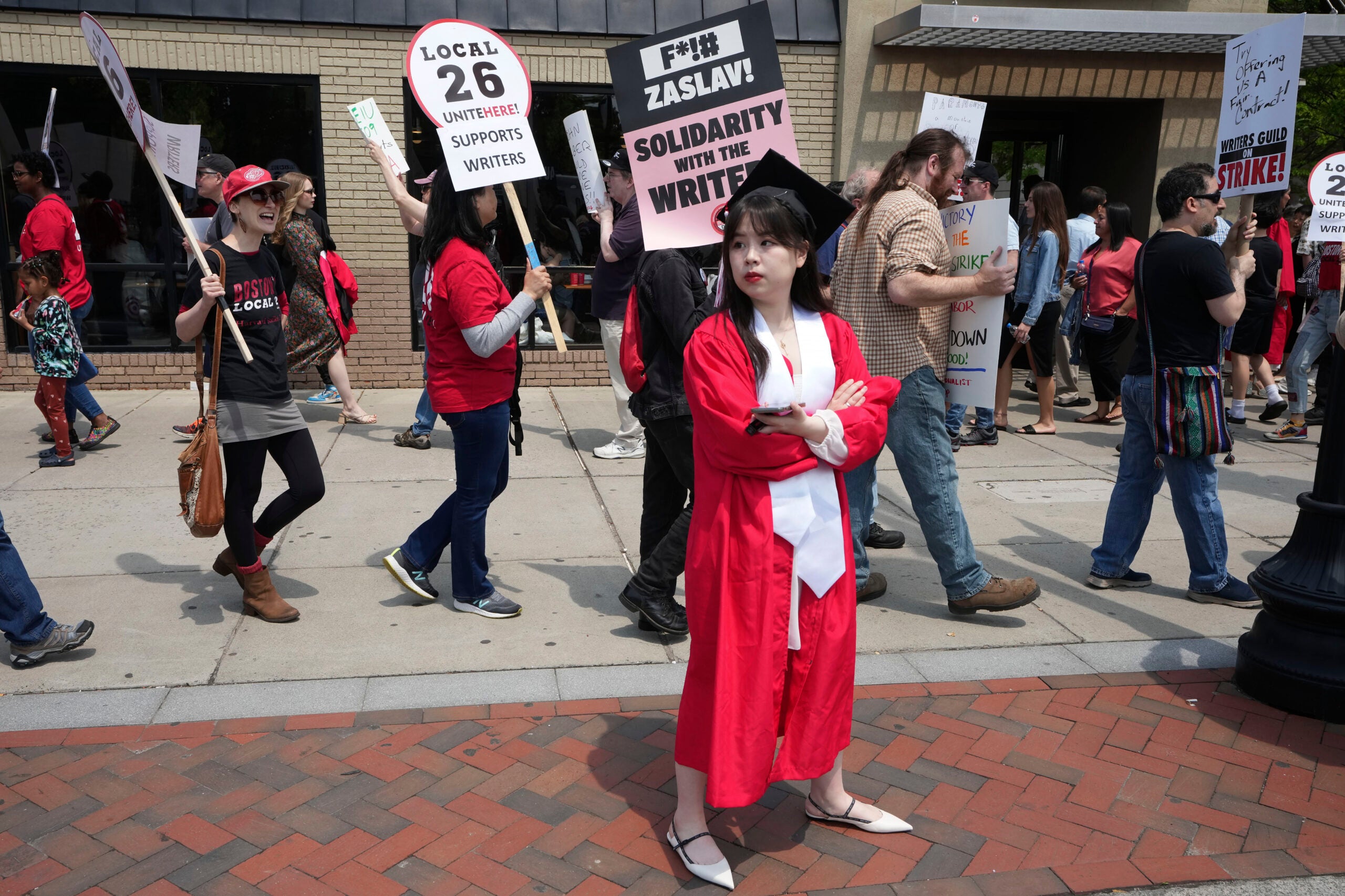 Zaslav, who graduated from BU's School of Law in 1985, went on to rise through NBCUniversal before taking the reins of Discovery Communications in 2006. Last spring, he led the merger of WarnerMedia and Discovery. He received an honorary degree from BU Sunday alongside Supreme Court Justice Ketanji Brown Jackson, philanthropist and pianist Pamela Wood Avedisian, real estate developer Stephen R. Karp, and University of Pennsylvania Professor of Medicine Drew Weissman.
Picketers were instructed to meet at Boston Playwrights' Theatre Sunday morning, less than two hours before commencement festivities kicked off at nearby Nickerson Field.
The WGA, in a "Student/Graduate Solidarity Toolkit," clarified that the picket was not meant to disrupt the ceremony or prevent students, family, or faculty members from attending. Instead, the union urged members of the graduating class to decorate their caps with messages like "WGA STRONG" and "ZASLAV, PAY YOUR WRITERS."
During the ceremony, a plane flew overhead displaying a banner with the same message.
"Your commencement is a day meant to recognize your years of work and to celebrate the start of your professional lives. But BU has chosen this day to honor someone who is actively trying to devalue that work—someone who wants to destroy film & television students' ability to build a sustainable career in their chosen industry," WGA said in a statement.
In a May 5 appearance on CNBC, Zaslav said he was hoping to see a quick resolution to the conflict.
"In order to create great storytelling, we need great writers. And we need the whole industry to work together. And everybody deserves to be paid fairly" he said. "Our number one focus is, let's try and get this resolved, let's do it in a way that the writers feel that they're valued, which they are, and they're compensated fairly."
That resolution does not appear to be imminent, and picketing events have continued across the country for more than two weeks.
Newsletter Signup
Stay up to date on all the latest news from Boston.com