Local News
Maine man dies from tick-borne illness
The fatal case of Powassan virus disease is the first-known instance of the tick-borne illness in Maine in 2023.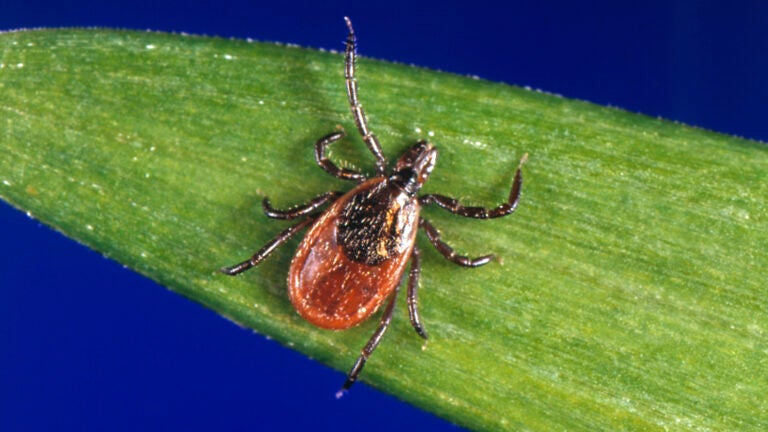 Maine health officials are warning residents to be wary of ticks, after a Portland resident died from a rare tick-borne illness.
The Maine Center for Disease Control and Prevention confirmed an adult from Sagadahoc County died from Powassan virus disease May 17, marking the first-known instance of the non-treatable illness in the state this year. The victim was 58-year-old Robert J. Weymouth, of Portland, according to a local obituary.
"Cases of Powassan are rare in the United States, with about 25 cases reported each year since 2015," the CDC wrote in a press release. "Maine has identified 15 cases since 2015, including four in 2022. Two of the individuals who contracted Powassan in 2022 died of the illness, making this the third recorded Powassan death in Maine since 2015."
Officials say people contract the virus mainly from infected deer ticks or woodchuck ticks, and some who are bitten will never notice symptoms. People who do experience symptoms can start to develop fevers, headaches, vomiting, weakness, confusion, seizures, or memory loss a week to a month after the initial bite.
"Some people may experience serious neurologic problems, like brain or spinal cord inflammation," the CDC said. "About 10 percent of people with severe disease die. If you experience any of these symptoms after a tick bite, call a health care provider as soon as possible."
Ticks reside in wooded, leafy, and shrubby areas, and officials say they can be found across all 16 counties in Maine often during the spring, summer, and fall. The CDC recommends the following to avoid and prevent tick bites:
Know tick habitat and take precautions in areas where ticks may live.
Wear light-colored clothing that covers the arms and legs; tuck pants into socks.
Use an EPA-approved repellent like DEET, picaridin, IR3535, or oil of lemon eucalyptus on skin; use permethrin on clothing.
Check for ticks daily and after any outdoor activity. Check family members and pets too.
Ask a veterinarian about tick bite prevention for cats and dogs.
Remove your clothing when you get home and put it in the dryer before washing. Use high heat for 10-15 minutes to kill any crawling ticks that have not attached to you.
For additional information on the Powassan virus and ticks, people can view the Maine CDC Powassan website, learn information on repellents, watch Maine CDC's tickborne disease videos, and visit the University of Maine Tick Lab website.
Newsletter Signup
Stay up to date on all the latest news from Boston.com