Local
Mayor Wu announces new street safety initiative with focus on speed humps, intersections, and signals
The "Safe Surge" initiative will add many speed humps throughout Boston, eliminate areas where drivers can turn right on a red light, revamp intersections, and more.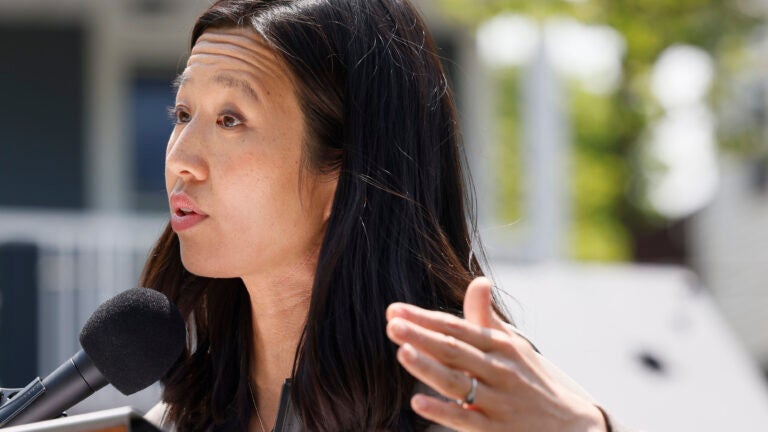 Boston officials announced a new approach to street safety Monday through a plan that will redesign intersections, update traffic signals, and add safety humps throughout the city.
"Our streets should be a source of connection, not a threat to our safety," Mayor Michelle Wu said during a press conference at Thetford Evans Playground in Mattapan. "We want to make sure that we're not rationing that safety in limited areas across the city following when major incidents and injuries happen. But we want to be proactive, preventative, and really work with communities at a much broader scale and a much more accelerated pace to make this happen."
The initiative, dubbed "Safety Surge," will introduce safety humps on residential streets through a zone-based approach.
Previously, speed humps have been installed one street at a time, mostly as the result of community members petitioning for their addition, Wu said. But officials found that drivers would then simply move over to a parallel street, negating the impact of the new humps.
Speed humps will be installed across 10 zones each year, and officials have already identified the areas that will be targeted over the next three years. Zones will be prioritized based on crash history and resident demographics, because data shows that residents of color experience more traffic-related fatalities, Wu said.
Speed humps will be designated as part of the city's standard street design, Chief of Streets Jascha Franklin-Hodge said, meaning that the city will make the effort to install speed humps whenever their installation is technically feasible.
Franklin-Hodge and his team established new guidelines for speed humps, dictating their physical construction. As a result, the implementation process will speed up and allow workers to install more humps throughout the city. An online map will be made available so that residents can see which streets are eligible for speed humps and when they could be installed, Franklin-Hodge said.
"Almost half of our nearly 800 miles of city streets are eligible for speed humps," he said. "While it will take years to build out every street, we believe that these simple tools will help curb excess speeds, support a culture of safer driving, and help Bostonians feel confident, comfortable, and safe, especially when walking or biking in their own neighborhoods."
In addition to the speed humps, Wu said that Boston will redesign at least 25 intersections each year to improve visibility, address speeding, and create safer crossings.
Intersections are where most crashes occur in Boston, according to Franklin-Hodge. Between 25 and 30 non-signalized intersections will be prioritized a year based on safety history, demographics, community concerns, and proximity to parks, schools and community centers.
"We want intersections that not only help people on foot or on bike feel safe, but also reduce stress and risk for drivers by improving visibility, better separating different road users, and simplifying confusing intersections," Franklin-Hodge said.
The city's transportation department has been working on updates to traffic signal guidelines, with an eye toward pedestrian safety. The goal is to make it clearer to drivers when a turn is allowed and safe, and to give pedestrians more time to cross streets.
Among the signal changes, one of the most noticeable will be extra "leading pedestrian intervals," which gives pedestrians a walk signal a few seconds before drivers are given a green light. This allows pedestrians to better establish themselves in crosswalks before vehicles can turn in their direction.
In the interest of street safety, the city is following national trends to prohibit more "right turn on red" locations, Franklin-Hodge said. Oftentimes, drivers at these locations look left to make sure no vehicles are coming without turning right to make sure crosswalks are clear. New guidelines will introduce more locations where turning right on a red light is prohibited, especially in business districts, near schools, parks, hospitals, and mass transit stations.
In conjunction with the newly-announced initiatives, the city is improving safety along major corridors such as Cummins Highway in Mattapan, Tremont Street in the South End, Blue Hill Avenue, and Centre Street, Wu said.
"The streets we build must reflect our belief that everyone, regardless of their age or ability, should have the freedom to travel safely and without fear," Franklin-Hodge said. "The city of Boston is putting that idea into action, in asphalt and concrete, in paint and flexposts, in signs and signals, as we work towards a future where no family ever has to experience tragedy or trauma on our streets."
Newsletter Signup
Stay up to date on all the latest news from Boston.com