Local News
Remembering Jean Durkee: Read the obituary for Boston Romper Room's 'Miss Jean'
"Oh how the kids loved it when Miss Jean saw them in her 'Magic Mirror!'"
Jean Durkee, known and beloved as "Miss Jean" of Boston's version of the "Romper Room" television series from the late '50s to the early '70s, died Tuesday at the age of 90.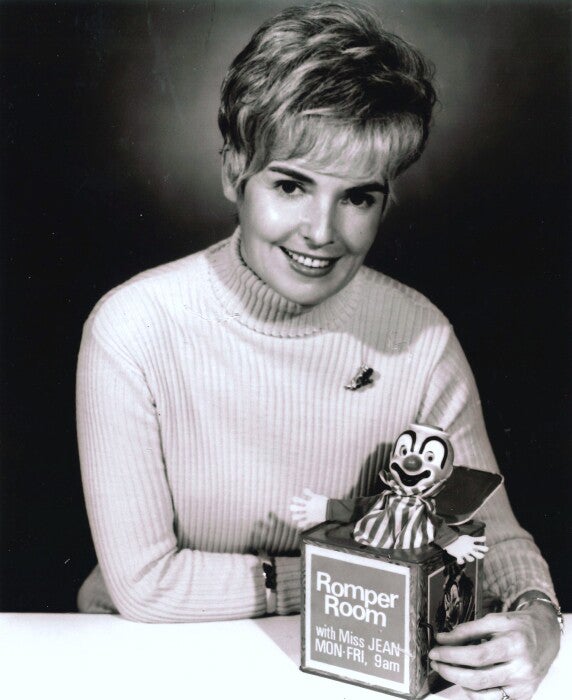 Born in Lynn and raised in Salem, Durkee started out her career teaching language arts and social studies and serving as the director of girls' physical education at Lynnfield Jr. High School, before continuing on in Lynn where she taught students with physical disabilities in grades 1-6.
When given the opportunity to make the pivot from a traditional classroom to the television screen in 1958, Durkee "was nervous but excited about the opportunity to reach into homes, hearts and minds of preschool and kindergarten aged children in New England," an obituary for the schoolteacher reads.
The dedicated teacher, whose maiden name is Dallaire, retired to Naples, Florida after WHDH lost its television license. She married Bruce Durkee, "with whom she shared 40 wonderful years," the obituary notes.
In lieu of flowers, Durkee's family is asking that donations be made to Make-a-Wish America.
Her ashes will join her late husband's in the Gulf of Mexico.
Read the full obituary, shared by Fuller Funeral Home-Cremation Service in Naples, Florida, below:
Jean (Dallaire) Durkee, beloved by all her good DoBees; Miss Jean of TV's Romper Room in Boston, MA from 1958 to 1972, died peacefully in Naples, FL on Tuesday, May 16, 2023 at the age of 90. Jean was the daughter of Laurence and Tillie (Moriarty) Dallaire, born in Lynn, MA, grew up in Salem, MA and graduated from St. James High School. A '54 graduate of Salem State Teachers College (Now Salem State University) in Massachusetts, Jean began her career at Lynnfield Jr. High School teaching Language Arts and Social Studies and as Director of Girls' physical education. Her love of teaching continued as a teacher for physically challenged children in grades 1-6 in Lynn, MA.

When WHDH TV was looking for a teacher for their upcoming children's program Romper Room, Jean was one of five hundred applicants interviewed over a one week period. Selected one of six finalists, she was asked to return for an on camera audition. To her amazement, she became Miss Jean of Romper Room, which aired live at 9:00 a.m. Mondays thru Friday. Jean was nervous but excited about the opportunity to reach into homes, hearts and minds of preschool and kindergarten aged children in New England. Oh how the kids loved it when Miss Jean saw them in her "Magic Mirror!" And oh how Jean once again loved her new teaching assignment and continued for 14 happy and rewarding years!

Jean worked closely with many worthy causes. Among them: Red Cross Water Safety, U.S. Marines Toys for Tots, MA Health Depart., American Dental Assn., Boston Fire Prevention Dept. and the Jimmy Fund Children's Hospital. One of Jean's most rewarding special events was taking several of the children's hospital cancer patients for a Romper Room plane ride around Boston, courtesy of American Airlines. Both Jean and Romper Room received many educational and professional excellence achievement awards throughout Romper Room's unequaled number one rating in its time slot for fourteen years.

When WHDH lost its TV license, Jean retired to Naples, FL where she married Bruce Durkee, with whom she shared 40 wonderful years. They enjoyed golfing, boating, fishing, beachgoing and the annual winter visits of family and friends. They entertained often and partied heartily. The Presidential Election and annual Golf Masters Tournament parties were events that became a tradition eagerly looked forward to by their friends.

In 1996, a stroke curtailed Jean's activities. However, with Bruce's devoted TLC and 5 years of intensive rehab with professional therapists, Jean regained significant mobility and learned to walk with the assistance of a leg brace. She loved to play bridge, paint a little and laughed when Bruce dubbed her his "One-Arm-Bandit" because she handled many difficult tasks so well with the use of only one hand. Jean had the opportunity to return Bruce's devoted care when his battle with cancer began in 2001. There were intermittent remissions and recurrences during the following years until he predeceased Jean in February of 2011. They were an awesome team!

Family meant the world to Jean and her love was cherished and returned by all of us. She will be sadly missed by her sister, Lee Hughes of Salem, MA, sister-in-law, Mary Dallaire, of Ophelia, VA, and dearly missed by all the nieces and nephews she loved as if they were her own children. They are Andrea Peters of Pound Ridge, NY, LJ Dallaire of Manassas, VA, Robert, William, Michael McKenna, Susan Munroe, Jennifer Gilligan and Brenda Pasquarello, all of MA . . . and all of their families. Her extended family that she felt twice blessed to have in her circle of love includes her stepdaughters, Joan Durkee McGee, Sarah Durkee Jacobs and their families. Jean was predeceased by her sister Elaine McKenna of Salem, MA, her brother Laurence ("Laurie") Dallaire of Ophelia, VA and her niece Kathryn McKenna of Salem, MA.

The family would like to deeply thank the Zamora family, Jean's guardian angels: Rosa, Danny, Marco and Gonzalo Zamora, and Polly Butler for their exceptional TLC. She felt blessed to have them in her life. Also a shout out to all her friends, to Carol and the Romper Room crew, the Moriarty clan, Jean's Salem State University classmates and staff, the old gang at Gulfshore Life Magazine and to all her Romper Room DoBees.

Arrangements will be private. Jean's ashes will join Bruce's in the Gulf of Mexico. In lieu of flowers, donations to the Make-A-Wish America at www.wish.org.
Newsletter Signup
Stay up to date on all the latest news from Boston.com