Local
Black bear, spotted in New Bedford and Acushnet, continues to elude authorities
The bear was first spotted late Monday afternoon in New Bedford as it continues to move eastward through southern Massachusetts.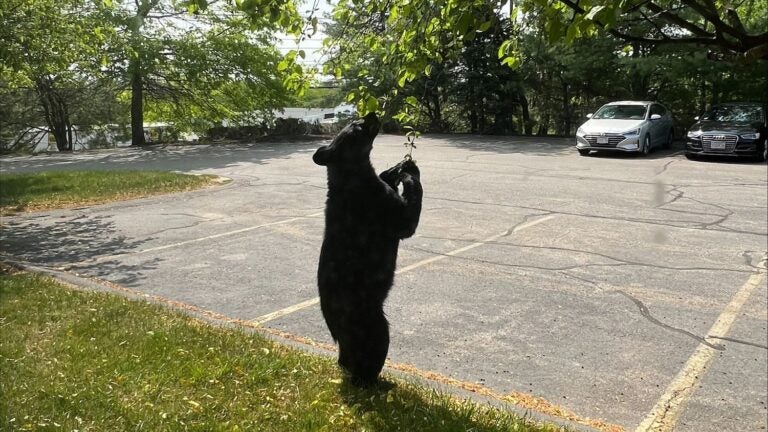 Hide the honey!
The black bear journeying through southern Massachusetts has reportedly made its latest stop in New Bedford.
Massachusetts Environmental Police received a report shortly before 9:30 a.m. Tuesday morning of a black bear near mile marker 4 on the southbound side of Route 140, according to Maria Hardiman, a spokesperson for the agency.
This is believed to be the same bear — presumed by MassWildLife to be a two-year-old male with an estimated weight of 80 to 100 pounds — that officials have tried to find and capture on over 10 occasions in Franklin, Taunton, Freetown, Fall River, and Dartmouth, according to Hardman.
New Bedford Police said they received several reports of the bear late Monday afternoon, and located the animal Tuesday morning. According to Hardiman, the bear was likely attracted to bird feeders left outside.
"The location of the bear has become known and we are concerned about spectators making their way to the area, the New Bedford Police Department wrote in a Facebook post. "This can complicate and jeopardize our efforts to relocate this beautiful animal safely."
As Environmental Police arrived to address the report, the bear crossed into a wooded area and continued to track through the north end of New Bedford. Officials continued to monitor the bear, which was later spotted Tuesday afternoon in Acushnet as it continues to head east.
"No aggression has been reported or observed," according to Hardiman, who also said surrounding departments have been notified of the bear.
Black bears often pop up in western Massachusetts during peak months of May, June, and July. But recently, bears have been spotted in Newton, Chelmsford, North Andover, Amesbury, and even Provincetown, according to Hardiman.
"While these towns in eastern Massachusetts are not within the established black bear range in Massachusetts, it's not unusual for individual bears to wander into these areas, she said. "There are large blocks of natural habitat in the area for the bear to use."
Bears are often attracted to bird feeders and food sources such as trash and compost, livestock, and bee hives, according to MassWildLife, and there are certain precautions the state recommends to avoid bear interactions. If someone encounters a bear, Hardiman said, they should "leave the animal alone and keep pets leashed."
"A gathering of people not only stresses the animal, but adds the risk of having a bear chased out into traffic or into a group of bystanders, she said. "In most situations, if left alone, bears will return to forested areas on their own. Most bear sightings do not need to be reported to MassWildlife or law enforcement."
Anyone who sees a bear in a very populated area is advised to contact Environmental Police at 800-632-8075.
Newsletter Signup
Stay up to date on all the latest news from Boston.com