Local
Mass. education department 'likely' to encourage schools to restrict phones
The state is urging schools to pilot restrictive cellphone policies, and may divide up to $1 million among districts who pilot new techniques to limit phone use.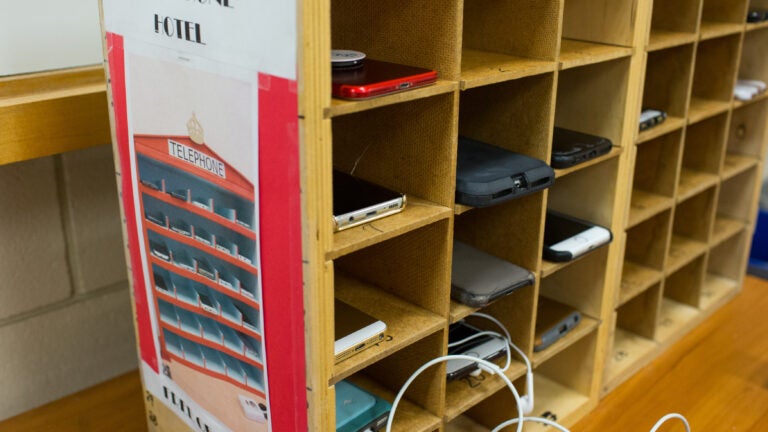 Amid rising concerns of student cellphone and social media use, the Massachusetts Department of Elementary and Secondary Education is encouraging school districts across the state to try out new tactics to restrict or ban cellphone use.

In a Board of Elementary and Secondary Education meeting Tuesday night, Commissioner Jeffrey Riley said the state could create a matching grant program of up to $1 million for schools who pilot restrictive cellphone policies, calling the possibility of the program "likely."

For years, schools across Massachusetts, and the United States, have struggled to find ways to remove distracting cellphones from classrooms, a challenge exacerbated by remote learning during the pandemic. As a result, recently, schools have turned to a variety of techniques to reduce usage. Some only allow cellphones during lunch and in hallways, others use magnetically sealed pouches for students to lock their phones inside, and a few have put cellphone lockers and caddies at the front of classrooms where students place their phones before class starts.

Discussion of statewide cell-phone policies begins around 1:49:29.

These techniques have had varying levels of success, administrators and students said during the meeting, and officials have recently warned schools and parents of the dangers posed by children and teenagers overusing social media. These include double the rate of anxiety and depression and altered neurological development.

And now, the state is actively encouraging schools to pilot cellphone restrictions, indicating they could split up to $1 million from COVID relief funds among districts who pilot the new policies.

While the state is not yet mandating these policies, officials said they want to see what works and what doesn't in certain districts.

"[This is] not a mandate at this time," Riley said, "but we're certainly interested in piloting more of this."

During the Tuesday meeting, students, teachers, and administrators from four Massachusetts schools — Milford High School, Marlborough High School, Eliot K-8 Innovation School in Boston, and Concord-Carlisle High School — discussed their respective policies and their impact on students.
Milford High School
After years of faculty complaints, in 2019, Milford High School implemented a policy prohibiting cellphone use in classrooms and the hallways. And while the policy has worked in some areas and struggled in others, Principal Joshua Otlin said, overall, classrooms have faced less distractions and have become more engaging.
"I think we've had mixed results," he said. "I think the quality of the classroom environment, on the whole, is orders of magnitude better than what it was prior to implementing this change, and I'm pleased to report that. I think the implementation, like most initiatives, has been uneven and there has been variability from classroom to classroom, and so I don't think that we have 100 percent consistency and fidelity from room to room in the building. I think we've had a lot of success in changing the norms in our classrooms. I think we've had much less success changing the norms in our hallways."
Otlin also discussed how the school has worked to "cultivate the habits of responsible use," teaching students how to live with their phones responsibly, instead of simply delaying when students develop poor use habits.
While some teachers at Milford strictly enforce the school's cellphone policy, others have a more relaxed approach to students using their phones. But according to student Tessa Scrimgeour, the classes that enforce the rules are often more engaging.
"I've actually had really good experiences in those classes," she said. "And I've made closer connections and my time is better spent in those classes, and that's a hard perspective for me to have because I want to be on my phone sometimes."
Marlborough High School
At Marlborough High School, students are allowed to use their phones during lunch, but are not permitted to use them exposed during class — unless granted permission by a teacher.
"The policy has impacted, I think, both staff and students in a positive way, because we have rules in place now for all of us to follow," said Gerry Pardilla, a Malborough teacher.
Pardilla created a "cell phone hotel" for students to slot and charge their phones in the front of the class, a policy he says has "changed his students."
Eliot K-8 Innovation School
In 2019, the Eliot School implemented the use of magnetically sealed pouches, created by the company "Yondr," where students can lock their phones inside at the start of the day and unlock at the end of school.
"When you have a cellphone in your pocket, the urge is there," said Traci Walker Griffith, the Eliot School's executive director. "This way, even during an emergency, teachers can unlock them once they get to a safe space."
Yondr pouches have been implemented in roughly 45 schools in Massachusetts, according to the company, and Walker Griffith said the pouches have "positively impacted our schools."
Concord-Carlisle High School
Students at Concord-Carlisle High School are required to place their phones in caddies at the front of the class — a method some teachers use to take attendance while restricting use.
"We were really happy with what we saw in terms of student focus and student interactions with each other during class time," teacher Johanna Glazer said.
The policy was first implemented by the school's social studies department last fall, and after teachers found the policy successful, the caddy system was adopted schoolwide in March.
"Our general sense is that it really has made a difference in creating a more focused and engaged learning environment and helping students to build those relationships in the classroom," she added.
Sorry. This form is no longer available.
Newsletter Signup
Stay up to date on all the latest news from Boston.com