Local News
Feds reject MBTA plan for track safety, calling it 'insufficient'
Citing "immediate risk" to worker safety, the Federal Transit Administration ordered the MBTA to submit a revised plan by June 5.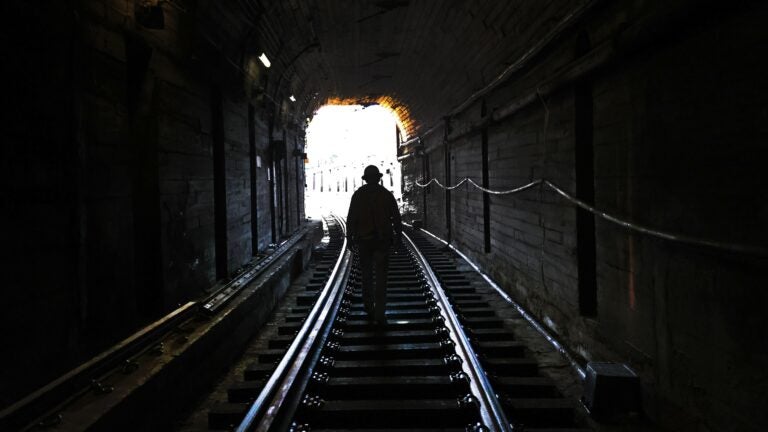 The MBTA's plan to improve worker safety on its railways is "insufficient" and needs revision, the Federal Transit Administration declared earlier this month.
Federal officials specifically took issue with the target dates the MBTA gave in a Right of Way (ROW) Rules Compliance and Safety Work Plan submitted in early May, the FTA said in a letter to General Manager Phillip Eng. The MBTA submitted that work plan after the FTA threatened to block track work unless the T took immediate action to address unsafe conditions.
The MBTA's plan included efforts to develop a long-term strategy for improving worker and contractor safety on the rail system, with some completion dates set for late 2023 and 2024, according to the May 19 letter.
However, "given the immediate risk to worker safety on the ROW, FTA requires direct and focused actions," the letter continued. The federal agency ordered the T to resubmit its work plan by June 5, complete with revisions that address and implement right-of-way safety issues within the next 60 days.
Earlier this year, MBTA leaders announced that the agency had experienced several near misses where trains came dangerously close to hitting workers on the tracks. Additionally, a worker was seriously injured on April 13 while working on the right-of-way "in a location where access had not been requested or granted," the FTA said last month.
In a statement provided to Boston.com, MBTA spokesperson Lisa Battiston said the T has been working "collaboratively" with the FTA as it works to address safety issues and "continues to welcome the FTA's feedback on its efforts."
"The initial action plan submitted to the FTA included both immediate and longer term actions to complete," Battiston said. "The FTA has directed the MBTA to focus the workplan on the immediate actions only."
Meanwhile, the MBTA is actively recruiting new hires for its safety department and has briefed the FTA monthly on the status of department staffing, Battiston said.
Newsletter Signup
Stay up to date on all the latest news from Boston.com