Local News
Outrage in Nahant as dog is killed by a coyote while being walked on leash, says owner
"Do we have to sit there and let our dogs be eaten?"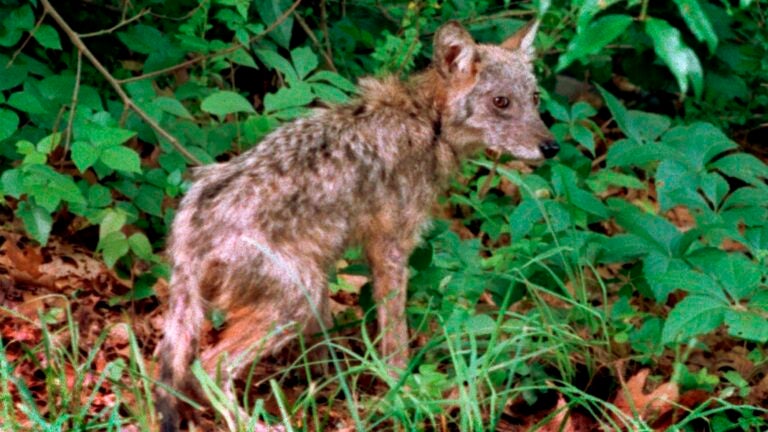 A dog was killed by a coyote while being walked in Nahant Saturday, according to a person posting in the "Nahant Coyote Victims" Facebook Group, where town members share their coyote stories.
The poster, identified as Chris Del Dotto by 7 News Boston and other media outlets, said he was walking his dog — leashed — on Colby Way Saturday night when an "extremely aggressive coyote" attacked. He added that the animal "kept coming towards me after I was able to pick up my dog." The dog, JJ, died at the vet, he said.
Nahant has been dealing with a coyote issue since last year. Dogs have been attacked and some residents have said the coyotes make them feel unsafe.
As a result, the town has made resources available on its website for how to deal with the animals, and it even contracted a group to kill coyotes that pose a threat to health and safety.
It's uncommon for dogs on a leash to get attacked, according to Dave Wattles, a black bear and furbear biologist with the Massachusetts Division of Fisheries and Wildlife. Typically, a person's presence is enough to scare coyotes away.
"If coyotes become comfortable enough that they're willing to approach people and attack dogs on a leash, all of a sudden that elevates it in our mind in terms of the potential threat to public safety," he said.
Despite this attack, though, Wattles said things "have been relatively quiet" since one of the coyotes in Nahant was killed in December. This was the only animal to be killed by the contractors so far.
The town provided its last update on the coyote problem in March, and said at the time there had been three reported attacks on pets. It also said that there were believed to be an atypical number of coyotes in the town given its size — between six and 12.
Wattles said towns, including Nahant, manage their own reports of coyote sightings and attacks, but that increased coyote activity is common across the state. He advised that people always keep their dogs not only on a leash when they're taken for walks, but also in plain sight at all times.
"They should really be supervising their pets," he said. "You should really do everything you can to keep that animal, your pet, immediately next to you on the leash so that you're watching it at all times, so a coyote doesn't have the ability, outside of your view, to come in and potentially grab a pet."
To scare away a coyote, he said people can make loud noises, try to chase them away, or even throw small objects at the animals. Ultimately, though, he said the goal is to figure out how to live with them.
"They're in Boston, they're in every city and town in mainland Massachusetts," he said. "Those steps are critical to coexisting with them."
Del Dotto, who said his dog was attacked Saturday, told Channel 7 that he disagrees with the idea of learning to live with the coyotes.
"Our dog was a part of family and it was ripped from us," he said. "Co-existing with coyotes, what does that mean? Do we have to sit there and let our dogs be eaten?"
He also said this was not the first run-in he'd had with a coyote in town.
"They're very aggressive in this town," Del Dotto said. "This is the second time I've had an encounter with them, and this time they got my dog."
When he spoke to Town Administrator Anotonio Barletta ​Tuesday morning, Wattles said neither of them had been contacted by the person whose dog was attacked. He added that he believes Barletta was trying to contact the person to get the full story.
In the meantime, he said there likely won't be any change to the existing coyote plans and that people should be "continuing to monitor things, continue to try to educate the public about the need to protect their pets and those kind of things."
Newsletter Signup
Stay up to date on all the latest news from Boston.com