Local News
Meet the 2 Mass. fourth graders who made it to the national spelling bee
Massachusetts's two top spellers, ages 9 and 10, represent the cities of Boston and Lynn.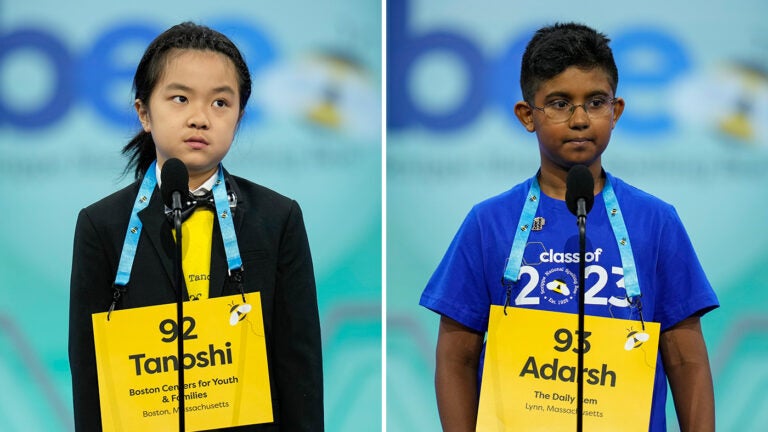 Two Massachusetts fourth graders were among the 231 top spellers who began battling their way to the top on the first day of the Scripp's National Spelling Bee Tuesday.
Meet Massachusetts's top spellers
Adarsh Venkannagari, 9, was sponsored by the Lynn Daily Item to compete in the 94th annual contest. Adarsh lives in Lynn but attends Paul Gates Elementary School in Acton, The Boston Globe reported.
According to his bio on the spelling bee's website, Adarsh is a Harry Potter and Percy Jackson fanatic. He also loves playing basketball and is a huge Celtics fan.
Tanoshi Inomata, 10, was sponsored by Boston Centers for Youth & Families to compete against the other spellers, whose ages range from 9 to 14. Tanoshi lives in Boston and attends Winship Elementary School in Brighton, the Globe reported.
According to his bio on the spelling bee's website, Tanoshi enjoys singing in youth choruses, playing piano, reading Japanese books, and drawing manga.
Tuesday's results
At the conclusion of Tuesday's preliminary rounds, Adarsh advanced to the quarterfinals after correctly spelling the word "aioli" in the first round, correctly defining the word "brethren" in round two, and correctly spelling "cadmium" in the third round.
Tanoshi correctly spelled the word "corrigenda" in round one but was eliminated during round two for incorrectly defining the word "pendulous." Thirty-two other spellers were eliminated that round.
Of the 231 contestants, 110 were eliminated from the competition Tuesday, while 121 advanced to Wednesday's quarterfinals.
Where to watch
The spelling bee is being held at the Gaylord National Resort & Convention Center in National Harbor, Maryland. The contestants include spellers from all 50 U.S. states, Washington, D.C., Guam, Puerto Rico, the U.S. Virgin Islands, Canada, Ghana, the Bahamas, and Department of Defense schools in Europe.
You can watch the quarterfinals on ION television network from 8 a.m. to 1 p.m. Wednesday. The semifinals will air Wednesday from 8 p.m. to 10 p.m., and the finals will be broadcast at the same time on Thursday.
Newsletter Signup
Stay up to date on all the latest news from Boston.com