Local News
'There's people walking around with baseball bats and hockey sticks': Nahant on edge after coyote attack
Some residents are demanding the state take action and call sharpshooters back in.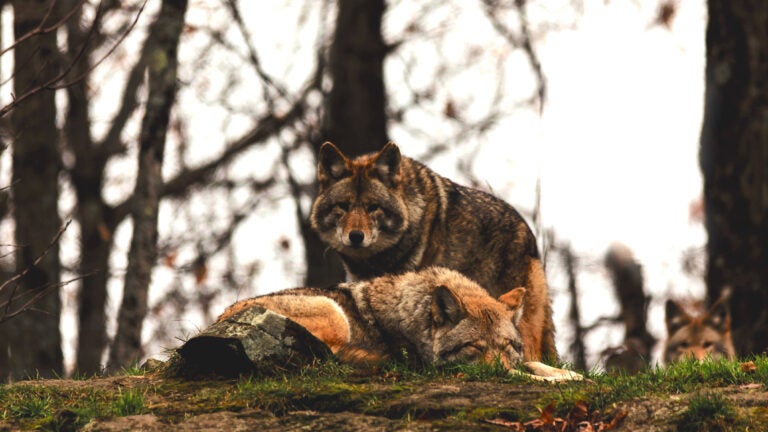 Following the death of a dog that was attacked by a coyote while being walked on a leash in Nahant Sunday, residents there are restless. Multiple dog owners said they fear walking their dogs in the North Shore near-island town, and that something needs to be done about the issue before it gets further out of hand.
However, finding a solution has been a problem for over a year now. A temporary federal sharpshooter contract resulted in the killing of one coyote in December, but since then, there have been no other actions from the town.
In the meantime, some residents have taken things into their own hands. Chris Del Dotto, whose dog was killed in Sunday's attack, has been vocal about finding a solution since. He said the state needs to step up and do something about the aggressive coyote population.
He told Boston.com that the state should permit the town to rehire federal sharpshooters to deal with the animals. On Sunday, he said he did what he was supposed to do — kept his dog leashed on the walk — but as he was walking toward the front door to his home and his dog trailed a bit behind him, a coyote attacked.
"I just hear my dog scream, and I whip around and the coyote has him," he said, adding that he went to collect his dog and tried "hazing" — as is recommended — to get the coyote to back off.
"I charged the coyote screaming and he dropped my dog and I picked my dog up, and the coyote was about four or five feet from me," he said, adding that he had to scream at the coyote three times as he was trying to get inside because it stayed near him.
After he went inside, Del Dotto said his neighbor told him the coyote sat at the end of the driveway and continued to watch the house.
JJ, the dog, wound up dying at the veterinary office, but Del Dotto said it was better than having the coyote take him away all together.
"As horrible of an experience as this was for my family, if the coyote dragged him off into the woods, it would have been even worse."
But this should not be happening to any other families, he said, and he is calling on the state to approve next steps for the town to mitigate the issue. At this point, he said there are town members walking around with weapons to fend off coyotes.
"I know there's people that are arming themselves now walking their dogs," he said. "There's people walking around with baseball bats and hockey sticks and clubs. But I've seen posts on Facebook that people are saying, 'If I see a coyote, I'm gonna shoot it. I carry a concealed weapon.'"
No hunting in Nahant
Hunting coyotes is illegal in Nahant, which is why the United States Department of Agriculture's wildlife officials had to step in to hunt the previous problem animal.
Town Administrator Antonio Barletta said he believes this is the only time that the USDA has been called into a municipality for this purpose. But given Nahant's unique situation, a unique solution was required.
"Nahant is one square mile of extremely densely populated property," basically surrounded by water, he noted. "So coyotes here are almost forced to interact with people."
He added that he's spoken to Del Dotto and an investigation into the attaack is ongoing, but there hasn't been a decision about a course of action. It is possible that the USDA will be asked to step in again, but it's up to the Massachusetts Department of Fisheries and Wildlife.
"Sounds like a problem animal to me," he said about the coyote that attacked Del Dotto's dog.
Dave Wattles, a black bear and furbear biologist with Mass Wildlife, told Boston.com in an email Wednesday that there aren't many updates to give surrounding next steps for the town.
"This incident is the first of aggression towards a person with a pet since last year," he wrote. "No immediate decisions have been made on a course of action, but MassWildlife will continue to work closely with the Town to address issues with aggressive coyotes."
The Massachusetts Society for the Prevention of Cruelty to Animals has been vocal about Nahant's attempts to mitigate the coyote population in the past. Last year, they posted a public statement on their website, outlining how it is inhumane to kill or trap a coyote, and urging others to tell the town not to allow such measures.
"As Massachusetts wildlife officials themselves have noted, there is no way for the federal sharpshooters to identify which coyotes are the nuisance animals," the company wrote. "Town and wildlife officials have also noted that this is only a temporary 'solution' and that the coyote population will likely be quickly replenished."
They also pointed to a webpage about coexisting with coyotes, which mentions similar ideas to the town's webpage on coyotes.
Barletta said eliminating coyotes is not the town's goal, but the town must act based on the state's advice when there is a public safety issue.
Coyote tracking in Little Nahant
In the meantime, one concerned citizen of Little Nahant — the smaller outcropping of the peninsula north of the main area of the town — developed an alert system for coyote sightings.
About a year ago, Judi Maccia started a text chain with a handful of dog owners she knew on her part of the island to alert each other when a coyote was in the area. Since then, the chain has become three chains — to accommodate Android users — with more than 70 people.
"At least it gives people comfort. It's kind of a 911. It's not for conversation," she said, adding that there are no "have a nice day" or "happy birthday" messages sent. It's just where the coyote is at the time someone sees it.
She said the idea came to her out of "cunning" and necessity. She thought to herself, "How do I outsmart a coyote?"
"The one thing they don't have is technology," she said about coyotes. "What can I do not to run across the street and run down the street and make 50 phone calls?" She added that this had been her recourse before the text chains. "I'm not that tech savvy, but I just knew there had to be a way."
The text chains are not a permanent solution, though, Moccia said. They're just a "Band-Aid."
"I don't have the manpower to protect the entire town," she added.
Moccia said she's had her own run-ins with coyotes before and it can be "scary" and "very uncomfortable."
A longstanding issue for Nahant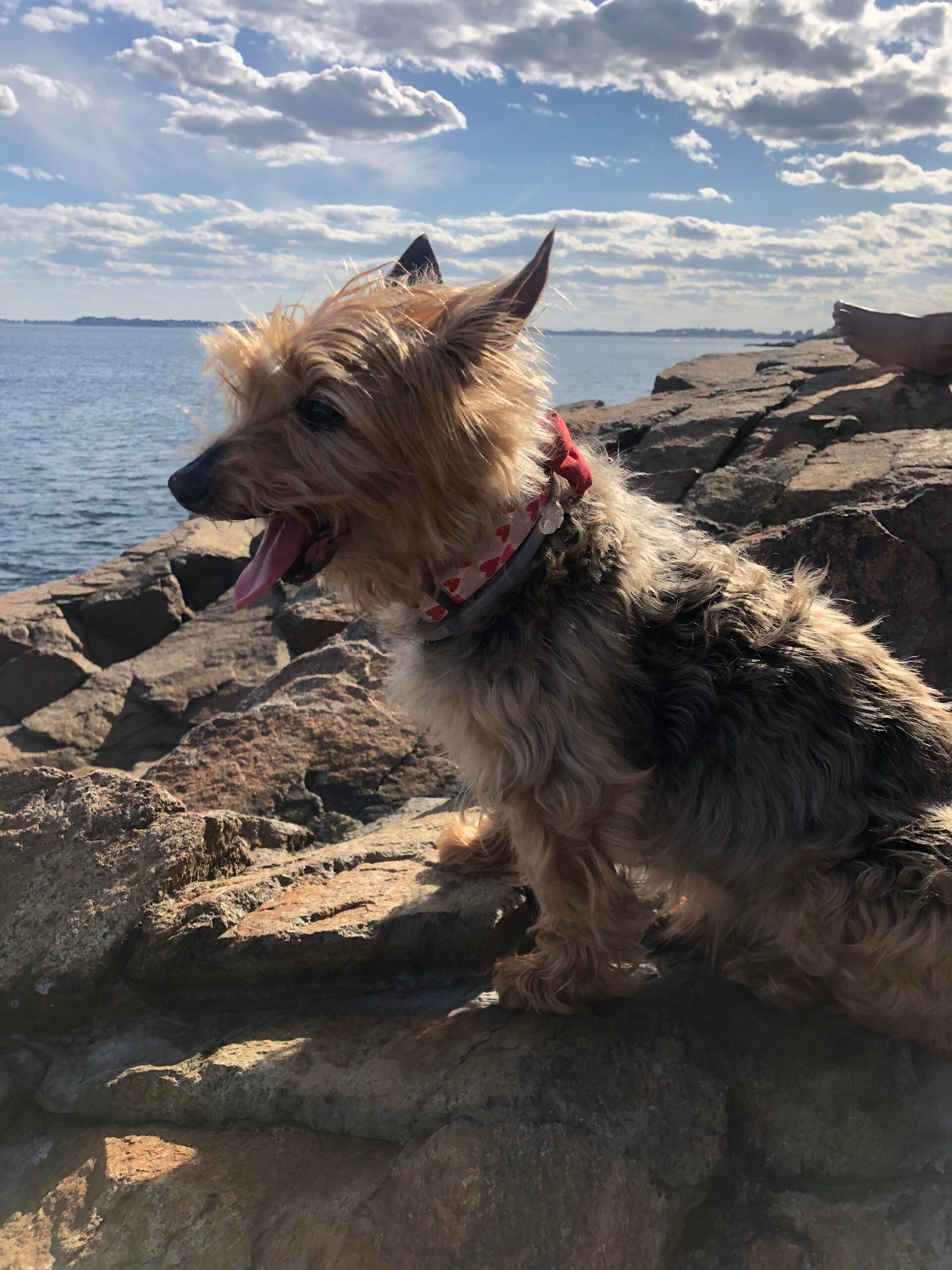 Before the Sunday attack, Del Dotto said he'd been seeing coyotes for years, so there is nothing new about the problem. He said he and JJ were involved in two notable encounters prior to Sunday's.
In one, a coyote tried to jump over a fence to get to JJ, but ran away when he saw Del Dotto. When the coyote leaped, Del Dotto estimated he was a foot or so from JJ's face.
The other incident was at a park, where three coyotes surrounded JJ and one followed Del Dotto home. He said he had no idea the coyote was following him until a neighbor told him to look out.
"They're good hunters. I had no idea a coyote was around me when it happened," he said, referring to Sunday's attack on JJ. "They don't fear air horns, they don't fear people waving things at them. They don't fear people. They'll stand their ground, they're gonna try everything they can to get your pet from you."
The problem extends beyond dogs, Del Dotto added. There are those in the town worried about their children being attacked while taking pets out for a walk.
Fears like this have been shared in the "Nahant Coyote Victims" Facebook Group as well.
Barletta said they've been working for two years, passing out air horns and other supplies to help people deal with coyotes without harming them.
"We have to act appropriately, and our number one concern is the safety of our residents and pets," he said.
Newsletter Signup
Stay up to date on all the latest news from Boston.com