Local News
Late-night fire engulfs 2 Brockton homes
One resident of 37 South St. credits her dog with saving her life.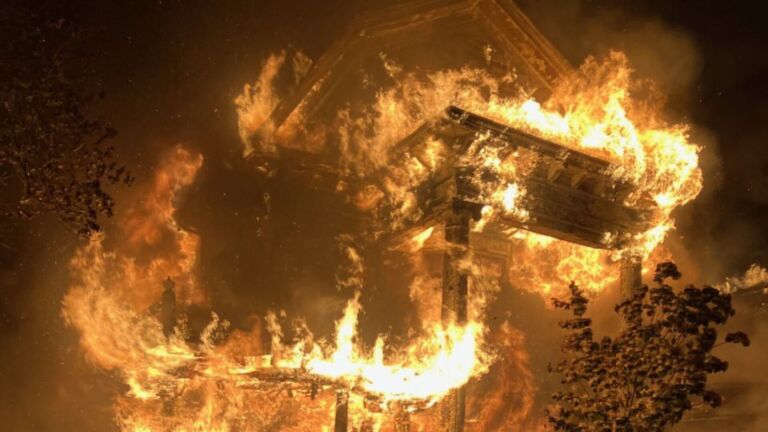 Four people, including two firefighters, were hospitalized with minor injuries after a five-alarm fire tore through two homes in Brockton early Thursday morning, according to Brockton Fire Chief Brian Nardelli.
Brockton firefighters responded to the fire at 37 South St. around 2:48 a.m. Thursday. The fire escalated to a second, third, then fourth alarm and eventually spread to 35 South St. And upon arrival, Nardelli struck a fifth alarm for additional manpower.
Residents from both homes were able to escape the buildings, but some residents of 37 South St. became trapped in a fenced yard after attempting to exit the back of the home, Nardelli said. Firefighters broke down the fence and were able to help the residents escape the enclosed area.
The fire was under control within approximately two hours, according to Nardelli.
Nineteen residents are now displaced and two were hospitalized with minor injuries as a result of the fire. Two firefighters were also hospitalized with minor injuries, but have since been released, Nardelli said.
While both homes sustained damage, 35 South St. is in good enough shape to be rebuilt in the future, Nardelli said. Thirty-seven South St. is a total loss, and will need to be torn town.
Maria Rogers, owner of 37 South St., said she "would have died" had her dog, Bentley, not woken her up, WCVB reported.
"He (doesn't) leave my side. Thank God for him," she told the news station. "He was going crazy barking. I thought somebody was knocking at the door. I was like, 'What is going on?' I thought it was raining. Thank God for him. I got up hysterically."
Newsletter Signup
Stay up to date on all the latest news from Boston.com