Local News
Wegmans to close Natick Mall store, citing 'non-traditional location'
Wegmans said it is closing the store because it struggled to attract enough customers to the mall location.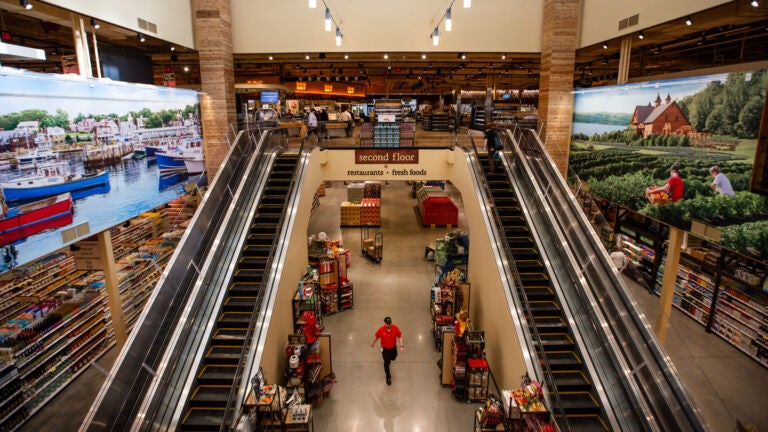 Grocery store chain Wegmans announced Thursday that it plans to close its Natick Mall location, citing difficulties attracting enough customers.
Wegmans will announce an official closure date for the Worcester Street store later this summer, the company said in a press release.
"Unfortunately, with this non-traditional location we are unable to attract enough customers for our business model to work," Brien MacKendrick, a Wegmans spokesperson, said in the release.
Wegmans said it notified store employees throughout the day Thursday and assured them that their positions with the company are secure.
There are 365 employees –142 full-time and 223 part-time — at the Natick store, and all employees are being offered positions at other Wegmans in the Boston area, the grocery store chain said.
There are five other Wegmans stores in Greater Boston, and the company said it does not plan to close any of those locations. Those stores are located in Burlington, Chestnut Hill, Medford, Northborough, and Westwood.
"We love our Natick community and customers, and we're eager to pursue new store locations in the area for the future," MacKendrick said. "In the meantime, we hope to continue to serve our Natick customers through our e-commerce offerings and our other area stores."
Wegmans said it identified Natick as an ideal location for a store in 2009, but couldn't find a site that met its criteria until the Natick Mall location became available.
The Natick Wegmans opened in 2018 and was Wegmans' first multi-level store within a large mall, the company said. At 134,000 square feet, it is one of the company's largest locations.
Last December, Consumer Checkbook rated Wegmans the Boston area grocery store chain with the second-highest quality products, but said that its prices were 12% higher than average.
Newsletter Signup
Stay up to date on all the latest news from Boston.com