Local News
Commuter ferry service between Lynn and Boston is nearing a comeback
Ferry service between Lynn and Boston could be resurrected just in time for the full Sumner Tunnel closures this summer.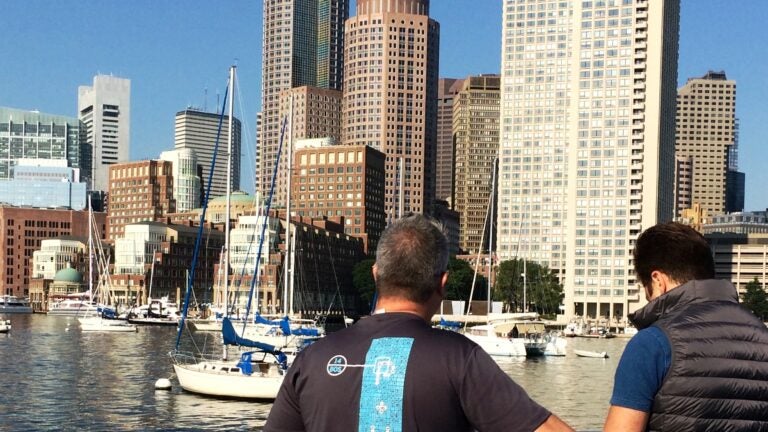 People commuting between the North Shore and Boston could soon have another way of traveling that involves a whole lot less traffic. Lynn officials have decided to sign a lease with the MBTA that would resurrect ferry service between the city and Boston.
Last Wednesday, Lynn's Economic Development and Industrial Corporation voted to sign a lease with the MBTA for the use of a city pier, terminal, and parking lot on Blossom Street Extension that would support ferry service, according to a release from Mayor Jared Nicholson's office.
"This is a huge step forward in the vision of positioning Lynn as a multi-modal hub of
transportation," Nicholson said in a statement. "Water transportation is a critical part of that."
The lease would be for two years with an option for a three-year extension, EDIC Executive Director James Cowdell said in the release.
"This is a home run," Cowdell said in a statement. "This is everything we hoped for coming to fruition, with the state funding the ferry."
The MBTA would work with Boston Harbor Cruises to operate the ferry beginning in late June. Ferry trips would take about 30 minutes each. They would be able to accommodate up to 150 passengers per trip. While specifics have yet to be ironed out, Lynn officials said that there would be multiple trips to Boston in the morning, and they would return to Lynn in the late afternoon. Tickets are expected to cost "significantly less" than the $7 one-way fares that were in place during 2015.
In a release, Cowdell said that all of the operational costs will be borne by the MBTA.
An MBTA spokesperson did not confirm any lease agreement when contacted Monday, but did say that the Lynn EDIC was allowing the MBTA to use dock space for the possibility of ferry service beginning in July.
The MBTA is continuing to take certain steps that would allow ferry service between Lynn and Boston as a mitigation option during upcoming closures of the Sumner Tunnel, an MBTA spokesperson said. The agency expects to share more details about this soon.
The Sumner Tunnel, which connects East Boston to the city's downtown hub, is undergoing a major restoration project. It will be closed the weekends of June 9 and June 23, and will shut down completely from July 5 to Aug. 31. More weekend closures will continue into the fall, and another full closure will occur next summer.
State Sen. Brendan Crighton, who represents the 3rd Essex District, called the EDIC vote a "major step toward restoring ferry service to Lynn" in a statement posted to Facebook.
"We thank the Healey-Driscoll Administration and Lynn officials for working with us to enhance public transportation options for the region, especially as we prepare for the summer-long closure of the Sumner Tunnel," Crighton said in the statement. "We face some of the worst traffic congestion in the country and water transportation must be part of the solution. We look forward to sharing more details of the potential ferry service soon."
U.S. Rep. Seth Moulton called the EDIC vote "great news" in a statement posted to Twitter.
"The North Shore needs more transportation options that don't involve getting in the car. This has been a long time coming for Lynn," he said in the statement.
The state's Seaport Advisory Council funded ferry service between Lynn and Boston in 2014 and 2015, attracting almost 28,000 riders, officials said. Ferry service did not resume until 2017, when service was reduced to only one trip per day each way.
The recent progress on this project and momentum towards an agreement with the MBTA occurred during the past several weeks, Cowdell said. He gave credit to Lt. Gov. Kim Driscoll, who previously served as the mayor of Salem, for recognizing the value of a Lynn-to-Boston ferry line.
"The lieutenant governor is a longtime advocate and a friend to the City of Lynn," Cowdell said in a statement. "That helped all the stars align."
Newsletter Signup
Stay up to date on all the latest news from Boston.com