Local News
Matthew Nilo, New Jersey lawyer accused of Charlestown rapes, pleads not guilty
Nilo was arraigned Monday. Prosecutors shared new information about the alleged attacks and the steps investigators took before arresting Nilo.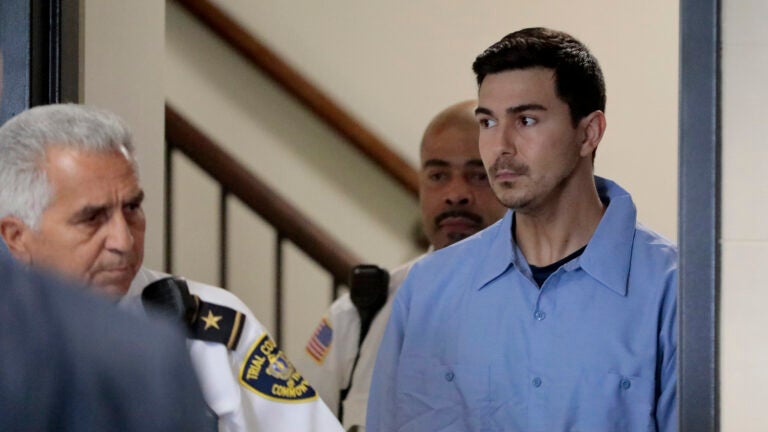 Matthew Nilo, a 35-year-old New Jersey lawyer accused of sexually assaulting four women in Boston over a decade ago, was arraigned Monday and pleaded not guilty to the charges.
Nilo was charged with three counts of aggravated rape, two counts of kidnapping, one count of assault with intent to rape and one count of indecent assault and battery, according to Suffolk District Attorney Kevin Hayden's office. He was ordered held on $500,000 bail as prosecutors revealed new details about the attacks and the events that led to Nilo's arrest last week.
If Nilo posts bail, he will be ordered to wear a GPS tracker, surrender his passport, have no contact with the victims, and to stay 1,000 feet away from Terminal Street in Charlestown, where all four alleged attacks happened, unless accompanied by his attorney.
Nilo's arrest is the product of a new initiative designed to leverage advances in genetic genealogy to identify leads in cold cases, police have said.
Assistant District Attorney Lynn Feigenbaum summarized the attacks during Monday's arraignment. The first attack occurred in the early morning hours of Aug. 18, 2007. A 23-year-old woman who had been out with a friend in downtown Boston left a bar and headed towards the area of State Street to look for her car. She was approached by a man in his twenties with light olive skin and brown hair whom she thought she knew.
The man offered her a ride to help look for her car, but instead he took her to Terminal Street. They both exited the vehicle and the man "told her to shut up or he would kill her," prosecutors said. He also told the woman that he had a weapon. The man allegedly raped her on a grassy area near railroad tracks.
The second attack occurred on Nov. 22, 2007, prosecutors said. The victim was another 23-year-old woman. She left a bar on State Street after attending a high school reunion, and entered a vehicle that she believed to be a taxi or a livery car. She gave the driver, a man, the address of an ATM near her apartment. When the car passed the intersection of North Washington and Commercial Streets, the woman told the driver that he missed the address. The driver then flashed a small knife at her. He drove her to Terminal Street, ordered the woman out of the car, knocked her down, and raped her, prosecutors said.
The third attack came on Aug. 5, 2008. A 36-year-old woman was panhandling near Boston Common, in the area of Boylston and Arlington Streets. She was approached by a man in his early twenties who promised to give her money if she drove with him to Charlestown. Once she accepted, the man drove her to Terminal Street, prosecutors said.
They exited the car, and the man tackled the woman to the ground. Prosecutors said he held a gun to her back and raped her repeatedly. DNA swabs from the first three attacks all matched the same unknown man at the time.
The fourth assault occurred in the early morning hours of Dec. 23, 2008. The victim, a 44-year-old woman, was jogging in the area of Terminal Street in Charlestown. A man ran up behind her, wrapped his arms around her upper body in a "bearhug," and tackled her to the ground with an arm around her neck, prosecutors said.
The man sexually assaulted her on the ground, prosecutors said. When the woman screamed, the man told her that he had a gun multiple times. She eventually fought him off, using gloved hands to poke at the man's eyes.
Boston Police revisited the investigation in 2022 using a method known as investigative genetic genealogy. Using this tactic, investigators scour publicly accessible DNA databases to narrow their pool of suspects. These databases are populated only by data that users have chosen to make available, prosecutors said.
Nilo emerged as a person of interest, and police started surveillance efforts in "early 2023." FBI agents obtained utensils and drinking glasses that they saw Nilo use at a corporate event. The Boston Police Crime Lab built a DNA profile from one of the glasses, which was found to match the suspect profile from the three Terminal Street rapes, prosecutors said.
Investigators also had the glove that the December 2008 victim used to poke at her attacker's eyes. It was sent for forensic testing at a private lab and investigators obtained a male DNA profile.
"Further testing determined that this profile was 314 times more likely to belong to Matthew Nilo than to any other male in the population," Feigenbaum said.
Nilo's attorney, Joseph Cataldo, told The Boston Globe Monday that he had not received notice that a search warrant was obtained before investigators collected Nilo's DNA samples.
"My educated guess is there are no search warrants… Obtaining DNA and analyzing it without a warrant based on probable cause, I posit that is unconstitutional," he told the Globe.
Newsletter Signup
Stay up to date on all the latest news from Boston.com