Local News
Here's why the new MBTA chief is looking for a 'head of stations' — and what that could mean for riders
Phillip Eng announced the new position following a pair of high-profile incidents involving defunct or decrepit station infrastructure.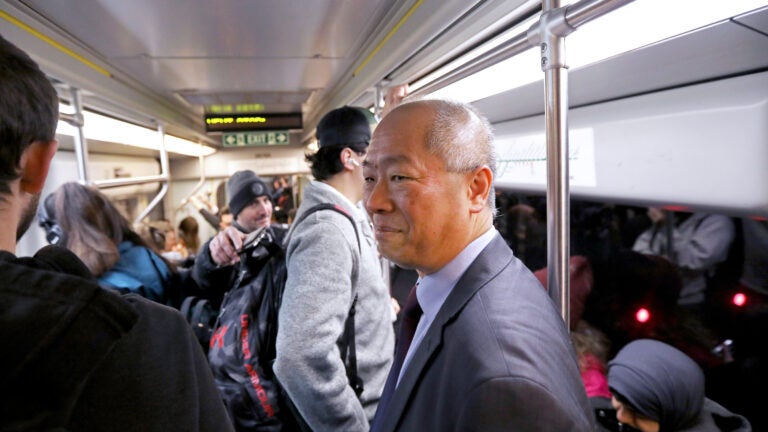 Following a series of recent high-profile mishaps at MBTA stations, the T is looking to appoint a new "head of stations" to oversee updates and operations at all its stops, according to General Manager Phillip Eng.
Appearing on WCVB's "On The Record" Sunday, Eng — who took office in April — said he's seen the "head of stations" role serve as a "single point of accountability" in agencies he's worked with in the past.
Eng first announced the new position at the May 25 MBTA Board of Directors meeting, explaining that the decision was prompted by recent incidents at T stations.
A defunct utility box fell at Harvard Station last month and injured a woman, who has since announced her plans to sue the MBTA. Two months earlier, a falling ceiling panel narrowly missed a rider.
Gov. Maura Healey blasted the condition of MBTA stations in an "On The Record" appearance last month, saying she has questions about "how it is that we have stations that are in this state of disrepair to begin with."
"It's absolutely unacceptable," Healey added.
During Sunday's interview, Eng agreed.
"It's almost like my living room," he said of his perspective on T stations. "If I'm inviting someone into my living room, I want them to feel comfortable; I want them to feel safe, and it has to be a welcoming environment, particularly if we want riders to come back."
Some of the larger-scale projects to improve T stations will take time, he acknowledged.
"But there's no reason we can't take care of some of these more immediate needs, in terms of corrective repairs, cleanliness, and just giving that, again, inviting appearance," Eng said.
How long before T riders notice changes?
Thomas Glynn, the MBTA's new board chair, said during a forum last week that T riders can expect an "incremental series of improvements," according to The Boston Globe. However, Glynn indicated that it may take some time before the public will notice a difference.
People will see a "different T one year from now," he said, according to the Globe.
Eng said Sunday that the T is making progress in addressing speed restrictions, noting that the difficulty of balancing speedy track work with uninterrupted service. However, he said the transit agency has no plans in the works for a shutdown on the scale of last year's 30-day Orange Line closure.
"My goal is to give people the ability to use the T while we're getting work done," he explained. "It's like riding a bicycle while you're changing the wheel."
What about the revised worker safety plan?
Complicating matters somewhat is the Federal Transit Administration's threat to block track work unless the T takes immediate steps to improve worker safety issues on its right of way (ROW). The FTA rejected the MBTA's resulting work plan, calling on the T to submit a revised plan with a swifter timeline for implementing changes.
That new plan is due Monday.
Eng said the FTA response to the MBTA's work plan — which federal officials described as "insufficient" — is "a normal process with FTA. I've worked with many federal agencies in the course of my career … and there's always this back and forth."
He said the T is "confident" it will deliver the revised plan on time and expects a "positive response."
Watch a clip from Eng's "On The Record" interview below:
Newsletter Signup
Stay up to date on all the latest news from Boston.com