Local News
Parents of 5-year-old Andover girl killed by truck push for safer intersections
"No one should ever be fearful for their life in a crosswalk," Eric Olson, father of Sidney Mae Olson, said.
The last few weeks have been unimaginably hard for 44-year-old Andover resident Eric Olson. On May 9, his 5-year-old daughter Sidney was struck and killed by a tractor-trailer while crossing Elm Street in Andover.
"There's a void in everything we do. Whether it's walking my son to school or going for a bike ride, she's missing, and that's really, really hard," he said.
Olson said he and his wife, Mary Beth Ellis, have been getting through this time by channeling their energy into doing good. Their first project was creating a scholarship fund that will help families in need pay for tuition to the SHED Children's Campus in Andover — an alternative "curiosity-based" school which Sidney attended for several years.
A professional Ironman athlete, Ellis is also starting a children's running program called Sidney's Rainbow Runners through the Merrimack Valley Striders running club. The goal is to get children interested in endurance sports and in doing so increase their resilience and confidence.
The most urgent effort the couple is spearheading is the push to make Andover intersections safer for pedestrians and bikers. This initiative will gain steam Thursday when town officials present the findings of a safety study on the Elm Square intersection, which is where Sidney was killed.
"All of [what we're doing] is about living [Sidney's] spirit and helping that live on in the community. And we see that being much bigger work of providing access to educational programs, sports programs, things that really unlock the potential of people. But that starts with having a safe community," Olson said.
Why the Elm Square intersection is unsafe
Olson said the Andover community has been concerned about pedestrian safety on Elm Street and at the Elm Square intersection for a long time.
In April 2022, a 78-year-old woman was killed when she was struck by a vehicle at the intersection of Elm and Whittier Streets, which is just a few blocks down from where Sidney was killed.
Olson described the intersection at Elm Square as being a "classic New England intersection" where five roads come together. The main intersection is between Elm and Main Streets, but Essex Street, High Street, and Post Office Avenue all connect with the intersection as well.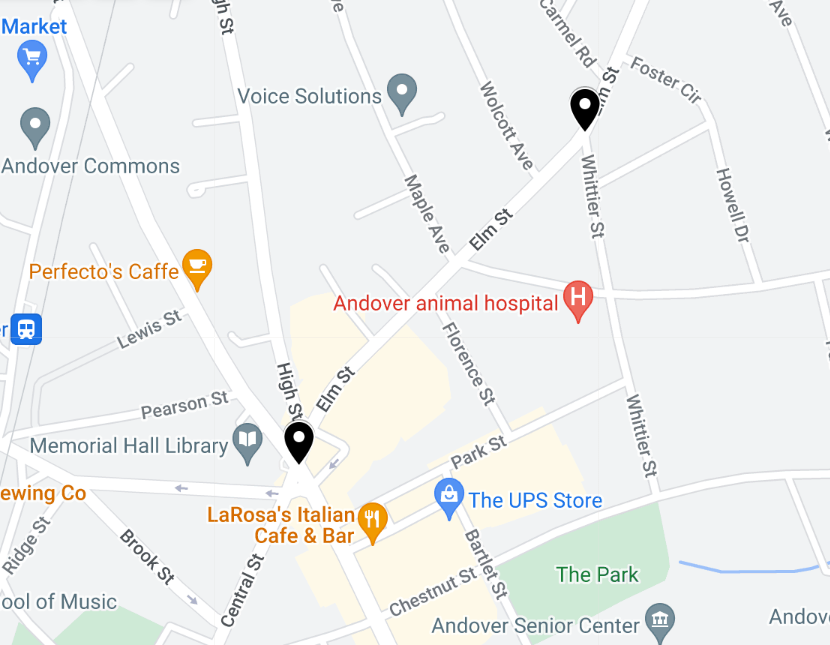 There are a few reasons this intersection can be dangerous for pedestrians, Olson said.
Firstly, Olson said, though the town's population dropped slightly between 2020 and 2022, the town's population increased greatly over the last few decades, leading to more cars on the road. According to U.S. Census data, the town's population increased by nearly 10% between 2010 and 2020.
Andover's downtown has blossomed in the last few decades with more restaurants and shops, Olson said, making it a place people want to both drive and walk around. The St. Augustine School, which serves children in preschool through Grade 8, as well as Doherty Middle School, are also just blocks away.
"You have a lot of young people, families, but also young people on their own…traversing these intersections by themselves," Olson said.
Olson also claims the streets are narrow, and there's limited visibility into the intersection before a driver stops. Despite this, community members say motorists often drive faster than the 25 mph speed limit.
The intersection also includes slip lanes, which allow cars making a right turn to go through the intersection without stopping. This means cars don't have to slow down as much as they go through the intersection.
"The way we use roads has evolved much faster than pedestrian safety," Olson said.
Efforts to make the Elm Square intersection safer
On May 1, Andover residents approved funding for a traffic study on the Elm Square intersection at the Annual Town Meeting — just a little over a week before Sidney was killed.
Normally, funding approved at the town meeting would not be available until July 1, but in response to Sidney's death, Town Manager Andrew Flanagan authorized the traffic study to begin immediately, the town announced on May 24.
The town has also acted to improve pedestrian safety in a few other ways in recent years. At the 2022 Annual Town Meeting, Andover residents approved a town-wide speed limit of 25 mph in thickly-settled areas.
Additionally, the town's police department has increased efforts to alert drivers of the speed limit change, the announcement said. The town's FY 2024 budget includes funding for two officers to be added to the department to reestablish its traffic division and increase enforcement of traffic laws.
"Our commitment to pedestrian safety has never been greater, and it has only been strengthened in the recent weeks," Town Manager Andrew Flanagan said in the May 24th announcement.
After Sidney's death, the Massachusetts Department of Transportation (MassDOT) began a Road Safety Audit of the Elm Square intersection.
Under the terms of a 1982 agreement between Andover and the state, any changes to traffic signals at that intersection require state approval, the announcement said. The concurrent audit could expedite any signal changes the town decides it wants to make to the intersection.
"We want to see some urgency, but we appreciate and understand that [government officials have] leaned in, and this is a priority for them as well," Olson said.
The traffic study and community forum
According to the announcement, the new study assessed traffic operations, intersection geometry, crash data, pedestrian and vehicular movement, and public comments about the Elm Square intersection.
It is expected to include a list of recommended infrastructure projects to improve pedestrian and biker safety at the intersection.
Andover officials from the Police, Facilities, and Public Works departments, as well as from the Town Manager's office, will attend Thursday's forum, which will take place from 7 to 9 p.m. in Doherty Middle School's auditorium. Officials from MassDOT and representatives from TEC, the firm which conducted the traffic study, will also be in attendance.
The announcement said the forum will also include an update from Andover Police Chief Patrick Keefe on the ongoing investigation into Sidney's death, which is being led by the Essex County District Attorney's office.
According to the announcement, Keefe previously said authorities' preliminary investigation indicated that, at the time of the crash, intersection signals were working properly, the truck's speed was not a factor, and that the truck did not malfunction.
What local activists want from town officials
The forum will be an opportunity for "Sidney's Rainbows," a group of Andover community members concerned about pedestrian and bike safety, to have their voices heard. Olson said the group wants three things from town officials.
Firstly, he said, the group wants officials to make zero traffic fatalities and serious injuries the goal and standard for the town.
Secondly, the group wants officials to conduct a pedestrian and bicyclist road safety audit for the entire town.
And thirdly, Olson said, the group wants the town to institute a list of changes that would make intersections safer immediately.
These changes include:
Moving vehicle stop lines farther back from crosswalks
Eliminating turns through intersections when pedestrians have a walk sign
Consistent police presence at busy intersections during peak traffic times
Increased enforcement of traffic laws
Increased efforts to make drivers aware of speed limits through the use of signs, portable speed bumps, and radar speed signs
"No one should ever be fearful for their life in a crosswalk," Olson said.
Newsletter Signup
Stay up to date on all the latest news from Boston.com