Local News
Fatal fentanyl overdoses strike Charlestown as concerns over xylazine contamination grow
"Charlestown has seen a lot of tragedy, a lot of loss. So when something happens to somebody in Charlestown, the whole community is impacted because we're so close-knit."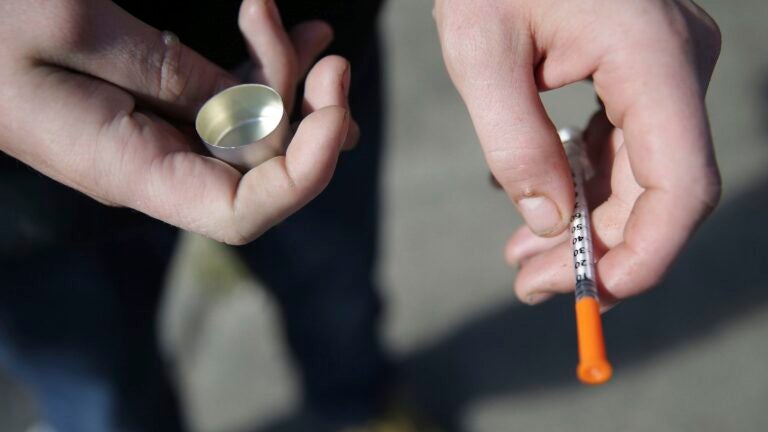 Like most, there's a repetitiveness to John Ahearn's mornings.
The lifelong Charlestown resident wakes up, drops his daughter off at school, and by 9 a.m., pulls into the Dunkin' on Austin Street.
He orders an iced coffee for himself, and muffins for his wife who works remotely as a recovery coach.
But Ahearn's daily Dunkin' run is for more than just breakfast. For the 42-year-old recovering addict, who lost his older sister in May to a fentanyl overdose, it's a place of grief.
"When I go there, I see all the mothers … who have kids that have died, who have outlived their children," he said. "Which I don't think that any parent should outlive their kids."
Ahearn, and the grieving residents of Charlestown, have been struck by an increasing number of fatal overdoses over the past three weeks. And according to community members, the increase could be tied to the dangerous mixing of fentanyl with other drugs
"Lately there's been a few overdose deaths in Charlestown that have really affected this community, me in particular," Ahearn said. "My sister, obviously, passing away, but also a couple close friends of mine passed away all in a short period of time."
"People are hurting. Families are hurting."
At least six people have died of fatal overdoses in Charlestown over the past three weeks according to Shannon Lundin, a member of the Charlestown Trauma Response Team, which provides resources to grieving families and those suffering from addiction.
And the string of deaths have rocked the neighborhood.
"We're a very close, tight-knit, loyal community. Everybody knows everybody. Everybody knows everybody's business," Lundin said. "It's a blessing and a curse. But when tragedy strikes in this community, we come together like no other. Unfortunately, Charlestown has seen a lot of tragedy, a lot of loss. So when something happens to somebody in Charlestown, the whole community is impacted because we're so close knit. So people are hurting. Families are hurting."
As members of the Charlestown Trauma Response Team help grieving families organize funeral arrangements, Lundin anticipates even more deaths as a result of the deadly mixture of drugs.
"I felt [the last two deaths] coming before it happened," Lundin, who has been in long-term recovery for 19 years, said. "And I feel that there's going to be more."
The Boston Public Health Commission, in a statement to Boston.com, said it "is aware" of the fatal overdoses in Charlestown and will "continue to work with our partners across the city to connect residents with harm reduction and treatment services to prevent overdoses."
"BPHC reminds all residents that no drug supply is safe, and that illicit drugs are possibly tainted with fentanyl or other harmful substances, such as xylazine," a BHPC spokesperson said.
Continued fentanyl concerns
Opioid-related deaths have grown staggeringly over the past two decades, and the most commonly used opiate, fentanyl — found in 94% of opioid-related overdose deaths statewide — is causing higher levels of overdose than ever before.
Statewide opioid-related deaths reached a two-decade peak in 2021, with 2,301 deaths, according to the Massachusetts Department of Public Health. And Boston similarly reached a high of 251 deaths, a 61% increase since 2015.
Fentanyl "continues to be the main driver of opioid-related overdose deaths in Massachusetts," according to the department. And now, the opiate is being mixed with a sedative known as xylazine.
Growing detection of xylazine
Xylazine is an animal tranquilizer that causes sedation, lower heart rate, and muscle relaxation. It has been detected in an increasing number of fatal overdoses.
The Boston Public Health Commission released a public advisory on xylazine in November 2022 warning people to be on the lookout for the brownish-white powder.
In 2021, 31% of heroin and fentanyl samples contained xylazine, and as of June 15, 2022, that number was 28%, according to data collected by the Massachusetts Drug Supply Stream, an organization that tracks and examines illicit drug patterns.
The sedative increases risk of trauma and wounds and reduces receptiveness to naloxone or Narcan — a drug used to immediately treat an opioid overdose — according to Dr. Sarah Wakeman, medical director for substance use disorder at Mass General Brigham.
"Xylazine will not respond to Narcan the way an opioid responds to Narcan," she said. "Narcan is an opioid antagonist or blocker, meaning it's going to kick opioids off your receptor and reverse the effects of opioids. If someone has xylazine on board, the Narcan is not going to help in the same way, meaning it's not going to immediately reverse the effects of the xylazine."
"That being said, [Narcan] absolutely is still the first response because people using xylazine, pretty much across the board, are also going to have opioids present. That's what we see in the drug tracking from Massachusetts — that it's fentanyl plus xylazine. And the thing that's killing them is the fentanyl," she added.
With origins around the early 2000s in Puerto Rico, the sedative eventually arrived in northeastern states like Pennsylvania and spread to Massachusetts, Dr. Wakeman said.
"[Xylazine] more recently arrived in Massachusetts and there are important drug tracking efforts to try to understand how often xylazine is present, she said. "And to the data I've seen in Massachusetts, it ranges somewhere from 15 to 25% of samples that have been tested have xylazine being present. So it's not 100%, but it is much more common than it was even a couple of years ago, where it was really infrequently seen."
Increasing resources
Despite years of research surrounding harm reduction and prevention resources, over 100,000 people died in the United States from opioid-related deaths in 2022, according to the National Institute on Drug Abuse.
"Any life lost in the overdose crisis is one too many. And in the past year across the nation, we lost more than 106,000 people to essentially a preventable cause of death," Dr. Wakeman said. "And each day here in Massachusetts, we lose about six people to overdose. So it's just a sheer tragedy that is preventable. And I think that's the part that's so heartbreaking, because we have interventions that work."
Dr. Wakeman cited several tactics communities like Charlestown could implement to reduce fatal overdoses, like increased access to testing strips, overdose prevention centers, naloxone, safe use practices, and opioid use disorder medication.
Boston already offers various resources to support those struggling with drug use, such as its Access, Harm Reduction, Overdose Prevention and Education program, city-provided Narcan administration training, and treatment services that can be reached by 311.
However, many of these techniques face stigma, driving away people who need medical care.
"Because of the stigma that people who use drugs experience in the healthcare setting, it's also very hard for someone to come in and get medical care," Dr. Wakeman said. "And so as a doctor, I worry tremendously about that — that wound care and infections, that can be really serious and even life threatening, can occur in the context of xylazine use."
For grieving families and those suffering from addiction, local support groups like Alcoholics Anonymous and The Sun Will Rise — where Lundin works as a facilitator — are also available to connect with others who have been impacted by drug use.
"They say the opposite of addiction is connection, and it's true," Ahearn said. "You're not going to stay sober without connection."
Newsletter Signup
Stay up to date on all the latest news from Boston.com