Local News
Officials speak out against anti-LGBTQ+ graffiti at Jamaica Plain church
The vandalism at First Baptist Church reportedly included anti-gay slurs and the phrase "God does not love you."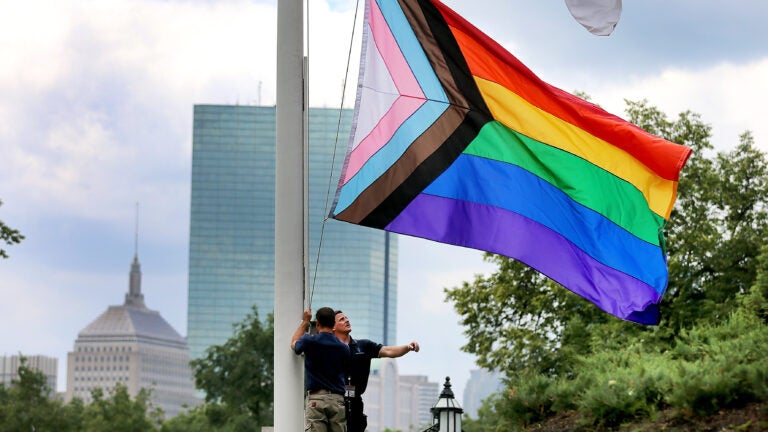 Boston officials are speaking out after a church in Jamaica Plain was vandalized with anti-LGBTQ+ graffiti Thursday morning.
The graffiti was sprayed across the base of the steeple area at First Baptist Church on Centre Street, The Boston Globe reported. The graffiti reportedly included slurs and the phrase "God does not love you," as well as a statement that LGBTQ people "should die."
Rev. Ashlee Wiest-Laird told the Globe that that vandalism occurred between roughly 2 a.m. and 7 a.m. Thursday.
"It's obviously meant to be intimidating," Wiest-Laird told the newspaper. "It's meant to be intimidating and hateful."
Wiest-Laird reported the incident to Boston police, according to the Globe. A Boston Police Department spokesperson was not immediately able to provide details Thursday morning.
"It makes me want to cry," Wiest-Laird told the Globe. "I mean, anybody who, this is how you want to spend your time, to make a point of being hateful."
Founded in 1842, First Baptist is affiliated with Welcoming & Affirming Baptists and seeks "full inclusion and leadership within our church of LGBTQIA+ people," according to its website.
The incident has already drawn condemnation from a couple of Boston officials.
"Today the First Baptist Church was vandalized in an act meant to scare and harm not just the queer members of this church but our entire community," Boston City Councilor Kendra Lara, whose district includes Jamaica Plain, wrote on Twitter.
"[T]he LGBTQIA+ community makes JP what it is, a vibrant, affirming community and these kind of attacks will not be tolerated," Lara added.
Suffolk District Attorney Kevin Hayden also issued a statement, calling the graffiti "dangerous, hurtful messaging" that is "an instant reminder of the hatred within too many hearts in our city and cities across the nation."
"We will do everything possible to protect members of the LGBTQIA+ community in Boston and Suffolk County," Hayden said. "But our efforts must be supported by national leaders in both parties speaking in unison against these insidious impulses in our society."
While Wiest-Laird told the Globe she's concerned for members of her congregation, she emphasized that church leadership will not waver in their support of LGBTQ+ parishioners.
"The response is ranging from 'wow' to 'I have tears in my eyes seeing that this morning,' or 'wow, I never thought I'd see that kind of thing here,'" Wiest-Laird told the Globe.
One person, she added, said the church should respond by hosting "the gayest vigil gathering on the lawn that we can tonight."
Newsletter Signup
Stay up to date on all the latest news from Boston.com