Local News
Franklin Park Zoo lion undergoes successful surgery with help from his brother
Kamaia the lion had his "massively enlarged" spleen removed Friday, but he couldn't have done it without the help of a blood transfusion from his brother Dinari.
Kamaia, one of two African lions who live at Roxbury's Franklin Park Zoo, underwent a successful surgery to have his spleen removed Friday — and he has his brother Dinari to thank.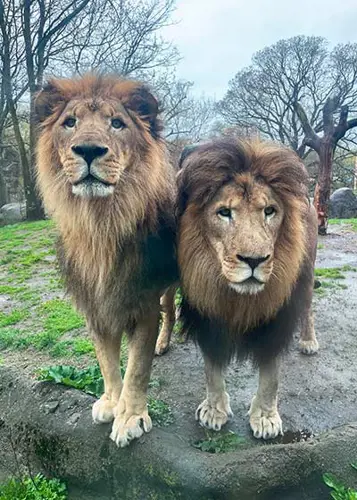 Kamaia's health journey
Kamaia, 14, has been dealing with health problems since March when he was diagnosed with an acute case of pneumonia, Zoo New England said in a press release.
While he responded well to treatment, the zoo said, he seemed to be suffering from underlying chronic health issues. So far, veterinarians have been unable to find the cause.
Then, in early June, veterinarians discovered that Kamaia was severely anemic and had a greatly enlarged spleen, the zoo said. This meant he would need to have his spleen removed.
Roadblocks to Kamaia's recovery
For Kamaia to be able to undergo spleen removal surgery, the zoo said, he would need a blood transfusion.
Zoo New England Director of Animal Health Chris Bonar said in the release that blood transfusions typically can't be done at zoos due to a lack of suitable donors for the animals.
Lucky for Kamaia, he lives with his brother who was also his littermate. After some tests, veterinarians determined that Dinari was a perfect blood donor for Kamaia.
"Dinari and Kamaia were born in the same litter, and are an incredibly close, tightly-bonded pair. These decisions are being carefully considered with both of their best interests in mind," Zoo New England President John Linehan said in a press release.
Kamaia's surgery
On June 8, Dinari was put under anesthesia and had blood drawn. The next day, with the help of Tufts University veterinarians, Kamaia underwent a three-hour surgery to have his spleen removed.
The zoo said veterinarians discovered the spleen was twice its normal size, but that they didn't find anything else abnormal during the surgery.
The zoo said veterinarians sent samples of Kamaia's spleen for further testing. They hope the tests will help them find the underlying cause of his health problems, but the test results aren't expected for a few more days.
Kamaia's prognosis
Kamaia will stay off-exhibit for the next few weeks so that his care team can closely monitor him while he recovers, the zoo said. But now, at least, he has a fighting chance, thanks to Dinari.
"The work done over the past two days has been extraordinary, and I couldn't be prouder of the team. We remain hopeful that Kamaia has a smooth recovery," Linehan said in the release.
Dinari and Kamaia have lived at Franklin Park Zoo since 2015. They came to the zoo after 21-year-old Christopher the lion was euthanized due to irreversible age-related health issues.
Newsletter Signup
Stay up to date on all the latest news from Boston.com