Local News
Trial for man accused of killing woman inside Worcester restaurant begins. Here's what to know from opening statements.
Carlos Asencio allegedly stabbed his ex-girlfriend Amanda Dabrowski to death inside O'Connor's Restaurant & Bar in Worcester on July 3, 2019.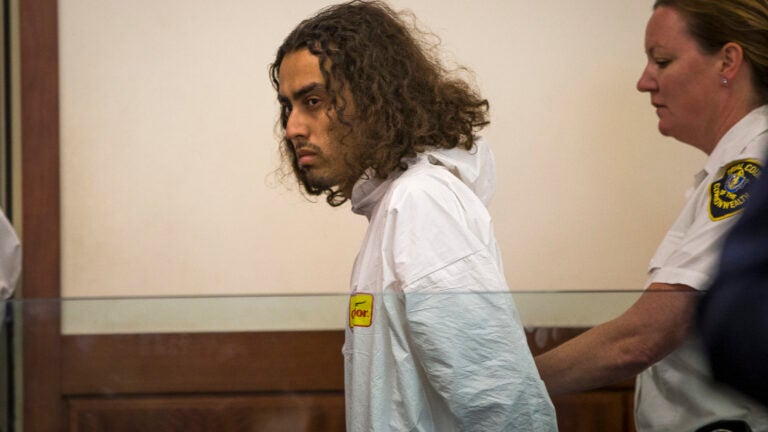 In 2019, 31-year-old Amanda Dabrowski was stabbed to death inside O'Connor's Restaurant & Bar in Worcester. The man accused of killing her, Carlos Asencio, was taken into custody at the scene.
Dabrowski, who was at the restaurant for a book club meeting, was killed on July 3, 2019. On Monday, almost four years after Dabrowski died, Asencio's trial for her murder began in Worcester Superior Court.
Both the prosecution and defense gave opening statements to a jury Monday morning. Here's what to know.
The prosecution's case
"Revenge and manipulation. That's what this case is about," Worcester County Assistant District Attorney Tiffany Scanlon told jurors.
In laying out the case against Asencio, she painted a portrait of a jilted lover who meticulously plotted revenge against the woman he blamed for hardships in his life.
Asencio and Dabrowski met while working at Bristol Myers Squibb, a pharmaceutical company, Scanlon said. They started dating in December 2018 and Dabrowski ended the relationship after just three months. Asencio did not take the breakup well, and "grilled" another colleague who she went on a date with.
Asencio later lost his job and became homeless. Scanlon said he blamed Dabrowski for these misfortunes.
"The Commonwealth would suggest to you that Carlos Asencio decided that if he couldn't have Amanda Dabrowski, then no one could," she told jurors.
In April 2019, Asencio allegedly broke into Dabrowski's home and attacked her with a stun gun, officials said. While Dabrowski was not named at first, officials later confirmed that Asencio attacked the same victim inside O'Connor's. In the wake of the April attack, Asencio fled the country.
But he was back in the Worcester area by June 2019, Scanlon said. He bought a car online and insisted that the existing plates remain on the vehicle in an effort to conceal his movement.
On June 29, his cell phone began pinging near a food pantry Asencio was known to frequent. Prosecutors say that, around 3 a.m. on June 30, the phone moved to the Webster address where Dabrowski was living at the time. Asensio then secretly taped his phone to the underside of her vehicle. His fingerprints were later found on the tape, Scanlon said.
On July 1, a second phone that was found in Asencio's possession downloaded and purchased an app used to help users find their other devices. Prosecutors say he used this app to track the phone he taped to Dabrowski's car through a shared Google account on both devices.
On July 2, Asencio met up with a homeless couple he knew, and offered to give them the car he recently purchased, Scanlon said. The three of them stayed in an abandoned warehouse that night. Asencio spun them a "tall tale" about how he lost his job and became homeless because of Dabrowski, she added.
On July 3, Asencio told the couple that he was going to the food pantry, and returned about an hour later in a "happy" mood, Scanlon said. He asked the couple about O'Connor's, specifically about what appropriate attire would be to wear to the restaurant. He picked out an outfit and brought dress shoes with him to make sure he could get into the restaurant.
He also brought with him two knives, Scanlon said. One was a folding, hunting-style knife. The other was a fixed-blade kitchen knife.
Asencio then took a taxi to O'Connor's, paid his fare in cash, and entered the restaurant. Surveillance cameras captured him lingering in the lobby and pulling out the cell phone that prosecutors say he was using to track her location. At one point, he looked out a window to make sure Dabrowski's car was parked outside, Scanlon said. He proceeded to walk through the restaurant in a "calm, cool, collected" manner.
Dabrowski's book club was meeting in a private room. She emerged from the room and, as soon as he saw her, Asencio ran up to her and began stabbing her repeatedly, Scanlon said. He wielded a knife in each hand, and Dabrowski was stabbed a total of 58 times.
Other patrons heard screaming, and several bystanders tackled Asencio and subdued him until police arrived. A man who helped in this effort sustained a non-life-threatening stab wound. Asencio also faces a charge of Assault and Battery for this stabbing.
In the aftermath of the attack, as police arrived, Asencio yelled "just kill me, I don't deserve to live," Scanlon said.
"Let me be clear, that fact that the defendant was suicidal after this brutal killing shows that he knew what he just did and he knew what he was doing," she said.
The defense's case
In his opening statement, attorney Robert Griffin did not deny the events laid out by Scanlon. He said that Asencio did kill Dabrowski, but that he should be found not guilty due to mental illness.
"That happened," he said. "What happened is a result of his mental illness."
Immediately after Asencio's arrest, he was examined by a psychologist and committed to Bridgewater State Hospital for observation, Griffin said. At that time, Asencio was not found to be competent enough to stand trial.
Asencio was committed to spend another year at the hospital, and afterwards was once again not found to be competent enough for a trial, Griffin said.
Medication and treatment continued for a second year, and eventually Asencio was deemed competent for a trial.
Griffin said that Asencio was "engaged in a psychotic episode," and that a clinical psychologist who examined Asencio, Dr. Paul Zeizel, will be called to testify in front of the court.
"The fact that someone can plan does not negate psychosis. I expect you will hear that from Dr. Zeizel. The fact that someone can get up and function does not mean they are not psychotic," Griffin said.
Griffin asked jurors to decide a verdict based only on the evidence they hear in court, and to keep an open mind about the case. He did acknowledge the chilling circumstances surrounding the case.
"It is a horrible case. It is a terrible, horrible set of facts, there's no question about that," he said.
Newsletter Signup
Stay up to date on all the latest news from Boston.com