Local News
Gov. Healey announces first-in-the-nation initiative to fund environmentally-friendly affordable housing
The Massachusetts Community Climate Bank will use private and federal dollars to outfit affordable housing units with things like heat pumps and solar panels.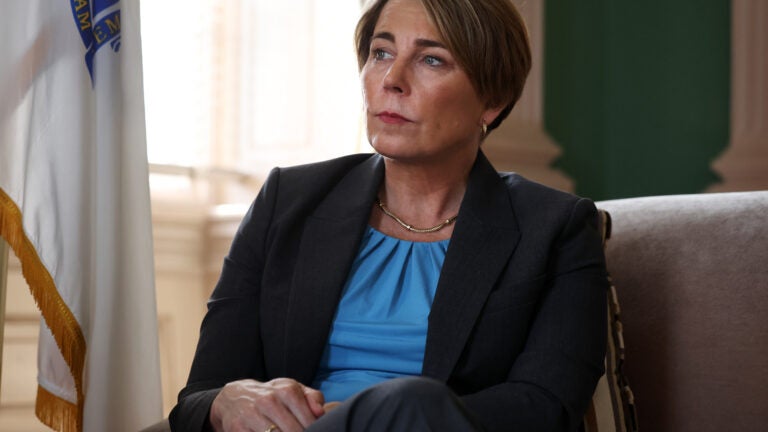 On Tuesday, Gov. Maura Healey announced the creation of a new bank that will provide funding to make affordable housing less harmful to the environment.
The Massachusetts Community Climate Bank is set to be the country's first green bank dedicated to affordable housing, according to a release from the Healey administration. It will be seeded with $50 million in state money from the Department of Environmental Protection to reduce greenhouse gas emissions in the building sector.
The bank is hoping to attract private sector capital and combine that with federal funds available under the Inflation Reduction Act to finance building retrofits and the new construction of climate-friendly buildings.
It will prioritize the affordable housing market first, officials said, as those residents "bear a disproportionate burden in energy costs and climate impacts." The bank will eventually diversify investments to encompass a wider array of decarbonization efforts.
"The Massachusetts Community Climate Bank will be our financial engine for moving forward on our climate goals, relieving the pressure of high housing costs, and creating good jobs and healthier communities," Healey said in a statement. "This first-of-its kind initiative is going to make our state more competitive, affordable, and equitable – and it's going to show that in Massachusetts, we can lead the world by leading with our values and leaving no community behind."
The bank will be organized within MassHousing, the state's affordable housing finance and investment bank. Massachusetts is the first state in the country to locate a climate bank like this within its housing finance agency.
Officials said the Climate Bank will lend directly to building owners while also "attracting and de-risking lending and investment by private lenders through innovative finance products."
MassHousing's lending process for affordable housing will be integrated with clean energy priorities, and the bank will create new programs for affordable housing developments, officials said.
"Decarbonizing the Commonwealth's housing stock is a critical component of our work to build cleaner, healthier communities, while meeting our ambitious climate goals," MassHousing Executive Director Chrystal Kornegay said in a statement. "The Massachusetts Community Climate Bank will allow us to pursue this important work at scale, accelerating our progress toward a net zero future, and centering equity for low- and moderate-income households and Environmental Justice communities."
The new money will go towards things like heat pumps, energy-efficient building and wall upgrades, high-efficiency appliances, and solar panels.
The building sector causes more than a quarter of all total greenhouse gas emissions in the state, officials said. Buildings, unlike cars, generally last for decades. Therefore, retrofitting existing buildings with climate-friendly equipment is a crucial step toward meeting the state's goals for decarbonization.
Those goals include a 49% reduction in greenhouse gas emissions from residential heating by 2030, and a 95% reduction by 2050, officials said.
"The Administration's continued focus on equity and affordability in both housing and climate justice remains essential to ensuring that all Massachusetts residents can share in the cost savings and health benefits that these improvements bring." Elizabeth Turnbull Henry, president of the Environmental League of Massachusetts, said in a statement.
Newsletter Signup
Stay up to date on all the latest news from Boston.com