Local News
Boston councilor slams colleagues who 'spread stories' about sex toys and drugs in BHA apartment
Councilor Kendra Lara alleged that "unsubstantiated stories" about a recent incident in a South Boston apartment "stoked homophobic and transphobic rhetoric."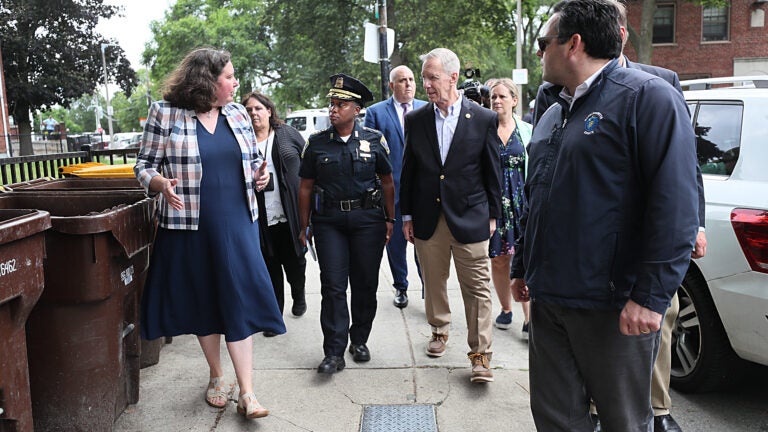 Boston City Councilor Kendra Lara has accused several colleagues of spreading "unsubstantiated stories" and stoking "homophobic and transphobic rhetoric" after a recent emergency call to a Boston Housing Authority apartment prompted public scrutiny and "house of horrors" comparisons.
A couple city councilors told news outlets they had heard reports that first responders found drug paraphernalia and sex toys in the South Boston apartment where an adult died on June 17. The Boston Police Department and Mayor Michelle Wu have since disputed rumors about what first responders found at the scene, though police did confirm there were four children in the home at the time.
In a statement posted to Twitter Wednesday, Lara alleged that her colleagues misgendered the deceased — described in a police report as "male to female transgender" — and other adults in the home as "men in wigs."
"In direct contradiction with the statements of the Boston Police, they've miscategorized the conditions of a constituent's home and spread stories about 'sex toys and drugs' that are unsubstantiated to date, furthering the false right-wing narrative that our trans siblings are sexual deviants who our children need protecting from," Lara wrote, attributing the behavior to three Boston City Council members she did not name.
The backstory
First responders arrived at the Mary Ellen McCormack complex in South Boston on June 17 after receiving a call about an unconscious person, Boston police said. The unidentified person was later pronounced dead.
Reports soon sprung up about squalid conditions, drug paraphernalia, and sex toys allegedly found in the apartment, fueled in part by comments from outraged officials.
"This is sickening," At-Large City Councilor Michael Flaherty told the Boston Herald. "I was informed by people at the scene that there were drugs, alcohol, sex toys all around the apartment as well as a dead body on the floor."
Speaking to Boston 25 News, At-Large City Councilor Erin Murphy said she had also heard reports of drug paraphernalia and sex toys found in the home.
Boston police later filed a 51A report about the apartment's conditions, according to the police report. Massachusetts law requires anyone whose work brings them in contact with children to notify the Department of Children and Families if they suspect abuse or neglect, the state's website notes.
Flaherty also told the Herald that "a man wearing a wig claiming to be the [children's] father" was found in a back bedroom.
What did authorities find in that BHA apartment?
Police and fire reports offer contradictory accounts of what first responders actually found at the scene.
The Boston Fire Department report, obtained by the Herald, alleges that an adult hid the four children from first responders in a back bedroom.
"All of the adult parties were being uncooperative and did not provide helpful information. All adults present denied having children inside the apartment," the report reads, according to the Herald.
In a statement several days later, however, Boston police reported that the adults were "fully cooperative" with responding officers.
"There were four children on site who all had a parent present in the residence," police said. "The parents and the officers who responded felt it was best for the children to stay in another room with one of the parents and took steps to avoid having the children see the deceased."
Boston police also disputed reports that drugs or other "concerning materials" were strewn about the apartment. The 51A report, they said, was "due to the nature of the call, and to ensure appropriate follow up with the families involved."
Mayor Michelle Wu echoed the Boston police statement, telling reporters last week that reports of a "house of horrors" were false, according to Boston 25 News.
"We will do whatever it takes to protect our children in this city but that also means not fueling conspiracy theories," Wu reportedly said.
Boston Fire Commissioner Paul Burke and Boston Firefighters Local 718 President Sam Dillon both stood by the fire department's report, according to Boston 25.
"What our firefighters put in our report is accurate and it should not be questioned," Dillon said, according to the news outlet. As for what city councilors said they were told, "As far I am concerned that is all hearsay, that is all politics," he reportedly added.
What's next?
Speaking to the Herald last week, Flaherty addressed the discrepancies in the police and fire accounts.
"If the Boston Police or anyone is relying on the responding police officers' report and body cam, they are missing all of what happened," he told the Herald. "Investigators need to speak directly to the firefighters since they arrived on the scene before the police, and what they saw disturbed them so much that they immediately took out a 51A."
He added: "What matters more than the finger-pointing is that each child is safe now."
In response to the incident at the Mary Ellen McCormack complex, Murphy, Flaherty, and Boston City Council President Ed Flynn teamed up this week to back an order for a hearing to assess the "response procedures and protocols relating to public safety in BHA units, particularly the safety of children in BHA housing."
The City Council referred the order to its Committee on Public Safety & Criminal Justice.
On Monday, representatives from the Boston Housing Authority joined first responders, City Council members, and U.S. Rep. Stephen Lynch — whose district includes South Boston — to tour the Mary Ellen McCormack complex, according to Boston 25.
"One idea here today is to try to get more facts, in terms of what exactly transpired," Lynch said, per Boston 25.
"This is a heartbreaking situation," Lara wrote in her statement. "No matter the circumstances of the death, the incident has impacted this family and this community, and I send my thoughts and prayers as they grieve."
Newsletter Signup
Stay up to date on all the latest news from Boston.com