Local News
Prosecutors drop Varsity Blues charges against 2 parents after appeals court ruling
The 1st U.S. Circuit Court of Appeals in May tossed all the convictions against Gamal Abdelaziz and all but one conviction of another parent, John Wilson.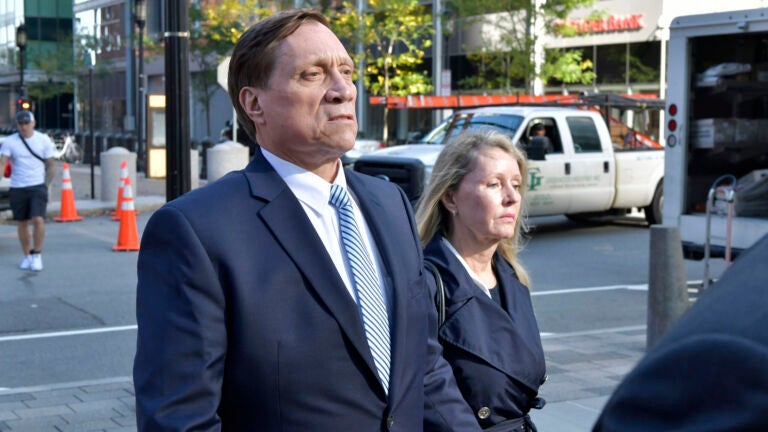 BOSTON (AP) — Federal prosecutors are dropping charges against two parents whose convictions in the sprawling college admissions bribery scandal were overturned by an appeals court, prosecutors said Thursday.
The 1st U.S. Circuit Court of Appeals in May tossed all the convictions against Gamal Abdelaziz and all but one conviction of another parent, John Wilson. The Boston-based appeals court upheld Wilson's conviction on a charge of filing a false tax return.
The Massachusetts U.S. attorney's office told the judge in court papers that it's dismissing those charges tossed by the 1st Circuit, and asked to set a new sentencing date for Wilson on the tax count.
Wilson had been sentenced last year to 15 months in prison and Abdelaziz was sentenced to a year behind bars, after jurors found them guilty in 2021 of buying their kids' ways into school in the first case to go to trial in the so-called "Operation Varsity Blues" scandal. A court later agreed that they could remain free while they pursued their appeals.
Abdelaziz, of Las Vegas, was accused of paying $300,000 to get his daughter into the University of Southern California as a basketball recruit. Authorities alleged that Wilson, a former executive at Staples Inc., paid $220,000 to have his son designated as a USC water polo recruit and an additional $1 million to buy his twin daughters' ways into Harvard and Stanford.
The defense said the fathers believed their payments were legitimate donations to the schools, and pointed the finger at the corrupt admissions consultant at the center of the scheme: Rick Singer.
The three-judge panel of the 1st Circuit said the trial judge was wrong in instructing the jury that admissions slot constitutes "property" of the universities under the mail and wire fraud law. The judges found that the government also failed to prove that the parents agreed to join the "overarching conspiracy among Singer and his clients."
Wilson said in an emailed statement last month that the appeals court's decision proves his innocence, and that the donations he made to the athletic programs "were part of a legal system setup by these schools that does not guarantee admissions."
The appeal court's "ruling confirms what we've always argued — John Wilson's children were all qualified for admission to these schools on their own athletic and academic merits, and none of his money went to enrich any coach," Wilson's attorney, Noel Francisco, said in an email Thursday.
Brian Kelly, an attorney for Abdelaziz, said in a text message that his client "looks forward to putting this case behind him" and is "enormously grateful for his family and friends who supported him throughout this four year ordeal."
Prosecutors ultimately convicted more than 50 people — including prominent businesspeople, celebrities and other wealthy parents — in the scandal that exposed a scheme led by Singer to get undeserving kids into top schools with rigged test scores or bogus athletic credentials. Dozens of parents pleaded guilty, including actresses Felicity Huffman and Lori Loughlin and Loughlin's fashion designer husband, Mossimo Giannulli.
A spokesperson for the Massachusetts U.S. attorney's office said they are "deeply proud" of the team who brought the cases and "the lasting and far-reaching impact these prosecutions have had."
"From the outset, this case has stood for the principle that we do not have a two-tiered system of justice in this country and that everyone — regardless of wealth, power or fame — must operate under the same set of rules. These prosecutions have reaffirmed that principle," Christina DiIorio-Sterling said in an email.