Local News
Man whose $3 million lottery ticket was allegedly stolen receives prize
"My thanks to all of the people who helped me get to this point. It's so many people who worked on my behalf to see me here today, and it's greatly appreciated."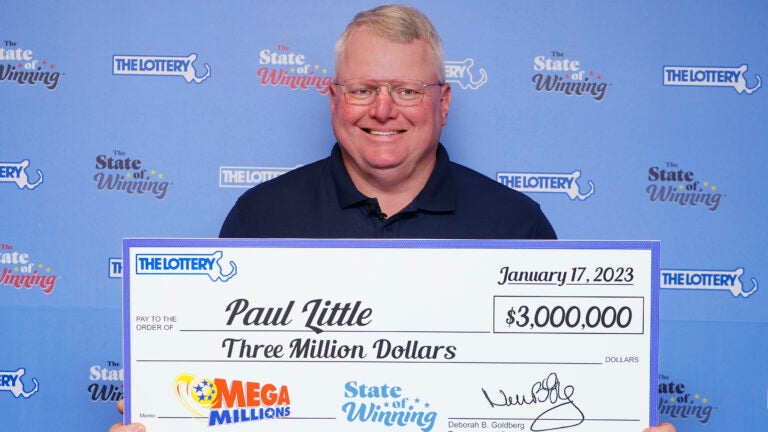 Six months is a long time to wait for a package, a letter, or a college admission decision. But what about $3 million?
One Lakeville man finally received his payout for a $3 million winning lottery ticket Friday after it was allegedly stolen in January.
"I'm pretty excited today because it's real, with the check in hand," said Paul Little, according to a statement from the lottery. "My thanks to all of the people who helped me get to this point. It's so many people who worked on my behalf to see me here today, and it's greatly appreciated."
Little went into Lakeville Market & Liquors on Bedford Street Jan. 17 and picked up a bag of barbeque chips, two Mass Cash tickets, and two Quic Pic tickets for the Mega Millions game, according to officials. He used a multiplier to increase the jackpot.
Authorities said Little then unintentionally left his lottery tickets behind. Later a customer handed in these tickets to the cashier, Carly Nunes, according to officials.
That night the Mega Millions numbers were announced, and the ticket was a $3 million winner.
Two days later on Jan. 19, Nunes and her boyfriend were driven by her coworker Joseph Reddem, 32, to lottery headquarters, where Nunes allegedly went to redeem the ticket, according to officials. Reddem and Nunes later argued in the lobby of the building, with Nunes allegedly saying she would, "only pay him $200,000," according to authorities.
The argument and the condition of the lottery ticket, which was torn and burnt, led officials to question the validity of Nunes's claim to the winnings, according to officials. Nunes later said she "inadvertently obtained the winning ticket," according to prosecutors.
The video footage from the store was reviewed and investigators determined that the real ticket owner was Little. Little was located after a month of flyering and canvassing, according to officials.
Nunes was charged with larceny from a building, attempted larceny, presentation of a false claim, and witness intimidation, according to officials. Reddem was charged with attempted extortion, authorities said.
Nunes and Reddem were both charged criminally and have pleaded not guilty.
Newsletter Signup
Stay up to date on all the latest news from Boston.com