Local News
Undocumented immigrants can now get driver's licenses in Mass. Here's the process for applying.
The process is long and requires RMV visits, but some of it can be done online, and the RMV promises that it is safe for undocumented people.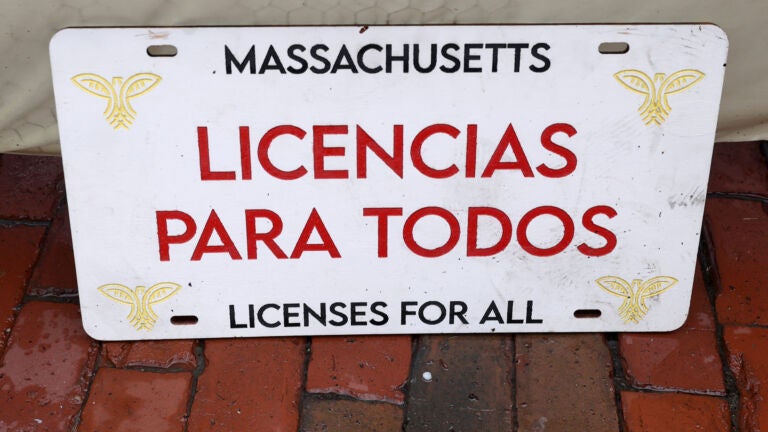 During the midterm elections, Massachusetts voters opted to keep a law passed by the Legislature that allows undocumented immigrants to get driver's licenses.
This law took effect July 1. Here's what you need to know.
The Work and Family Mobility Act (WFMA) allows Massachusetts residents to apply for standard driver's or motorcycle licenses regardless of immigration status. The law, passed in June 2022, removes the requirement that residents provide proof of lawful presence in the U.S.
Under the law, the Registry of Motor Vehicles (RMV) says, over 100,000 people are now eligible to apply for vehicle licenses in Massachusetts. It is prepared to handle them with materials translated into 15 languages and interpreters available in 100+ languages over the phone and in person, the RMV says.
The RMV does not provide any information to federal agencies that would put undocumented immigrants at risk of being targeted by immigration enforcement, a spokesperson for the RMV said Monday. She also said the RMV is looking at all its systems to ensure the application process can't be misused this way.
The permit application process:
Applicants need to request an appointment for a learner's permit test online. They will then receive an email from the RMV with either a link to schedule an appointment at one of their preferred locations or a confirmation that they have been added to a waitlist.
When an appointment becomes available for people on the waitlist, they will receive an email from the RMV with a link to schedule their appointment. The link is valid for 24 hours.
If you don't have an email address but want to book an appointment with the RMV, you can do so by calling 857-368-9362.
Applicants need to then study for their learner's permit using the Massachusetts Driver's Manual. They can then take the test at their learner's permit test appointment or online afterward.
The learner's permit test is $30 and is available in 35 languages. Proof of Massachusetts residency, proof of identity and date of birth, and proof of social security status are still required to take the test. The applicant's vision will also be tested at the appointment.
If any documents aren't in English, applicants must provide a verified translation. Documentation requirements are listed at the bottom of this page.
If applicants pass the permit test, they'll be printed a permit at the RMV. If they take the test online, they'll need to print the permit themselves.
If applicants fail, they can retake the test for $30. Permits are valid for two years.
The license application process:
Once applicants have a permit, they can start practicing driving with a licensed driver in the passenger seat. That driver must be at least 21 years old and have been driving for over a year.
Once an applicant is ready for the road test, they will need to schedule a road test online using their learner's permit. They will also need to fill out the Road Test Application and pay $35 to take the road test.
On the day of the road test, applicants must bring a licensed driver with them. They can also bring an interpreter. People under 18 must have their learner's permit for six months before taking the test.
If an applicant passes the road test, they will receive a temporary license. They will then need to pay a $50 license fee, after which their license will be mailed to them.
If an applicant fails the road test, they must wait two weeks before taking another test. You are not allowed to attempt more than six road tests in a 12-month period.
How to start your application:
Visit Mass.Gov/myRMV
Select "Make or cancel a reservation"
Select "Appointments/Reservations"
Select the "Schedule a Service Center Appointment"
Provide your contact information
Select "First Time Driver's License or Identification Card and Learner's Permit Services"
Select "Apply for a Learner's Permit"
List your top 3 RMV location preferences
Review the info and submit
Things to remember:
Appointments at RMV locations are required for all application processes
Prepare your documents before your appointment because you can be turned away for not having them in order
All fees can be prepaid online
Applying for a learner's permit or driver's license should not put you at risk of being targeted by immigration enforcement
Materials are available in many languages, and you can bring an interpreter
There are scams offering fake driver's licenses, but you must get yours from the RMV for it to be legal
How the RMV has prepared for more applicants
The RMV has been preparing for the WFMA to go into effect for months, it said in a press release. It said it can handle an influx of 105,000 applicants over the next six months.
The RMV has hired more call center staff, service center staff, and road test examiners to accommodate more applicants, it said in the release. It's also expanded road test and service center hours, and beginning July 5, it will open additional driving test locations in Lynn and Revere.
A spokesperson for the RMV said Monday that appointments for learner's permit tests are being scheduled for four weeks out, and that road tests are being scheduled 60 days out. She said the summer is their busy season, and these wait times will go down in the fall and as they hire more staff.
For more information on how to apply for a driver's license or permit, visit the RMV's WFMA website.
Newsletter Signup
Stay up to date on all the latest news from Boston.com