Local News
Police detail how they rescued missing Stoughton woman found stuck in swamp
Emma Tetewsky, 31, was found stuck in a swamp in Borderland State Park. Police believe she could have been trapped there for at least three days.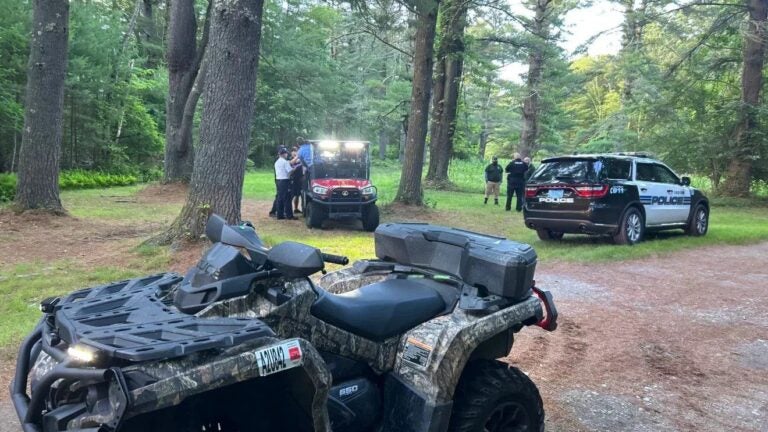 Easton and Stoughton Police released more details Wednesday about how they found a missing Stoughton woman and rescued her from a swamp Monday night.
Emma Tetewsky, 31, was initially reported missing on June 26. She was found in Borderland State Park, near Leach Pond. Police believe she could have been trapped in the swamp for at least three days.
Hikers called 911 at about 6 p.m. Monday when they heard a woman screaming for help from a swampy area.
Tetewsky was found about 50 feet from a path in mud that was about knee-deep, police said. She was laying on her side in a position akin to the fetal position. She was crying for help and showed signs of being in water for a prolonged period of time.
First responders tried picking Tetewsky up after wading out to her, but the combined weight only sunk them further into the mud. They also tried using a tool designed for ice rescues, with a line attached to a disc-like object that is thrown to the person in need of rescue. This also did not work, but eventually the rescuers formed a line and were able to move her out as a team, police said.
"I can't really speculate on how she got there or why she was there but when we were briefly in there, it was clear to see how someone could be stuck there. Just from our own body weights, we sunk pretty deeply, nevermind if you were there for days, I imagine that it would be extremely difficult to get out on your own." Easton Police Patrolman Corey McLaughlin said at a press conference Wednesday.
Once Tetewsky was back on solid ground, she was evaluated and treated before being loaded into a stokes basket. These are stretchers with walls on all sides used in a variety of rescue scenarios.
The path that she was near does not allow horses or bikes, and had become fairly overgrown and difficult to traverse, police said. Officers said they have worked with park rangers to rescue people from Borderland State Park before, mostly using ATVs to locate lost hikers.
Tetewsky was brought to Good Samaritan Hospital in Brockton with serious, but not life-threatening injuries.
Tetewsky has a history of mental health challenges, and left her keys and cell phone behind before going missing, The Boston Globe reported.
Barbara Zinaman, Tetewsky's mother, told the Globe that her daughter is dehydrated, malnourished, and sunburned.
"She's being nursed back to health," Zinaman told the paper. "She's a strong woman … She looked better than I thought."
Newsletter Signup
Stay up to date on all the latest news from Boston.com