Local News
Green Line's Union Square branch won't shut down this summer as MassDOT postpones bridge repairs
News of the impending 42-day closure previously drew concern and ire from those who live and work in the Somerville area.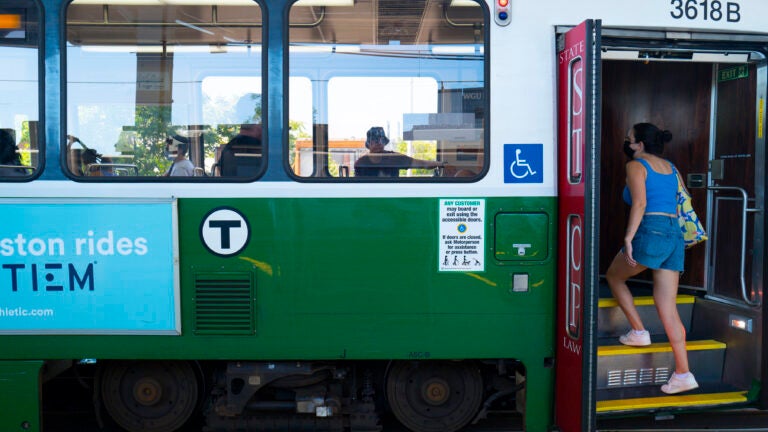 Gov. Maura Healey's administration is postponing a bridge repair project that would have closed the Green Line Extension's Union Square branch for more than a month this summer, a Healey spokesperson announced Wednesday.
The change of plans coincided with the first day of the nearly two-month Sumner Tunnel closure, which is expected to back up traffic throughout the Boston area. State transportation officials have been urging commuters to "ditch the drive" and turn to public transit instead.
The Massachusetts Department of Transportation was set to begin work on "critical" repairs to the Squires Bridge in Somerville later this month, necessitating the suspension of Green Line service between Lechemere and Union Square stations, the T announced last week.
However, the Healey-Driscoll Administration has opted to postpone construction until September, spokesperson Karissa Hand said in a statement Wednesday.
"MassDOT crews inspected the bridge over the weekend and determined it is safe to delay repairs until September so that the closure does not occur at the same time as the Sumner Tunnel closure and to allow appropriate time to explore mitigation options and communicate with the public," Hand explained.
She added: "The administration is grateful for the feedback we received from local officials and community members and will maintain close communication as we work to reschedule the [Squires] Bridge construction."
The MBTA and MassDOT echoed Hand's statement in a separate news release, adding that the two agencies will announce more information on the project "as plans are finalized and confirmed."
Previously, news of the impending 42-day closure drew concern and ire from those who live and work in the Somerville area, including state Reps. Mike Connolly, Christine Barber, and Erika Uyterhoeven, who co-wrote a letter to MassDOT Secretary Gina Fiandaca, the MBTA board, and T General Manager Phillip Eng.
"Thank you to the Healey-Driscoll Administration for responding to our advocacy in support of transit equity for Union Square," Connolly wrote on Twitter Wednesday. "I am hopeful this extra time will give MassDOT and the MBTA an opportunity to improve the plans for the Squires Bridge repairs."
Newsletter Signup
Stay up to date on all the latest news from Boston.com