Local News
Mayor Wu announces safe swimming initiative, including free lessons
Wu made the announcement at the newly-renovated Paris Street pool in East Boston Thursday.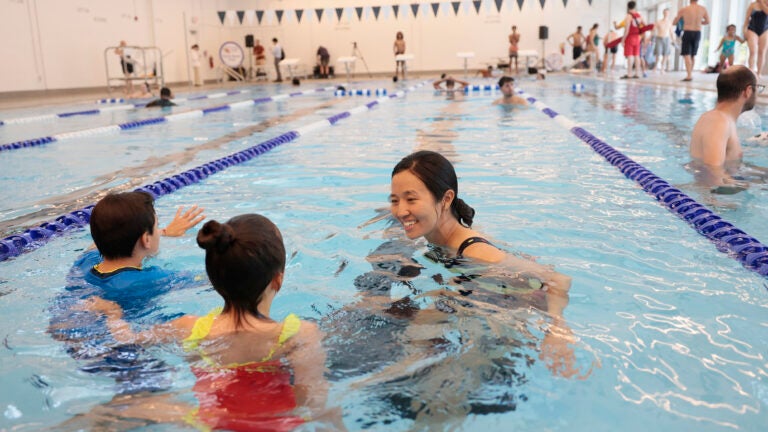 Boston officials announced a new safe swimming initiative Thursday that will bring free lessons to certain pools throughout the city.
Speaking at the newly-renovated Paris Street pool in East Boston, Mayor Michelle Wu said that the plans were an effort to make cooling off in the water a possibility for all residents, including those that disproportionately do not have access to swimming lessons.
"For some families, water is a source of stress, and fear, and not fun. And we know that whether families and young people feel safe in the water is often an issue of racial inequity. For a long time, swim lessons have been inaccessible to families and communities of color, because of cost or because public pools didn't exist in their neighborhoods, or were closed, or were too far away," Wu said.
One in four black parents in America never learn to swim, and one in three Latino parents in the country never learn to swim, she said. Conversely, only one in 25 white parents never learn to swim.
Free swimming lessons will be offered at select pools operated by the Boys and Girls Clubs of Boston and the Greater Boston YMCA. This includes Boys and Girls Clubs in Roxbury and Dorchester, as well as all Boston YMCA locations.
Wu said that $500,000 has been set aside for swim safety in this year's city budget. With the extra funding, as many as 500 children will gain access to free lessons. Registrations can be completed online through the city's website.
With the help of a donation from Children's Hospital Boston, the city is making as many as 1,000 personal flotation devices available for free to parents who visit city beaches.
The Paris Street pool renovation took three years and $10.2 million to complete.
"The BCYF Paris Pool reopening is incredibly exciting and we now have a pool facility the community can be proud of that is updated, bright and welcoming," Commissioner of Boston Centers for Youth & Families Marta E. Rivera said in a statement. "And, given the alarming rate of minority children that cannot swim, this is a particularly important investment in East Boston where over half of the population is Latino."
Newsletter Signup
Stay up to date on all the latest news from Boston.com