Local News
Unruly crowds swarm Cape Cod beaches on July 4th, leading to brawls, arrests, and tons of trash
Dennis police said they were forced to close several of the town's beaches after thousands of young people turned out to celebrate the holiday.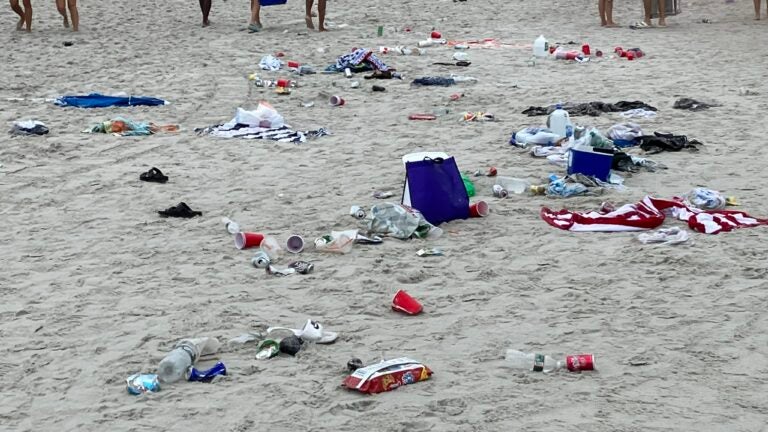 Rowdy crowds swarmed beaches in two Cape Cod towns for the Fourth of July, resulting in brawls, underage drinking, several arrests, and an "extraordinary amount of trash," officials said.
Falmouth police said in a press release that beachgoers set off fireworks, broke a home's front window with a can of beer, and climbed onto the balcony of a condominium — just outside a bedroom where a child lay sleeping.
Meanwhile, Dennis police said they were forced to close Mayflower Beach and several others after thousands of young people in their late teens and early 20s set up camp. In a press release of their own, the Dennis Police Department reported aggressive crowds, congested pathways for lifeguards and public safety equipment, and failing bathhouse facilities.
"By early afternoon, the volume and overcrowding that continued throughout the day was no longer manageable by the already-strong police presence," Dennis police said.
The crowds left behind an "extraordinary amount of trash, which included aluminum cans, towels, clothing, shoes, broken glass, broken coolers, beach chairs, and contraband," Dennis police said.
Falmouth fared no better; police there said the town's beaches "were left an utter disaster with litter, alcohol containers and broken glass, which took the Falmouth DPW hours to clean up."
Large groups of teens — both locals and out-of-towners — also congregated on the beaches in the nights leading up to the Fourth of July, according to the Falmouth Police Department.
"Their overall behavior was disrespectful and rude, with teens using profanity and taunting officers," Falmouth police said. "There were groups that were respectful and followed police direction but the majority were uncooperative and presenting a public nuisance."
Dennis police said they made a number of arrests and seized alcohol from some beachgoers. Likewise, Falmouth officers arrested several people for possessing alcohol as minors, disorderly conduct, resisting arrest, disturbing the peace, and failing to identify themselves, according to the press release.
Twice, Falmouth police said they had to rely on neighboring police agencies for assistance when the department was overwhelmed with calls for service.
"We urge parents to speak to your children about appropriate behavior, good decision making, and the dangers of drinking," Falmouth police said.
Lieutenant Peter Benson, a Dennis police spokesman, told The Boston Globe that the crowds he's seen in the last three years are unlike anything in his nearly 35-year career with the department.
"This is social media-driven. They're able to get out on — whatever the app that they're using is — they are able to get the information out," Benson told the Globe. "Twenty years ago, people didn't have the ability. They'd have to make phone calls. So you might have 20 people show up. But now, through a social media app, you can communicate with 1,000 people."
Newsletter Signup
Stay up to date on all the latest news from Boston.com