Local News
Some cities like Providence are digging up water mains and leaving lead pipe in the ground
Recently, more money and attention to the danger of lead pipes has prompted some to stop the practice. Still, it remains legal.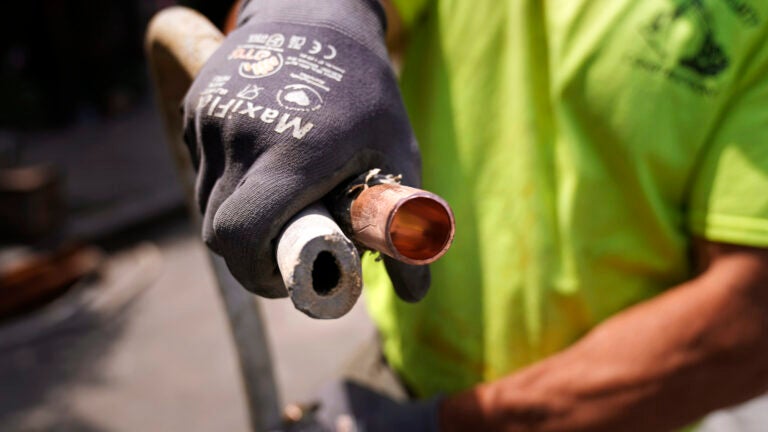 PROVIDENCE, R.I. (AP) — Prandy Tavarez and his wife were expecting a baby when they bought a four-bedroom house in a well-kept neighborhood of century-old homes here. They got to work making it theirs, ripping off wallpaper, upgrading the electrical and replacing windows coated in paint that contained lead, a potent neurotoxin that can damage brain development in children.
That wasn't the only lead. The pipe carrying water to their home was made of it, too. Providence's tap water had had dangerous lead levels for years. So it wasn't surprising in 2008 when a road crew came through and dug up the street to take out the pipe. Then they left part of it in the ground.
"They put on a Band-Aid," Tavarez said.
Around the country, utilities have been leaving lead pipe in the ground even when it is easiest to remove during water main work. Worse, they have been removing sections, disturbing the pipe and leaving the rest, which can spike lead levels, causing harm that will last a lifetime, an investigation by The Associated Press has found.
Leaving lead pipe behind should have stopped a long time ago, said Yanna Lambrinidou, a medical anthropologist at Virginia Tech and co-founder of the Campaign for Lead Free Water. The metal is especially dangerous for young children. It can lower IQ and deprive kids of problem-solving skills. The Environmental Protection Agency says no amount is safe for kids. Utilities, she said, have tried to reduce costs and dodge responsibility.
"I can't but think of partial replacements as immoral because they involve a witting decision by government agencies to leave residents at continued risk of exposure," said Lambrinidou.
The sections that remain can poison tap water until they're removed. The practice is also more expensive in the long run, since crews presumably will have to return someday.
Many cities say they can leave the pipes and use chemical treatment instead. But that isn't foolproof, and the Biden administration has said it wants all 9.2 million lead pipes in the U.S. replaced. Even some cities that are committed to taking out lead pipe say they have too few resources and local rules can get in the way.
But Buffalo, New York, Lincoln, Nebraska, and even Detroit show it didn't have to be this way. Even though Detroit had recently filed for bankruptcy protection, in 2018 leaders there decided that when work is done on water mains, they would replace all lead pipe.
"We're protecting the intellectual capacity of the next generation of Detroiters," said Sam Smalley, chief operating officer of Detroit's water provider. If a utility doesn't fully replace lead pipes, it's usually because they "don't really want to do it," he said.
It hasn't been easy for Detroit. Officials had to hunt for state and federal funds to keep water bills under control. They hold neighborhood meetings and distribute water filters. Thanks to those efforts, officials say residents there allow contractors to dig on their property and enter homes to take out lead pipes. If residents say no, their water is shut off.
But decades after the dangers of lead became clear, other cities have made different decisions and have been leaving lead pipe in the ground. Experts say it has likely happened hundreds of thousands of times. It has occurred in Providence, Chicago and other places. It continues today in Oklahoma City, in Allentown, Pennsylvania, Nashville and Memphis, Tennessee, and St. Louis.
Recently, more money and attention to the danger of lead pipes has prompted some to stop the practice. Still, it remains legal.
Providence's long struggle
The Environmental Protection Agency first set limits on lead in drinking water in 1991, requiring utilities, with some exceptions, to replace entire lengths of lead pipe when water exceeded those limits.
But the American Water Works Association, a group that represents utilities, challenged that replacement requirement, saying it didn't give the public enough chance to weigh in. A federal appeals court in 1994 agreed.
The EPA then "completely caved," and didn't reissue the provision, said Erik Olson, an attorney on the case with the Natural Resources Defense Council, leaving only partial replacements required when lead levels are high.
That would prove fateful. In 2005, Providence Water made a change to its chemical treatment, causing lead levels to jump above EPA limits.
That triggered the removal requirement, but not for whole pipes. And that raises an issue that continues to plague the whole country: divided ownership of lead pipes. In many cities like Providence, the utility owns part of the pipe that runs to the house, and the homeowner owns the rest.
Providence took the position that it would remove only the city-owned pipe and the homeowner could pay to remove the rest. But at a cost of thousands of dollars, most didn't.
By 2011, however, EPA scientists were weighing in, saying this method doesn't lower lead.
Remember, in these years, lead in Providence water amounted to a crisis. It violated EPA limits in 14 of 17 years, an exceptionally bad record for a major city. Yet despite the fact that partial replacement did not work — and could even spike lead levels in drinking water — local officials continued the practice when performing work on water mains, removing all only if the homeowner paid.
Activists said Providence Water created a two-tiered system: one for people who could afford safe water and one for those who couldn't.
Colleen Colarusso bought a house that looks down a sharp slope to a busy Providence street in 2019. After testing showed lead levels in her water were over twice the federal limit, she stopped drinking it. She paid for deliveries of five-gallon jugs and then $3,500 to run a copper line up the slope to her home.
"I don't want that in my body," she said.
But in a neighborhood of tightly-spaced two- and three-story apartments alongside modest single-family houses, city data says a lead pipe likely runs under Richard Charlton's home.
Charlton said he can't afford to replace any pipe and the city should do it for taxpayers. He's worried about his frail heating system and buying a new roof.
"I'm still struggling to get by," he said.
The water utilities
Removing lead pipes isn't just the responsibility of the utility, but also individuals and government, said Steve Via, director of government relations at the AWWA. He said divided ownership of lead pipes, is "still a barrier to full lead service line replacement today." In many communities, local rules forbid spending money to upgrade private property, which can block the work, Via said.
Providence Water General Manager Ricky Caruolo said lead pipe replacements couldn't be done without raising rates and he didn't think it was his decision to force ratepayers to bear the cost of replacing lead pipes that are, in the end, privately owned. Most people don't have a lead pipe, he said, so they wouldn't benefit. That decision "needs to be made at the state or even federal level." Caruolo called lead paint a bigger problem than lead in water and said some homes have lead fittings inside them that will still contaminate water once the lead pipe is gone.
He said officials have addressed lead head-on, improving water treatment, educating the public about lead and providing no-interest loans for pipe removal.
2021 held some good news for Providence. The city's results improved and are now within federal limits, much safer for this newest generation of kids.
"The fact of the matter is, we are in compliance," he said. "We must be doing something right."
Providence Water's policy also changed last year, helped by an influx of federal funds. Officials said now, when they do water main work, they replace the whole pipe and for free, nearly always. The state legislature recently passed a bill to remove all lead pipes within 10 years.
Cities nationally have now also benefited from the Bipartisan Infrastructure Law that included $15 billion for finding and replacing lead pipes. Lead in drinking water will remain, but the funds will make water safer for some. And the money is only going to places that replace lead lines in their entirety. The EPA is also drafting stricter lead regulations.
Health and environmental groups have been fighting for lead-free water to drink in Providence for at least a decade.
Devra Levy, a community organizer in Providence formerly with Childhood Lead Action Project, said getting rid of the pipe is the solution.
"It's really frustrating that it has taken so many years of advocacy, and the Flint crisis, and this national awareness, to do something that seems like an obvious solution," she said.
Camille Fassett contributed from Seattle. Charles Krupa contributed from Providence.