Local News
Mistrial declared in case of Emanuel Lopes, alleged killer of Weymouth officer and bystander in 2018
Lopes allegedly threw a rock at Weymouth Police Sgt. Michael Chesna's head before using Chesna's weapon to kill him. Bystander Vera Adams was shot to death on her porch.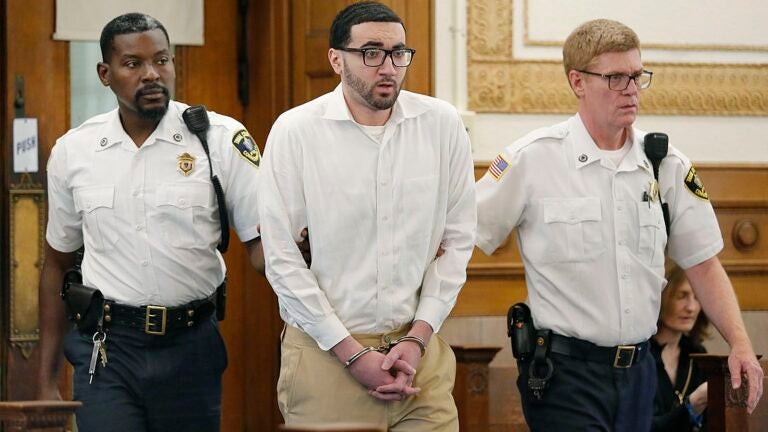 A judge declared a mistrial Monday in the case of Emanuel Lopes, the man accused of killing Weymouth Police Sgt. Michael Chesna and bystander Vera Adams in 2018.
The Norfolk District Attorney's office confirmed that a mistrial was declared Monday morning. New trial assignment proceedings will begin on July 21.
A jury had been deliberating since June 28, following a three-week trial. Discussions among the jury appeared to break down on Friday, WCVB reported, when a juror was brought to tears and multiple sidebars were needed.
Lopes, who was 20 at the time, allegedly killed Chesna and Adams on the morning of July 15, 2018. Prosecutors said he stole his girlfriend's car and crashed it in the area around South Shore Hospital. He left the scene on foot, and police soon responded to a report of a man throwing a rock through a home's window nearby.
Chesna and other officers confronted Lopes, who allegedly threw a rock at Chesna. It hit him in the head, allowing Lopes to pick up Chesna's weapon and fire multiple rounds at the officer, prosecutors said.
Lopes allegedly fled through the neighborhood, moving through yards until he reached the home of 77-year-old Vera Adams on Torrey Street. Lopes fired three more shots, prosecutors said. Adams was struck through a sliding glass door while she was sitting on her porch.
Defense attorneys for Lopes did not deny that he shot and killed Chesna and Adams, WCVB reported. They argued that Lopes was suffering a psychotic episode at the time of killings, and was not able to understand his own actions.
Newsletter Signup
Stay up to date on all the latest news from Boston.com