Local News
Two 18-year-old men charged for double shooting outside Brockton courthouse
The shooting resulted from a fistfight that ended with one of the suspects brandishing a gun, police said.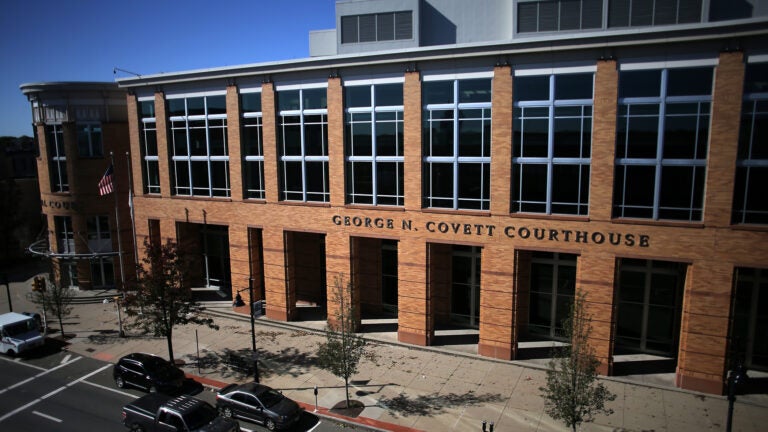 Authorities arrested two 18-year-olds Monday in connection with a "brazen daytime" double shooting that took place outside Brockton District Court.
Around 12:30 p.m. Monday, Brockton residents Antwon Barrett-Smith and Neandro Mendes allegedly shot a 37-year-old woman and a 19-year-old man, Brockton police said in a press release Tuesday. Both victims suffered non-life-threatening injuries and were treated at hospitals.
The shooting happened as a result of a fistfight that ended with Barrett-Smith allegedly brandishing a gun, the Plymouth County District Attorney's office said in the release. The two suspects and two victims all knew each other, the DA's office said.
Brockton and State Police responded to the shooting and arrested Barrett-Smith and Mendes. The DA's office said police confiscated two handguns at the scene.
Authorities charged both Barrett-Smith and Mendes with assault with a dangerous weapon, discharging a firearm within 500 feet of a building, carrying a firearm without a license, carrying a loaded firearm, possession of ammunition without an FID card, and disorderly conduct. They added a charge of disturbing the peace against Mendes.
The two men are being held without bail pending a July 14 dangerousness hearing.
Authorities ordered a brief stay-in-place order for buildings near the courthouse after the shooting. It has since been lifted.
Authorities are still investigating the shooting and are asking anyone who witnessed it or has information about it to contact Brockton police.
"The Brockton Police Department would like to assure the community that there is no ongoing threat to public safety. This incident appears to be an isolated event," Brockton police said in a press release.
Newsletter Signup
Stay up to date on all the latest news from Boston.com