Local News
Swimming banned on Nantucket beach following bloody shark sightings
Great white sharks were captured on video ripping apart seals close to the shore near Great Point on Nantucket.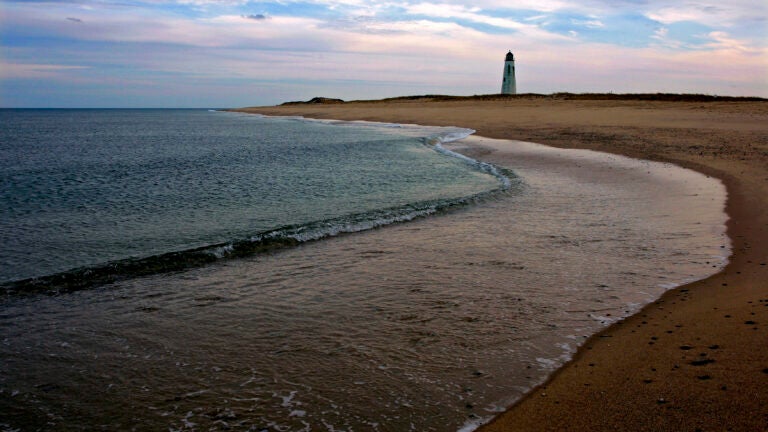 The public is prohibited from swimming in parts of a Nantucket wildlife refuge following multiple, sometimes bloody, shark sightings.
Beachgoers currently cannot swim around Great Point, located on the northernmost tip of Nantucket within the Coskata-Coatue Wildlife Refuge, according to The Trustees of Reservations, which manages the property.
Due to Great Point's remote location, any injuries sustained by people there would be particularly difficult to treat.
"After several shark sightings and predation in the area, we've decided to implement a swimming closure around Great Point until further notice. This is not a decision we've made lightly. Visitors' safety is our utmost concern, especially given the remote location of this beach should a serious incident occur. We'll continue to monitor shark activity in partnership with the U.S. Fish and Wildlife Service," a Trustees spokesperson said in a statement to Boston.com. "Other areas of the refuge remain open for recreational use. We advise that all visitors use caution when in the water."
Most of the recent shark activity occurred beyond the refuge's five-mile marker. This is where swimming is now banned, but other waters within Coskata-Coatue Wildlife Refuge remain accessible.
Multiple videos have been posted to social media in recent weeks showing sharks preying on seals at Great Point.
In the past, the policy of the Trustees has been to temporarily close beaches to swimming after shark sightings, and to alert beachgoers when it is safe to re-enter the water. But the amount of recent sightings and predation has prompted officials to take more "proactive measures," the organization said.
The Sharktivity App currently lists two recent verified Great White Shark sightings near Great Point. One was recorded on the morning of July 1, the other around 5 p.m. on July 8. The latter contains a note about seal predation.
The app was developed by the Atlantic White Shark Conservancy in collaboration with government officials. Users can upload reports of shark sightings, which are then verified by the New England Aquarium.
The Coskata-Coatue refuge, which spans 1,117 acres, is both a popular summer destination and a remote barrier beach. Great Point itself is almost six miles of rugged terrain away from the Wauwinet Gatehouse, and about 13 miles from Nantucket Cottage Hospital, according to the Trustees.
The number of Great White Sharks around Cape Cod and the Islands has increased in recent years, driven by a boom in population numbers of gray seals.
To avoid dangerous shark encounters, the Trustees offered the following tips for the public:
Do not swim near seals.
Swim close to shore, where your feet can touch the bottom.
Swim, paddle, kayak, and surf in groups.
Do not swim alone in the ocean at dawn or dusk.
Avoid isolation.
Limit splashing and do not wear shiny jewelry.
Keep your distance (at least 150 feet) from seals, whether they are resting on land or in the water. It is against the law to disturb them.
Newsletter Signup
Stay up to date on all the latest news from Boston.com