Local News
Jury foreperson says one holdout caused mistrial in case of man charged with killing Weymouth officer, bystander
Emanuel Lopes allegedly killed Weymouth Police Sgt. Michael Chesna and bystander Vera Adams in 2018.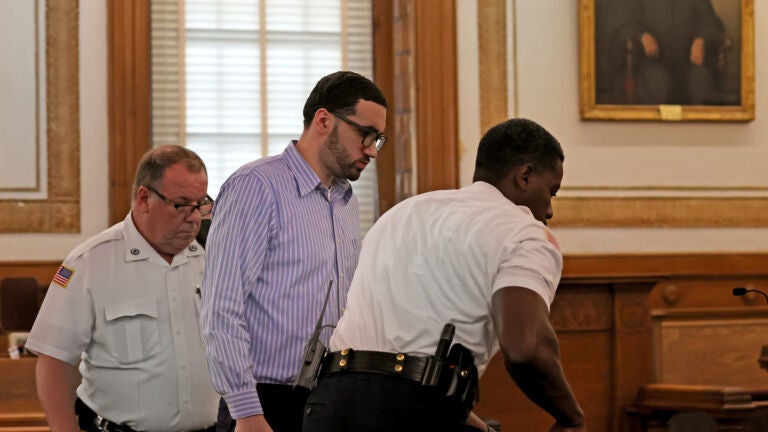 Earlier this week, a judge declared a mistrial in the case of Emanuel Lopes, who is charged with killing a Weymouth police officer and a bystander in 2018. Now, the foreperson of the hung jury is detailing why they could not come to a consensus.
The foreperson, Cindy Lavoie, told 7News that the jury was about evenly split at first. That reportedly changed within a few days, and eventually all jurors except one agreed that Lopes should be found guilty.
The holdout "would not participate and give justified reasons for her conclusions," Lavoie told 7News.
The holdout sided with the defense, which argued that Lopes was having a psychotic episode when he killed Sgt. Michael Chesna and Weymouth resident Vera Adams on the morning of July 15, 2018.
Lopes, who had been feuding with his girlfriend, allegedly took her car that morning, which prompted her to call the police. He later crashed in the area around South Shore Hospital, and police received a report from a resident who said that a large rock had been thrown through their kitchen window.
Chesna and other officers confronted Lopes, who allegedly threw a large rock that hit Chesna in the head. Lopes then picked up Chesna's weapon and fired multiple rounds at the officer, prosecutors said.
Lopes was struck by another officer's bullet but fled through nearby properties. Outside 100 Torrey St., prosecutors say Lopes fired three more shots, striking and killing Vera Adams through a sliding glass door while she was on her porch.
Lopes, now 25, faces 11 charges. This includes two murder charges.
His defense attorneys did not deny that Lopes shot and killed Chesna and Adams, but said that he was not able to understand his own actions.
Larry Tipton, one of Lopes's lawyers, said he started struggling with his mental health as a teenager. Tipton described Lopes hearing voices, harming himself, and being committed to hospitals numerous times, the Associated Press reported.
Tipton reportedly said that Lopes's friends described his behavior as "ranting, kind of like it's Manny being Manny, talking about government conspiracies, people being Martians, monkeys, illuminati, talking about being in fear, danger."
Prosecutors argued that Lopes knew what he was doing and acted deliberately in taking Chesna's weapon and subsequently using it.
A three-week trial involved thousands of pieces of evidence. The jury began deliberating on June 28, WCVB reported, but discussions appeared to break down last Friday when a juror was brought to tears and lawyers needed repeated sidebars with the judge.
New trial assignment proceedings will begin on July 21, according to the Norfolk District Attorney's Office.
Newsletter Signup
Stay up to date on all the latest news from Boston.com