Local News
Multiple shark sightings off Cape Cod in wake of Nantucket beach closure
Verified great white shark sightings have occurred all over the Cape this week.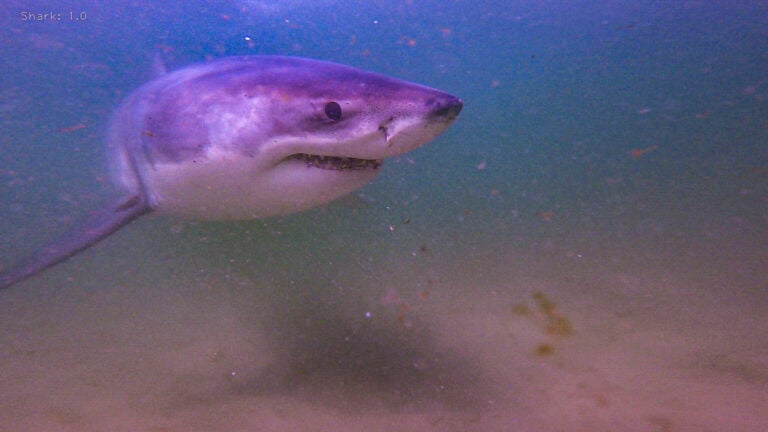 The dog days of summer are here, and that means shark season in Massachusetts is in full swing.
Earlier this week, officials temporarily banned swimming at a Nantucket beach due to an uptick in shark sightings there, including videos of great whites tearing apart seals close to shore.
Over the past week, there have been 28 verified great white sightings in Massachusetts waters, according to the Atlantic White Shark Conservancy's Sharktivity app. Sixteen of those sightings occurred in just the past two days.
The Sharktivity app allows users to upload photos and information about shark sightings, which are then verified by the New England Aquarium.
Officials issued one "shark alert" near Longnook Beach in Truro and two near Newcomb Hollow Beach in Wellfleet. A shark was seen preying on a seal near Nauset Light Beach in Eastham, and one was seen traveling south in the waters near Callanan's Pass in Orleans, according to the app.
The heaviest concentration of sightings this week occurred in the waters of Monomoy National Wildlife Refuge, in Chatham. Three sightings occurred Wednesday morning.
The vast majority of the recent sightings happened on the side of Cape Cod facing the Atlantic Ocean. The sole bay-side sighting in recent days was reported at Kingsbury Beach in Eastham.
Although most of the sightings occurred on the Cape, one great white was seen off Plymouth Beach.
Although great white sharks roam waters all over the world, Cape Cod has become one of the planet's biggest hotspots for the predators during the summer months. They come to hunt prey, namely gray and harbor seals. Federal regulations protecting marine mammals were put in place in the 70's, causing major increases in seal populations.
Shark expert Greg Skomal, a senior fisheries biologist with Massachusetts Marine Fisheries, has experienced these changes first hand. He did not encounter a great white anywhere near Cape Cod until 2004 and did not tag his first one on the Cape until 2009, Skomal recently told Scientific American.
Newsletter Signup
Stay up to date on all the latest news from Boston.com