Local News
Portuguese man o' war spotted at multiple Rhode Island beaches
The creatures, which resemble jellyfish, have tentacles that grow to an average of 30 feet.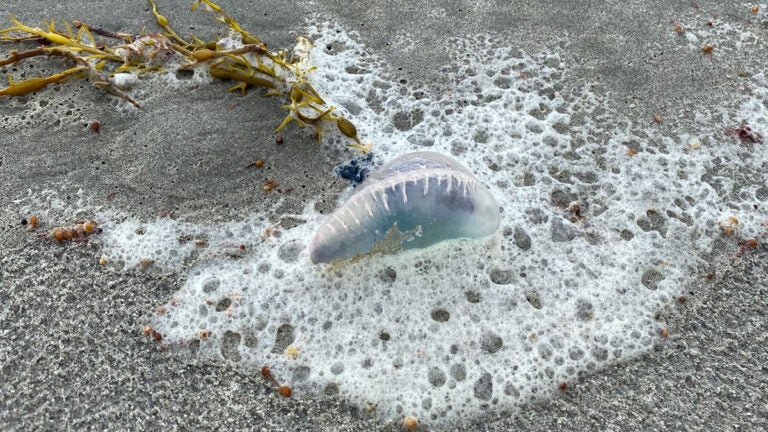 Sharks are not the only dangerous creatures lurking in the ocean waters off New England beaches. Numerous Portuguese man o' war, jellyfish-like creatures with long tentacles capable of causing painful stings, were found at Rhode Island beaches this week.
The Rhode Island Department of Environmental Management said Tuesday that man o' war were found at Roger Wheeler State Beach and Scarborough State Beach in Narragansett, and at East Matunuck State Beach in South Kingstown. They were found Wednesday at Charlestown Breachway and East Beach in Charlestown.
Purple flags, which indicate that people should enter the water at their own risk, are being flown at the beaches, according to RIDEM.
Attendants at Scarborough picked up more than 20 of the animals so far, and at least one person was stung at Roger Wheeler, The Boston Globe reported.
Although Portuguese man o' war resemble jellyfish, they are actually a type of siphonophore. Jellyfish are single organisms that can freely move themselves in the water. A siphonophore, on the other hand, cannot move through the water on its own and is in fact a colony of single-celled organisms working together, according to the National Park Service.
The genetically identical individuals that make up a man o' war perform different functions, like floating, capturing prey, feeding, and reproduction, according to NOAA.
The animals owe their name to a resemblance to 18th-century Portuguese warships under full sail. They are identifiable by their balloon-like structure and tentacles that grow to an average of about 30 feet, according to NOAA.
The venom in their tentacles is meant to paralyze and kill small fish and crustaceans. Man o' war stings are rarely deadly to humans, but they are quite painful and can cause welts on exposed skin.
Man o' war, which are mostly found in tropical and subtropical seas, can be found in groups of 1,000 or more. Their movement is propelled by the wind and ocean currents.
Rhode Island officials believe that the man o' war spotted this week likely drifted up to New England on the Gulf Stream from warmer waters.
Man o' war have been found in these areas before. Specifically, many were reported on Rhode Island beaches in August 2021.
Newsletter Signup
Stay up to date on all the latest news from Boston.com