Local News
In wake of Lara crash, city councilors asked to fill out parking applications
Elected officials must now fill out applications to park in city-owned garages. They will have to provide proof of license and other documentation.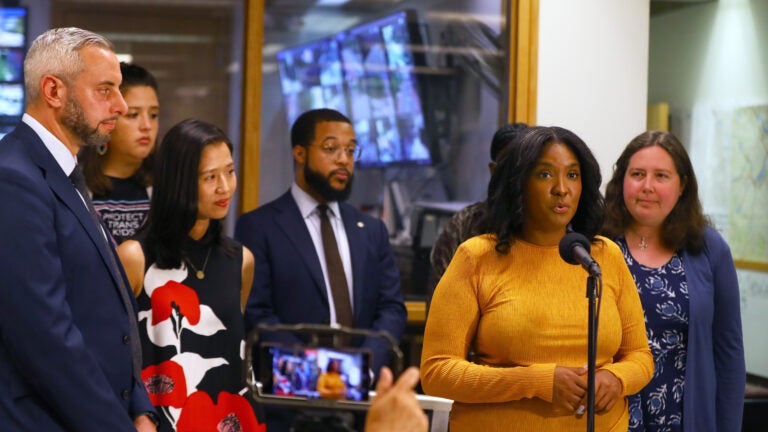 In the latest fallout from City Councilor Kendra Lara crashing an allegedly unregistered car into a Jamaica Plain home last month, elected officials will now have to fill out applications before parking in city-owned garages.
The move was detailed in a memo sent by Boston City Council President Ed Flynn to his colleagues last week, The Boston Globe reported. Applicants must provide their job title, cell phone number, home address, license plate number, vehicle make, model, year, and color, and driver's license number. Those that do not fill out the application and provide the necessary documentation by July 21 will be denied access to the executive garage beginning July 24.
"These basic steps are to ensure everyone's safety, for liability purposes of both operators and the City of Boston, and so that drivers and vehicles utilizing city-owned garages abide by appropriate laws and regulations," Flynn wrote in the memo, which was obtained by the Globe.
Last week, a city spokesperson confirmed that Lara had been "regularly" driving into and out of the garage in a gray Honda Civic. Lara was driving a gray Honda Civic at the time of the crash, according to a police report. Lara said in a statement afterwards that the car belonged to a friend. The car was allegedly unregistered, uninsured, and had an expired registration sticker at the time of the crash, the Globe previously reported.
In 2010, Lara was cited for driving without her vehicle's registration and for a seat belt violation, according to a police report. Her license was suspended in 2013 and revoked in 2015 due to a Connecticut citation.
City officials reviewed surveillance footage from the garage in response to a records request from the Globe. That footage, however, is not being released yet because it still needs to be reviewed for "potential security exemptions," the spokesperson said in a statement.
The crash occurred around 4:25 p.m. on June 30. According to a police report, Lara was driving at least 53 mph in a 25 mph zone. Lara's office previously told the Globe that she swerved to avoid an accident, sending her car into a fence and a house nearby.
Lara's 7-year-old son, who was also in the car at the time, suffered a cut above his eyebrow that required several stitches at Boston Children's Hospital. He may not have been properly restrained at the time. The rear passenger side seat belt was buckled, but the child should have been in a booster seat based on his age and height, according to the report.
Lara issued a general apology after the crash, but did not disclose any specifics about it other than to say that she was driving a friend's car.
She spoke with the Globe Friday, telling the paper that she is still planning to seek her second term on the council this fall.
"My hope is that my worst day is not being weighed against the two years of work I've done on the City Council," Lara told the paper. "I have a lot of work to do over the next eight weeks."
She declined to answer questions regarding the crash or her driving record, citing the fact that this is an ongoing case that is being heard in court. She is expected to appear in court July 19.
Flynn spoke out about Lara's actions after the crash, and proceeded to push for a review of employee parking procedures at Boston City Hall.
Newsletter Signup
Stay up to date on all the latest news from Boston.com