Local News
Dangerous bacteria causes swim bans around Mass., including all Plum Island beaches
Swimming was banned at 78 Massachusetts beaches Wednesday.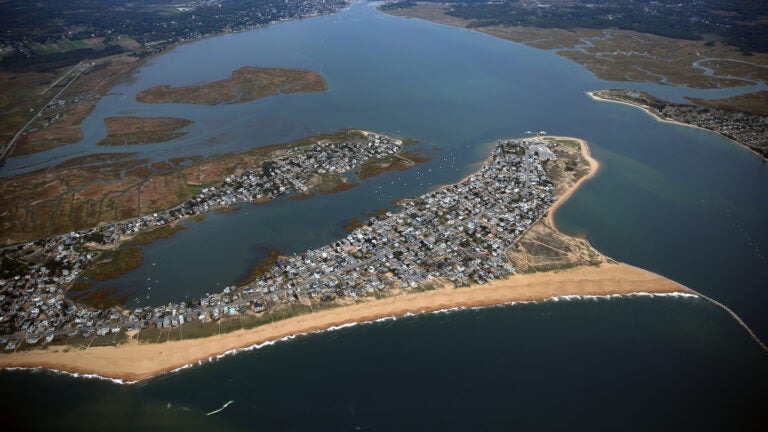 Despite the sweltering heat and humidity engulfing Massachusetts, some residents may have trouble finding a place to take a dip and cool off. A slew of swimming areas are closed this week due to unsafe levels of bacteria, harmful algae, and sewage overflows.
That includes all beaches on Plum Island, Newburyport officials announced Tuesday. Continued testing has revealed elevated levels of bacteria in the water there.
Dangerous bacteria was first detected on Plum Island Point Beach Friday. Testing Monday revealed that average bacteria levels for the last five tests exceeded the state's allowable limit, according to Newburyport officials. Members of the public can still visit the beaches, but should not swim in the water.
The Massachusetts Department of Public Health regularly monitors more than 1,100 public and semi-public beaches throughout the state. On Wednesday, swimming bans were in place at 78 of them. Most of the beaches were added to the list due to "bacterial exceedance."
Pathogens are difficult to measure directly in water, so MDPH relies on the "indicator organisms" enterococci and E. coli. Pathogen levels in water can be predicted using the "indicator organism" measurements.
Bacteria can get into water from a variety of sources, including animal waste, leaking sewer pipes, malfunctioning septic systems, and stormwater runoff. Swimming in this water can cause many symptoms, from skin rashes to gastrointestinal and respiratory issues.
Swimming bans can also be put in place due to harmful algal blooms. Under the right conditions Cyanobacteria, or blue-green algae, can multiply quickly in water. This normally occurs in the summer and fall. The algae releases toxins, which can make people sick and has been known to kill dogs. Harmful algae closed seven beaches for swimming Wednesday, mostly on Cape Cod.
Many beaches were also closed for swimming in New Hampshire in recent weeks. The state issued eight cyanobacteria advisories in June, the most ever, The Boston Globe reported. Seven advisories had already been issued in July as of Tuesday.
To help residents track the dangerous beaches, New Hampshire created an interactive map showing where it is safe to swim.
Not only does heavy rainfall cause dangerous flooding and high rivers, it can also lead to contaminated water.
"We're really urging caution for people when they're out and about recreating and swimming," Ted Diers, of the New Hampshire Department of Environmental Services, told the Globe. "I'm very concerned about swimming in areas that are having very high flows from the safety perspective, as well as the contaminants perspective."
Note: This story has been updated to clarify that the beaches are closed for swimming, not closed to the public.
Newsletter Signup
Stay up to date on all the latest news from Boston.com