Local News
The story behind those T ads looking for a kidney
Paul Savuto saved his wife's life once before. Now, he's hoping a stranger can save it again.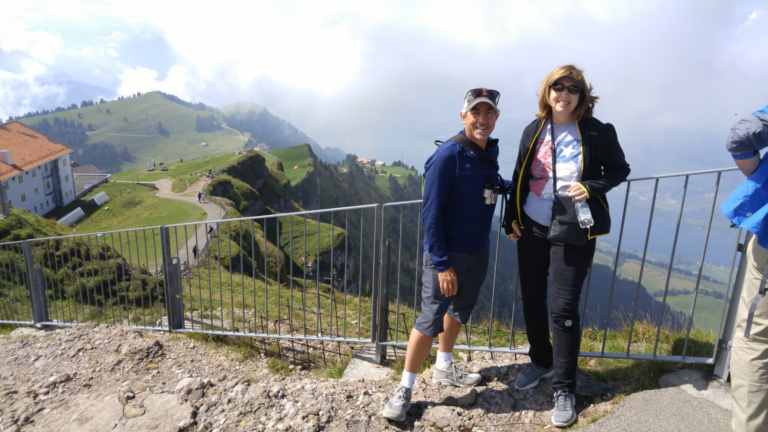 Observant commuters may have noticed an ad with an unusual call to action on the T this month. The orange posters feature a photo of a smiling couple and read, "My wife, Deb, needs a new kidney." A Lexington man, Paul Savuto, has turned to the patrons of the MBTA in his quest to find an organ donor who can save his wife's life.
The response, he told Boston.com, has been "resoundingly positive." But because the kidney donation process is long, complex, and shrouded in mystery thanks to HIPAA regulations, the couple still doesn't know if their ad has produced a donor match, or whether Deb will be able to get a transplant any time soon.
1 Kidney 4 Deb
Deb has a rare, genetic condition called Alport's disease, which caused her kidneys to fail in 2002. Doctors told her she could go on dialysis, receive a kidney transplant from a deceased donor, or find a living donor willing to give up one of their kidneys. (Humans are born with two kidneys but really need just one to live a normal life.) This last option would give her the best shot at a long, healthy life.
Paul immediately offered to be the donor. After a less-invasive, laparoscopic surgery, he said he went back to work within a week and returned to competitive swimming soon after. Being a living kidney donor, Paul stressed, has in no way diminished his quality of life.
Quite the opposite, in fact: "I tell my competitors they're at a disadvantage because they're carrying more organs," he laughed.
Over two decades later, Paul is retired and still swimming. Deb still works full-time in pharmaceuticals. Their daughter has completed a graduate degree in public health, which Paul says was inspired by her mom. But the donor kidney that saved Deb's life in 2002 has begun to fail. Today, Paul says, its function is "very close" to the 19% danger zone when a patient must go on dialysis or get a transplant to survive.
Paul wasn't the ideal genetic match to be a donor for Deb, he explained, so they're lucky that his kidney lasted her 20 years. A few of the couple's family members offered their own kidneys for this second transplant, but doctors said they weren't good matches. Having exhausted every other option, and determined not to see his wife go on dialysis for the rest of her life, Paul launched the "1 Kidney 4 Deb" campaign last year.
Seeking: an altruistic stranger
The MBTA ad campaign is just the latest installment of the "1 Kidney 4 Deb" effort, which began in 2022 on social media and now has its own website where people can learn about kidney donation and express interest in becoming donors themselves. Paul knows that he and his wife are searching for the rarest type of person: a true altruist who has never met them yet wants to help Deb, without getting anything in return.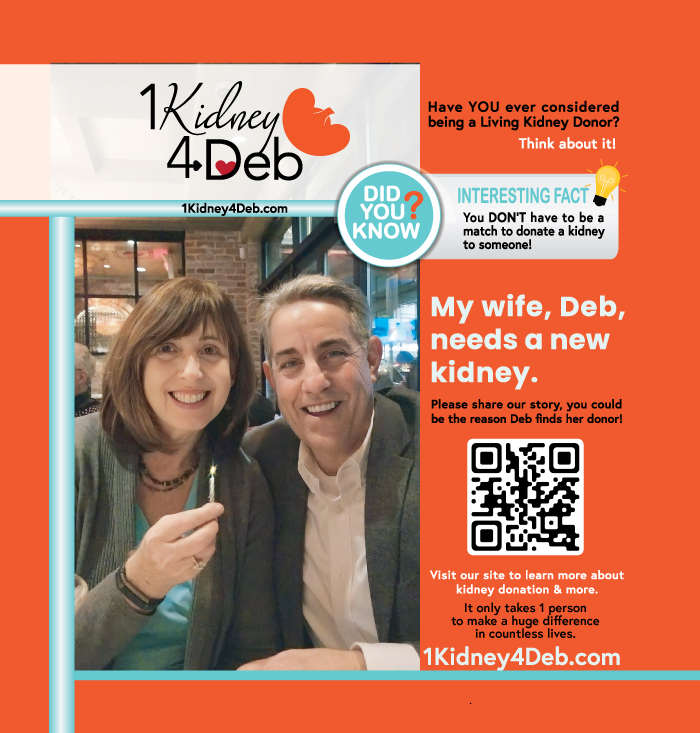 The posters — of which there are 120, spread throughout the MBTA network — have garnered responses "in the double digits," which Paul considers a great success. But just because someone volunteers to be a donor doesn't mean their kidney will be a strong match for Deb. Genetics and blood type can be eliminating factors, and while a potential donor is going through the screening process — which can take several months — HIPAA regulations prevent Deb and Paul from learning their name, location, or how far along they are in the process.
Even if a donor who signs up through the ad campaign isn't a match for Deb, they can still be paired with someone else from the kidney transplant waitlist and Deb would receive a voucher from the National Kidney Donation Organization to receive a transplant of her own as soon as a good match becomes available.
Paul praised his wife's strength and good spirits over the 20+ years she's been managing her illness, despite the uncertainty and precarity it brings. But although he is heartened by the ad response, he's no less worried for Deb.
"The fact still remains, she needs to get a new kidney," he said. And without a donor, "there's no way out."
Newsletter Signup
Stay up to date on all the latest news from Boston.com